Heritage Cruises Binh Chuan
Inspired by the legacy of ship king Bach Thai Buoi successfully launched the Binh Chuan ship in Hai Phong exactly 100 years ago.
Heritage Binh Chuan brings the most authentic experiences with a minimum of 40 guests and a maximum of 60 passengers on a magnificent and sophisticated cruise operating in the Gulf of Tonkin. Travelers feel the culture, history, art and people of Vietnam when cruising on a unique cruise amidst natural wonders.
Heritage Binh Chuan received the most prestigious award, TripAdvisor 2022 Travelers' Choice Awards "Best of The Best".
Read More
Testimonials
"
Travel is all about places, experiences, and memories. I would like to introduce you to the rich cultural heritage of the Gulf of Tonkin and the ...
"

"
This authentic experience offers the chance to cruise the Gulf of Tonkin (Lan Ha Bay, Bai Tu Long Bay, and Halong Bay) in an authentic and unique...
"

"
Like boutique hotels, boutique cruises are characterized by their intimate atmosphere and idiosyncratic style. They distinguish themselves from l...
"

"
Beyond offering a cozier atmosphere, the small size of these cruise ships creates a whole different experience, b..."

Frequently Asked Questions
Halong Bay, Bai Tu Long Bay or Cat Ba Archipelago in the Gulf of Tonkin can be visited all year round. The best time to visit is September to April. Expect hot weather and some tropical rain in the summer from May to August, but the sun and blue skies reappear after the rain before a magical sunset and the moon rising high into the night sky. Be the first to cruise with us on board Heritage Cruises where our team ensures you enjoy every experience whatever the weather conditions.
Some of our clients have told us that one night is too short, so if you want a trip that offers both activities and time to relax, the two-night Heritage Explorer or the three-night Heritage Expeditions options are recommended.
With an extra day, guests can relax in the stunning environment, spend time at a beach, or take a more active approach with swimming, kayaking or cave exploring The boat is a destination in itself with many experiences to offer. Each cabin has a private balcony, and the bathroom has a Jacuzzi allowing guests to enjoy spectacular views while soaking in the tub.
No trip to the North of Vietnam can be considered complete without a visit to the absolutely stunning Halong Bay region. But it's not always that simple to choose your ideal cruising journey: The Tonkin Gulf actually includes 3 bays: Bai Tu Long, Lan Ha and last but not least, Halong Bay.
Halong Bay is by far the most well known by tourists, who come from all over the world to see its stunning beauty. But here's the catch: Lan Ha Bay and Bai Tu Long Bay have the same scenic beauty as Halong Bay, in fact, some people say more so.
Travelers are seeking new and exotic experiences and plus value, whether it is in terms of personal value or value for money. They are looking for new destinations, new hotels, and new cruising experiences. They search for exclusivity and want to be the first to discover a destination. Many have moved towards a quieter understated luxury and plan their trips with a focus on authenticity and experiential travel, searching for particularly enriching once-in-a-lifetime experiences. For us, it is essentially about creating an experiential type of travel that is personal as well as authentic and memorable.
Halong Bay is understandably popular and crowded, but if you want to come experience it alone without other tourists, be sure to book our private charter boat that will sail where you want, cruising on your own itinerary. Go deep into the bay. Explore the caves and grottoes. Head over to Bai Tu Long Bay and Lan Ha Bay. Go trekking in the Cat Ba National Park, rock climbing, kayaking, and, watching some of the most amazing sunsets that you'll ever set eyes on. The choice is yours.
Book online today and look forward to a relaxing stay with us
Call us on +84 886 03 66 68 or 024 3223 9988 or email [email protected]
Book Now!
In The News

Our Awards

Latest News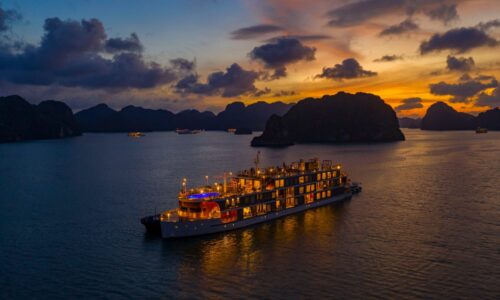 Step into a world of refined elegance and unmatched luxury with Lux Cruises, proudly presented by Emperor Cruises and Heritage Cruises. As you explore our remarkable fleet of cruise ships, you'll discover a harmonious blend of timeless beauty, exceptional service, and unforgettable experiences. At Lux Cruises, we believe that every voyage should be an extraordinary
Read More