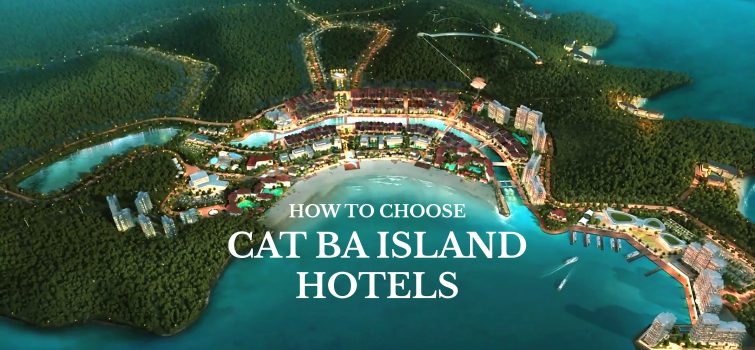 1. An overview of Cat Ba Island. 
Cat Ba Island, the largest island, is featured in breathtaking landscapes and seascapes and a good condition of climate. The beautiful island still keeps its pristine beauty and many tourists have shifted to visit Cat Ba Island, Lan Ha Bay rather than Halong Bay. That helps to stimulate other services regarding accommodations, food, and beverages, tourism activities, etc have been developing. With the aim of bringing visitors unforgettable and fascinating experiences in Cat Ba Island, Heritage Cruises will you some information on how to choose Cat Ba Island hotels when coming to the island. 
2. How to choose Cat Ba Island hotels
Being considered as the pearl of the Tonkin Gulf, Cat Ba Island possesses the untouched and impressive beauty so recently, Cat Ba Island has appealed thousands of visitors from both the domestic and international markets. Moreover, it has a cool and fresh climate so tourists can visit Cat Ba Island all-round years, in any season và time. Domestic tourists mainly travel in summer but international ones visit the island from December to March. So you should go to Cat Ba Island on weekdays to avoid overcrowding and running out of hotel rooms or even lowering in service quality. 
2.1 Criteria for choosing Cat Ba Island hotels 
When choosing Cat Ba Island hotels, it's essential for you to consider the following criteria. 
* Location of Cat Ba Island hotels. 
You should stay at the hotels that are located in or around Cat Ba Town and not too far from the center of town. Since Cat Ba Town area concentrates lots of tourism services and is convenient for you to move around the destinations. Some tourists want to stay in hotels that are near the beach, the seaport. etc. 
* Facilities and amenities in Cat Ba Island hotels
If you want to check the facilities and amenities of that hotel, go to the website or ask the reservation department. It depends on which types of the hotel that you choose and you should check with hotels before booking. 
* Service quality 
Service is delivered by human beings. It is different from different hotels and hard to check. If you want to know whether the service quality of this hotel is good or not, you should revise via the feedback on the website or social media. However, there's no certainty that all of the feedbacks are true, so let be a clever customer. 
2.2 Website providing essential information on Cat Ba Island hotels 
Due to the non-stop development of the internet, tourists now can book directly hotel rooms through some online channels such as booking.com, Agoda, Hotel84.com, etc rather than through travel agencies as before. So those websites will provide necessary information on hotels in terms of room types, room rates, facilities and amenities, location, benefits included, etc. Tourists can revise and compare the prices amongst those websites prior to booking online or booking directly with Cat Ba Island hotels. Your holidays would be never easy and convenient without the presence of online platforms. They'll help tourists to choose a good location as well as the price that is suitable for your payment ability, just only login in the website and review the information and finally, book the rooms. Hotel84.com, Agoda, Booking.com, Trivago, My tour, Ivivu, and chudu24, etc. 
Besides, you can go directly the website of hotels and make reservations with that hotel. The bonus point is that you can leave your information and the staff will give you some advice based on your case or maybe you can chat straightforward with the online staff for more details. 
2.3 How to book online Cat Ba Island hotels 
Most of the online platforms provide the same service but the price and supporting services make the difference. Agoda and Booking also have a competitive price yet do not support the customers as much as local booking services in Cat Ba Island. Cat Ba Island hotels have various standards from low to high. Sometimes, tourists will find a better price on online platforms than other sources. 
How to use online booking services 
The online booking services on the website will provide a variety of information that is objective and sincere for the users. That information is based on the data that previous customers provided. 
Hotels on the online platforms are categorized in terms of prices, locations, customers' evaluations, etc. The images and feedbacks provided by previous customers would help new customers to evaluate the quality of the hotel. 
Read information about hotels and conditions and terms 
Locations and policies of hotels can make a big difference amongst hotels. When booking hotel rooms, you also have to acknowledge the hotel policies since they can be different, for example, the extra fee for the children. The feedback from previous customers on the booking platforms or the hotel websites will provide useful information for those who want to book.
Booking process and payment 
Booking services require the guests to make full payment after making a reservation, which makes sure that you'll be held bookings until time for check-in. Ensuring the booking process is completed, you need to use an exact email address and phone numbers. 
The promotions that offer attractive prices usually go with complicated cancellation processes. For instance, you have to deposit about 50% of the price and then finish your payment before 10 days for departure. It's highly recommended that you should read carefully cancellation policies and payment procedures of the booking service providers and hotels before making your bookings and make sure that your payment is made on time. 
Comparing prices of different hotels
With lots of online booking services in recent years, tourists will not know which platforms they should use amongst various online booking websites. Besides, the websites used to compare the prices, locations and services of hotels have been developing very fast to deal with this problem. You can search for information on hotels' prices provided on Agoda, Booking.com, Hotels.com, etc on HotelsCombined to find the best price for your trip. 
2.4 Name some Cat Ba Island hotels that you should know 
In this article, Heritage Cruises names some Cat Ba Island hotels that have a good location and service, a reasonable price as well as receive lots of positive feedbacks from customers. 
Heritage Cruises provides accommodation services, together with spa, restaurants and outdoor activities for the guests around Cat Ba Island and Lan Ha Bay. The cruise ship offers 1,2 or 3 nights options which bring the guests an opportunity to discover and contemplate the natural landscapes and seascapes here. With modern facilities and high-end services, Heritage Cruises is considered one of the luxurious cruises in Lan Ha Bay, which creates unforgettable and unique cruising experiences for tourists. 
* Catba Island Resort & Spa – 4 stars 
Location: Cat Co 1, Cat Ba Island, Cat Hai District, Cat Ba Town. 

Price: VND 1,500,000 – 3,000,000/night
Catba Island Resort & Spa, which is a harmonious combination of the architectures between France and Vietnam, has a good location and a great view and restaurant as well. The Cat Ba Island hotel consists of 165 rooms with an ocean view, which are equipped with wooden and bamboo interiors and modern facilities and furniture regarding mini-bar, offices table, sofa, wardrobe, safe, etc, creating a cozy atmosphere. 
Besides, staying at Catba Island Resort & Spa, tourists can contemplate the sea and taste yummy dishes from the restaurants combining between Asian and European gastronomies. Moreover, they can enjoy wines at Fun Pub and Bar or cocktails and relax with professional spa services and other entertaining services. Last but not least, Catba Island Resort & Spa also organizes meetings, events, and conferences. You can search for more information on its website. 
* Sea Pearl Hotel – 3 stars 
Location: No. 219, 1.4 Road, Cat Ba Island 

Price: VND 700,000 – 1,500,000/night
Next, we'll introduce the next Cat Ba Island Hotels is Sea Pearl Hotel. This hotel is near Cat Ba seaport and 800 meters far from Cat Co Beach on foot. The price of Sea Pearl Hotel is a medium-range compared to that of other Cat Ba Island hotels but in terms of facilities, it's fully-equipped and has a small room space, with an area of 20 – 35m2. 
Beside an outdoor swimming pool, the Cat Ba Island hotel also provides guests with other services such as massages, spa, night club, sauna, and other entertainment services. 
You can read more on its website Sea Pearl Hotel 
* Hai Long Cat Ba Hotel – 2.5 star 
Location: No. 234, 1.4 Road, Cat Ba Town. 

Price: VND 600,000 – 1,300,000/night.
Hai Long hotel has been received lots of compliments from customers due to a good location that is near Cat Ba seaport, a magnificent view and great food. You can book hotel rooms on Agoda without a credit card. There's an outdoor pool in the Cat Ba Island hotel, along with other services like massage, sauna, etc. However, this hotel is near the main road and crowded with many tourists so sometimes it causes a little bit of noise. 
* Cat Ba Green House – 3 stars 
Location: No. 249 Nui Ngoc, Cat Ba Town 

Price: VND 500,000 – 800,000/night 
Cat Ba Green House – one of the Cat Ba Island hotels, is known for its reasonable price and beautiful hotel rooms. The hotel rooms in Cat Ba Green House are fully-furnished with modern facilities and amenities including cable TV, air-conditioner, fridge, etc, which brings the guests the feelings as they are home. 
* Hai Son Hotel 
Location: No. 27 Tung Dinh Street, Cat Ba Town 

Price: VND 300,000 – 500,000/night 
Hai Son Hotel, which focuses on those who have a low and average income, is highly recommended by the tourists due to service quality and hotel rooms. Although this Cat Ba Island hotel isn't located near Cat Ba seaport or Cat Co Beach, it takes a few minutes from Hai Son Hotel to those places. Interestingly, you will be received warmest greetings from the well-trained staff at the hotel. All rooms are spacious ranging from 20m2 to 28m2 yet cheap. 
Do you know how to choose Cat Ba Island hotels? The development of the internet encourages to book Cat Ba Island hotels more convenient and faster through online booking platforms such as Booking.com, Agoda, etc. In this article, Heritage Cruises will give you some useful information about how to book Cat Ba Island hotels online and list out some hotels that are highly recommended by tourists. Hopefully, it will help much with your trip.