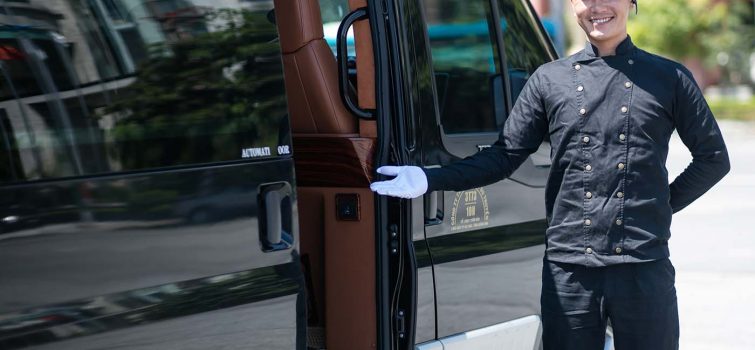 Cat Ba Island is considered as one of the largest and most visited destinations in the northern of Vietnam, along with Halong Bay. This island is 350 km2 in area and consists of around 367 beautiful islets with diverse sizes creating an imposing scenery and appeal a huge number of tourists annually. Cat Ba Island is separated from the mainland, faces up with East Ocean in the South, surrounded by Halong Bay in the North East and final, in the West covered by Hai Phong City. Therefore, there has been different routes to help you travel to Got Harbour. Transportation  and time might be different depending on your itinerary and even the styles of travelling. With an aim to helping tourists have a better information, Heritage Cruises would like to provide you with different means of transportation to reach Got Harbour.
The closest airport is Cat Bi International (HPH) in Haiphong, it takes 30 mins for you to get to Got Harbour ("Bến Phà Gót" in Vietnamese) to embark on Heritage Cruises. Using aerial transportation to Hai Phong is a smart choice for those who are now in HCM City, Da Nang and Buon Ma Thuot.
 From Noi Bai Airport (HAN) in Hanoi, it takes about one hour and a half by the new expressway to get to Got Harbour (Haiphong).
Getting on the Seaplane to Tuan Chau Island (Halong City) is also an option, with a 45-min flight. From Tuan Chau, a private car would be necessary to take you to Got Harbour where Heritage Cruises is always present to assist you, approximately 45 mins away.
At the new Van Don Airport (VDO) in Quang Ninh Province and wanted to visit another destinations that have beautiful landscapes like Halong Bay but still keep its seclusion. Cat Ba Island is something that cannot be missed. Your job is just taking a car on the new highway to get to Got Harbour, about 2 hours.
Getting to Got Harbour by road seems to be the most popular way for tourists in terms of prices and convenience. You can reach Got Harbour from 3 places: Hanoi, Halong Bay and Cat Ba.
1. From Hanoi:
Option 1:
– The travellers can easily take a bus around the Old Quarter which drive them directly to Hai Phong City.
– Operating the new expressway 5B helps cuts down the time traveling to Got Harbour to 1h30 instead of 4 hours. This has removed the main inconvenience of travel to the other regions, which is usually a sinuous and narrow road passing through many villages.
– With desires helping you receive best services, Heritage Cruises offers daily limousine (DCAR) shuttles from Hanoi's city center  to Got Harbour, supplied with Free Wi-Fi, comfortable leather seats and professional drivers. Besides, we might arrange private cars for tourists on demand. It can be seen that the private car tends to be a more affordable and comfortable option compared to a taxi as usual, especially it is recommended for family trip with children.
Option 2:
– Getting onto the coaches (not local public buses) goes directly from Hanoi to Got Harbour. The travel time of Hanoi-Got Harbour journey has been reduced to nearly 2 hours. At Got Harbour, our Heritage Cruises will take you go around and enjoy the incredible beauty that nature endows for Cat Ba Island.
– The advantages of sharing tourist coaches are comfortable, convenient and proper prices, comparative to others. The coach will pick you at your hotel in Hanoi around the Old Quarter and then transfer you directly to Hai Phong City. Therefore, it has no stress on the way in terms of time and luggage stuff with little or no waiting time.
– Here are some details of how to get Got Harbour from Hanoi by coach: + Departure: At hotels around the Old Quarter, 1st Cho Gao Street or 13 Hang Huong, Hang Ma Street, Hanoi.
+ Arrival: Cat Hai, Cat Ba
+ Hanoi – Got Harbour: 7h30; 10h30; 14h
+ Got Harbour – Hanoi: 9h; 12h30; 16h
+ Price: VND 150,000/person
+ Car provider: Good Morning Cat Ba
2. From Halong
– You take a bus or a taxi from Halong City (Quang Ninh Province) to Hai Phong City within 45 mins compared to before. Private cars or taxis are most convenient choice, but public buses are also available. This route is pretty suitable for those who are at Halong City and want to enjoy other destinations.
– Here are some details about how to reach Haiphong from Halong: + Departure: Muong Thanh Hotel at Halong Street, Bai Chay Ward, Halong, Quang Ninh.
+ Arrival: No 19, Nui Ngoc Street, Cat Ba, Hai Phong.
+ Price: VND 120,000/person
3. From Cat Ba:
For those who are already in Cat Ba Island or would like to visit further after the cruise, there is the Got Harbour, departing/arriving from the harbour as Heritage Cruises in Cat Hai (Haiphong), 20 – 30 mins. We recommend a private car as well, since Cat Ba Island is quite large and the distance amongst each destination can be significant.
[/vc_column_text][/vc_tta_section]
It is quite suitable for those who live near the Old Quarter as well. From Hanoi Railway Station, 20 mins walking from Hanoi's city center, you will take a train to Hai Phong Railway Station. It lasts nearly 2h45. Well, taking a train will help reduce the time of finding car service providers. From Hai Phong Railway Station, you'll take a taxi or a bus to get to Got Harbour.
Please note that the time might change marginally so check your itinerary carefully before you go. The price for train tickets is also various and depends on whether you're traveling on the weekend or weekday and choose hard or soft seats.
Here are several details about how to get Got Harbour by train:
+ Departure: Hanoi Railway Station – 120 Le Duan, Hoan Kiem District, Hanoi.
+ Arrival: Haiphong Railway Station – 75 Luong Khanh Thien, Luong Khanh Thien, Ngo Quyen, Haiphong.
+ Time from Hanoi to Haiphong: 06.00, 09.17, 15.20 and 18.15
+ Price: Monday – Thursday: VND 65,000/person for a hard seat;
                                                     VND 70,000/person for a soft seat.
                Friday – Sunday: VND 75,000/person for a hard seat;
VND 80,000/person for a soft seat.
You'll get to Got Harbour from Cat Ba Island by ferry. The ferry ticket costs VND 15,000/person through Cai Vieng Port in Cat Ba Island to reach Got Harbour, 20-30 mins, not including the bus to/from the centre of the island.
Apparently, taking a ferry is much cheaper than other ways but it takes much time and is more crowded. You can go to Got Harbour from Cat Ba Island by hydrofoil.
Departing/arriving at Got Harbour, the hydrofoil ticket costs VND 60,000/person to Phu Long Port ("Bến Phù Long" in Vietnamese), not including the bus to/from the centre of the island. After 8-10 mins journey, you will be at Got Harbour. Obviously, the time for transfering is quite fast so tourists who are seasick shouldn't use this vehicle.
Option 1:
Firstly, you can depart at Tuan Chau Island (Halong City) by taking a private speed boat to Gia Luan Harbour (25 kms far from Cat Ba Town), 20 mins to get there. Then, taking a taxi to get to Cai Vieng Port. Finally, you can get to Got Harbour through Cai Vieng Port. Time and price are presented above, in the 4th part.
– Here are several departure times:
+ Tuan Chau Island to Gia Luan: 7h15; 8h30; 10h30; 13h; 14h30; 16h
+ Gia Luan to Tuan Chau Island: 8h; 9h15; 11h; 13h; 15h30; 16h30
+ Price: VND 450,000 for less than 9 people
VND 650,000 for 9 to 16 people
Option 2:
– Departure from Hon Gai Port (Halong City) to get Got Harbour is properly the second choice for you. The only thing that you have to do is take the speed boat and go directly to Beo Seaport, 1,5 km far from Cat Ba Town. It takes about 40 – 45 mins on boat.
– From Beo Seaport, you can reach Got Harbour via Cai Vieng Port. The information about price and time is shown in the 4th part – how to get Got Harbour by ferry.
– Here are departure times:
+ Hon Gai Port – Beo Harbour: 7h30; 13h
+ Beo Harbour – Hon Gai Port: 8h30; 13h55
+ Price: VND 150,000/person
Please note it down, the times for departure may change without notification. Make sure that you contact with service providers before your comings. Obviously, the speed boat is more convenient and time-saving for you, especially in high season. In a urgent situation, Heritage Cruises can help you to book a private speedboat to get Got Harbour on time for boarding on our cruise.
In conclusion, Heritage Cruises has just helped you to look through all the possible routes from your home country, Hanoi city, Halong Bay, Hai Phong city or Cat Ba Town to get Cat Ba Island by different means of transportation. Each route has own its advantages and disadvantages, travellers should take into account to choose the way, vehicles and the budget that are appropriate with your itinerary and present condition. If you need more detailed information, please don't hesitate to contact us.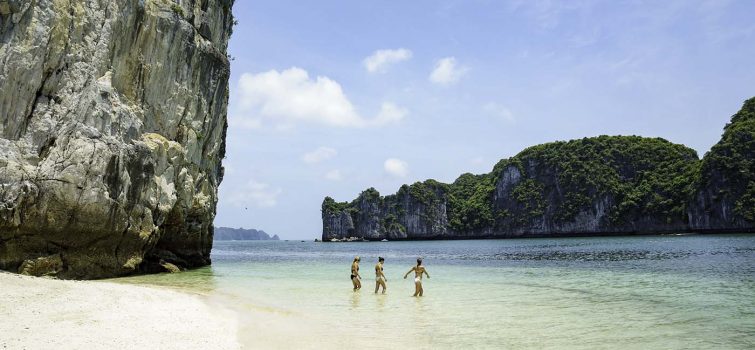 Authenticity is the buzzword for Cat Ba Archipelago and Lan Ha Bay. Traveling to Cat Ba by road only takes 1.5 hours from Hanoi by the 5B Highway. Nowadays, travelers are switching from Halong Bay to Cat Ba and Lan Ha Bay in increasing numbers.
This place is now firmly in the development phase; everything is just getting started. Lan Ha is so small that you can rent a cruise boat to explore the bay by yourself. This is perfect for Cat Ba's based travelers who are self-confident and experienced and want a whole new kind of adventure.
Cat Ba is the largest of the 366 islands spanning the 260km2 that comprise the Cat Ba Archipelago, which makes up the southeastern edge of Halong Bay in Northern Vietnam.
Cat Ba island has a surface area of 285km2 and retains the dramatic and rugged features of Halong Bay. This island belongs to Haiphong City – an important industrial city which, together with Hanoi and Halong, forms an important economic triangle in North Vietnam.
Approximately half of Cat Ba Island is covered by a national park, which is home to the highly endangered Cat Ba Langur.
The island has a wide variety of natural ecosystems, both marine and terrestrial, leading to incredibly high rates of biodiversity.
The types of natural habitats to be found in the Cat Ba Archipelago include limestone karsts, tropical limestone forests, coral reefs, mangrove and sea-grass beds, lagoons, beaches, caves, and willow swamp forests.
Cat Ba island is one of the only populated islands in Halong Bay, with roughly 13,000 inhabitants living in six different communes, and 4,000 more inhabitants living on floating fishing villages off the coast.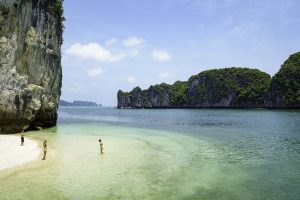 The majority of the population can be found in Cat Ba town, which is located at the southern tip of the island (15km south of the national park) and is the commercial center. Cat Ba's fish sauce is particularly famous and one of the main industries on the island and travelers can visit the factory in Cat Ba town.
Halong Bay is understandably popular and crowded, but if you want to experience it without other tourists, be sure to book our private charter boat that will sail where you want, cruising on your own itinerary.
Go deep into the bay, explore the caves and grottoes, head over to Bai Tu Long Bay and Lan Ha Bay, trek in Cat Ba National Park, go rock climbing, kayaking, and watching some of the most amazing sunsets that you'll ever set eyes on.
Heritage Cruises can help you to take up his challenge with three experiences: Dream Cruise for one day, Discover Cruise for two days, Explorer Cruise for three days and Expedition Cruise for four days. In addition, we arrange private charters for four or five day expeditions in the Gulf of Tonkin.