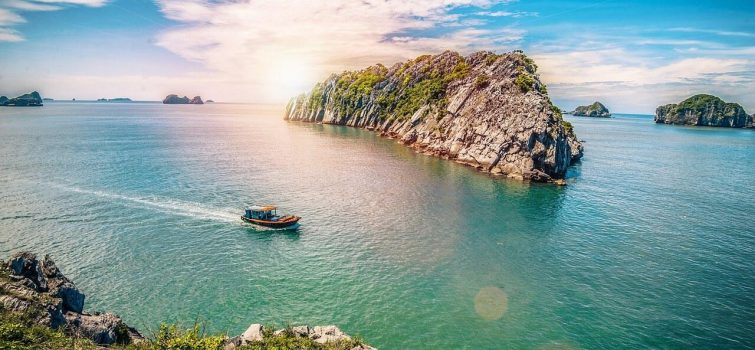 Find a luxury cruise in Cat Ba Island, what do you think? Recently, people have tended to choose Cat Ba Island over Halong Bay owing to many reasons. Tourists are seeking for exploring something new or even they prefer the place quieter and less polluted yet sharing the same geographical features with Halong Bay. In this article, Heritage Cruises will provide you some information on how to find a cruise in Cat Ba. 
An overview of Cat Ba Island 
Nestled on the edge of Vietnam's magnificent Halong Bay, Cat Ba Island is the largest among 367 islands spreading out 100 square miles making up Cat Ba Archipelago. Cat Ba's landscapes are rugged and spectacular with a wide range of natural ecosystems which are totally perfect for exploring by bike, motorbike or boat. 
Cat Ba Island is home to 6 communes with a population of about 13,500 inhabitants. This beautiful island encompasses two distinctive parts regarding Cat Ba Town with a concentration of tourism services and Cat Ba National Park featured by dense forests and its biodiversity. 
The national park and its surrounding area of Cat Ba Island are naturally and internationally recognized for the importance of biodiversity preservation. In 2004, Cat Ba Archipelago was declared as a UNESCO Man and Biosphere Reserve Area to protect the multiple terrestrial and marine ecosystems. Especially, Cat Ba Langur (Golden-headed Langur) which has only 60 individuals living in the park is the existing population of the primates in the world.
Why go on a cruise in Cat Ba Island
Recently, there have been hundreds of cruise ships which are operating in Lan Ha Bay and Cat Ba Island are designed with different concepts and styles of service from 3 stars to 5* stars or more. Regarding the facilities, each vessel has suites from standard to luxury, restaurants, bars, lounge, etc and sundeck, balcony with a beautiful view where guests can watch the sunset or sunrise, sunbathe and simply relax. Additionally, the ship also provides guests with other services like spa & massages and professional staff are always ready to meet any requests from the guests with a smile on their faces and good All are considered as a floating hotel on the ocean. 
Instead of looking for a hotel to stay, transportation and destinations to go sightseeing, nowadays, you just need to book a cruise. So thanks to cruise ships in Cat Ba Island, Halong Bay, and Lan Ha Bay, the relaxation combined with experiences becomes more convenient and easier for the guests than ever. 
How to choose luxury cruises in Cat Ba Island 
The number of international and domestic tourists traveling to Halong Bay have been increasing and even experienced in a stable situation, so there are too many people in Halong Bay and surrounding areas leading to overcrowding in tourism spots. Why don't you find a luxury cruise in Cat Ba Island for yourself to discover and immerse instead of Halong Bay? Here are some details to help you find a luxury cruise in Cat Ba Island. 
1. Best time to go on a cruise  
So how to know what is the best time to go on a cruise in Cat Ba Island, we need to have a look over Cat Ba weather through each season of the year. In general, Cat Ba weather is typical of the tropical monsoon climate, so there are 2 main seasons including wet season and dry season. It's more likely to be a hot and humid climate with many infrequent summer storms between May and September, but it seems dry and cool from October to March. The weather in Cat Ba Island is pretty easy to separate into different seasons with its climate. 
Spring 
Cat Ba Island in the spring is featured in a foggy sky and a high level of humidity. This kind of weather seems perfect for plants and flowers to grow and develop, however, some tourists might find it hard to be convenient and keep their clothes dry. 
Spring falls into February to April. The weather in February can be hazy in the morning so it's hard to go sightseeing and the temperature is a bit cold and cool for tourists to join in water activities. Domestic tourists travel to Cat Ba Island in March is fewer due to office stuff and it's warmer than the previous month. So this is a great chance for tourists who want to get out of the crowding. Usual rains and storms start in April so the weather is a little humid and wet for people. Spring will be a great time for traveling to Cat Ba Island if you want to avoid congestion and overcrowding. 
Summer 
Summer starts from May to July when the general weather is hot, moist and more regular rains and storms. If you are interested in beaches and water activities, Cat Ba Island will be an ideal place for you. It is probably too hot and moisty for international tourists yet Cat Ba Island in summer is still attracting clear skies and cool water. As reaching Cat Ba Island in summer, you should be aware of the possibilities of storms and rains. 
Besides, the demand for traveling and entertaining in June and July is quite high, so it's considered a high season for the domestic market. Through its landscapes under summer are pretty nice, not many foreigners want to deal with a high volume of Vietnamese travelers. 
Autumn 
Autumn from August to October is warm and has irregular rainstorms. The weather makes Cat Ba Island more attractive than Spring & Summer, especially for foreigners. It starts the high season. So the time between August and October is the best for tourists traveling to Cat Ba Island. The weather is featured in slight temperature and blue skies which are ideal for water activities such as scuba-diving, watching coral reefs, kayaking, fishing and so on. Moreover, you'll have chances to enjoy perfect moments on the beach and stunning sceneries on the island. 
Winter 
Winter regularly ranging from November to January is mainly featured in a little cooler, but still slightly warmer and clear skies. If you prefer cooler and temperate weather, you should visit Cat Ba Island during this time. The weather becomes more satisfying with little rain and moisture, so makes it perfect for relaxing on the beach. However, water becomes colder so it's hard to swim or engage in some water activities. Due to the convenient conditions of the weather, tourists have a high demand for traveling to Cat Ba Island in winter. As a result, the high season would lead to overcrowding on transportations, hotel rooms, and increasing prices. 
You can read more about Cat Ba weather: Everything you need to know 
2.How to get there 
Many kinds of transportation that transfer you to get to Cat Ba Island regarding by air, by road, by train, by ferry, and by hydrofoil. In this article, we'll advise all of you the most convenient and suitable way to embark on the cruise in Cat Ba Island. In recent years, cruise services in Halong Bay, Lan Ha Bay, and Cat Ba Island are more and more developing and have attracted lots of tourists. Each cruise will decide which harbour they choose to escort their guests to go onboard. So if you book a cruise in Cat Ba Island, the cruise always offers limousine services from Hanoi to the harbour at Hai Phong City for cruising. It's the easiest way to go on a cruise in Cat Ba Island. 
If you live in Hai Phong City or surrounding areas, you can go to the harbour in Hai Phong by car on your own. It's quite convenient for those who have own vehicle and go with a group of people. In case, you're foreigners or currently living in other provinces along Vietnam, the fastest and easiest way is by plane and then get to the harbour in Hai Phong for cruising. 
You can get more information about how to reach Cat Ba Island, visit How to get to there 
3. What activities are included in a cruise in Cat Ba Island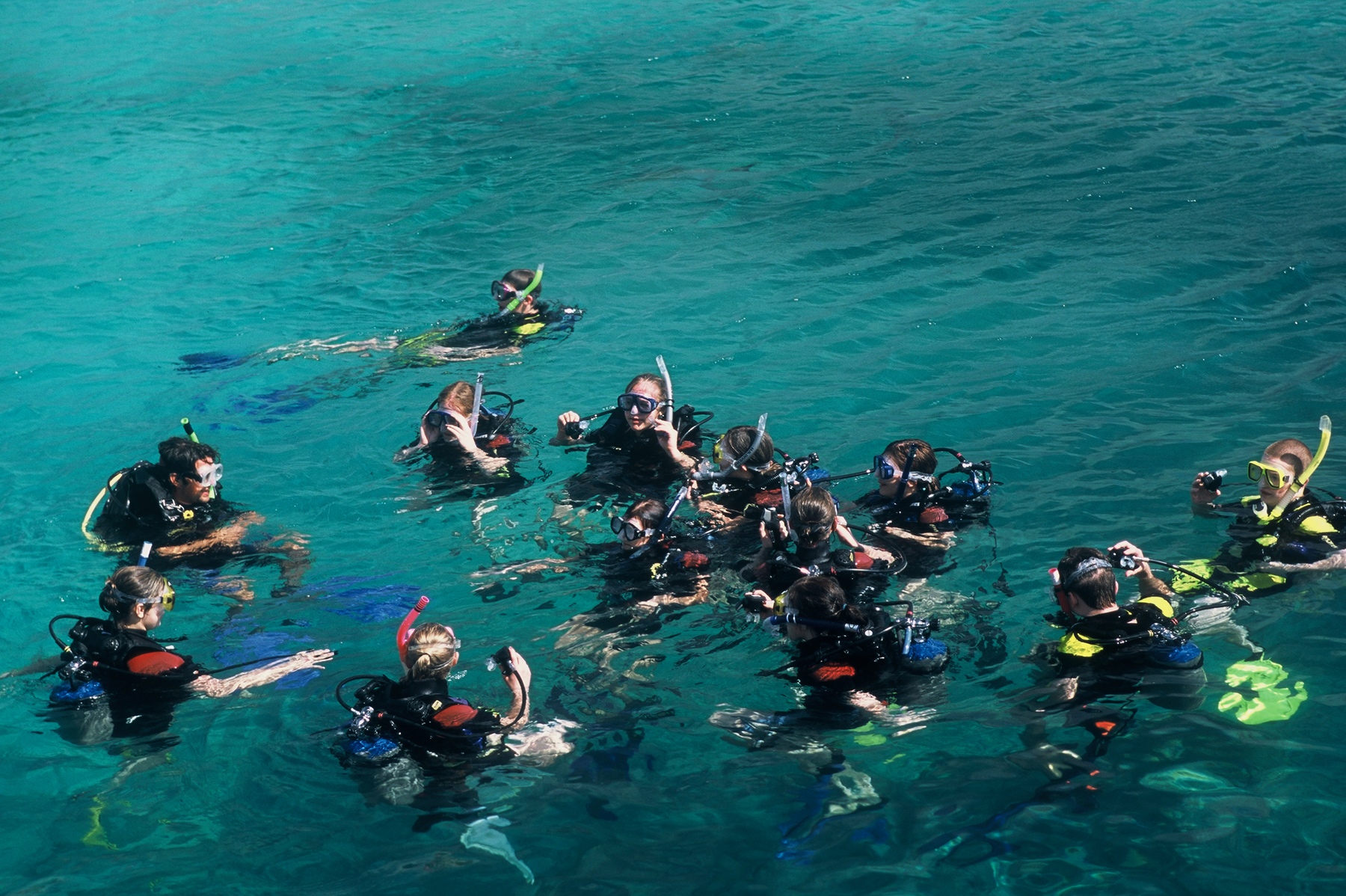 Staying overnight in a cruise in Cat Ba Island helps you to get closer to the natural environment as well as engage in various water activities like swimming, kayaking, scuba-diving, etc. In the article, we suggest what activities should be included in a cruise in Cat Ba Island. However, those activities will depend on your itinerary and the day of your cruise. 
Most of the cruises will escort you to visit famous destinations in Cat Ba Island, Lan Ha Bay including Cat Co 1,2,3 Beaches, Monkey Island, Cat Ba National Park, Dark and Bright Cave, Quan Y Cave, Three Peaches Island which has magnificent beaches, Ba Ham Lake, Da Chong Islet, Cannon Fort, Ngu Lam Peak, etc. Most beaches on Cat Ba Island still keep its untouched beauty so swimming or simply sunbathing along those beaches will bring unforgettable moments for the guests. Those feelings are something that makes you more relaxing, be closer to nature and a bit private, no one's here but you. 
Kayaking is a must-try activity in Cat Ba Island. Going on a kayak helps you to discover and explore every corner of this beautiful island, even you can touch and immerse yourself amongst spectacular sceneries here. 
Besides, the cruise crew takes the guests to visit the fishing villages in Cat Ba Island where you can have a chance to know more about the culture and daily lives of residents. For example, you'll find how they can build a floating house and understand their daily activities like fishing, cooking, etc. That will bring you lots of interesting experiences. 
Moreover, watching the sunrise or sunset on a cruise in Cat Ba Island is another must-have activity. Imagine that the shallow of the sun above the water makes you feel peaceful and tranquil or even something that can't describe by words. All things will be combined to make a memorable experience for your trip.
4.How to book a cruise
Many online channels helping you to book a cruise in Cat Ba Island including Bestpricevn.com, Booking.com, Expedia.com, Agoda.com, Tripadvisor.com, etc. Those online platforms show you the number of cabins or suites available when booking time, the prices, what is included and excluded in the package, types of suites, etc. It's easy to use and follow the online platforms but in case, travelers want to get more advice from the cruise operators or they need to set up for a special occasion so it's hard for them to do that. 
Besides, you can book a cruise in Cat Ba Island via travel agents. They play as sales of the cruise ship who'll provide you advice and information if needed but it takes a little time for you to find a travel agent that you can trust. 
You can book directly at the cruise operators without any online channels or travel agents via their websites. If you have any decorations or advice or recommendations from them, just ask. It takes less time than before.
5. How long do you want to stay on a cruise
Cruise operators in Cat Ba Island, Lan Ha Bay or Halong Bay chiefly offers 3 main types of cruising packages regarding a day cruise, 2 days 1-night cruise (2D1N), 3 days 2 nights cruise (3D2N), and some cruises offer 4 days 2 nights cruise (4D3N). Even when you want to have the cruise package more than 4D3N cruise, it's OK. The cruise operators will design the package that meets your demand if you ask them. 
A day cruise is a short journey designed to help you have a little taste of feeling immersed in the natural landscapes and seascapes of Cat Ba Island, Lan Ha Bay. You can book the day cruise trip with no overnight accommodation on the cruise. 
Overnight cruises have become more common and classic choices for travelers and allowed them to have more time to truly discover and immerse amongst the spectacular sceneries in Lan Ha Bay, Cat Ba Island. You'll get to sleep on board among the natural wonders and then wake up in the early morning to watch the sunrise that's absolutely a gorgeous view. The 1 day 2 nights package exactly lasts 24 hours which allows tourists to visit and travel to the main spots in Cat Ba Island, Lan Ha Bay so it's quite suitable for most travelers who have not much time. Longer cruise itineraries are recommended for those who have time and are seeking for unwinding and tranquility and explore more isolated areas in the gulf. The 3D2N and 4D3N cruises allow travelers to explore closely to the residents, the natural landscapes here. In the longer packages, you'll be moved to a small speedboat to visit other places and engage in other activities, back the cruise ship in the evening. 
How long you stay on a cruise depends on your time, you need/want to explore the gulf and your budget as well. The longer you stay on board, the more time you have for navigating the areas far from the crowds and still keep unspoiled beauty and engaging in outdoor activities.  
Recommendations for a luxury cruise in Cat Ba Island 
– Heritage Cruises, 20 luxury suites, and other contemporary facilities.  
Launching in 2019, the cruise offers unique and authentic experiences and overnight accommodation on an architecturally designed vessel. The cruise differentiates with others from high-end services and distinctive concepts derived from a historic character in Vietnam and describing the lives of Vietnamese in the North dating back to the last century. 
– ERA Cruises, only luxury 18 suites, and modern amenities. The cruise offers cruise tours that will show you a different side of the beautiful country that is Vietnam. This is a luxurious cruise ship boasting state-of-the-art modern design features. It's famous for its elegance styles. 
 If being crowded in Halong Bay, let's look for a luxury cruise in Cat Ba Island, Lan Ha Bay for yourself, which belongs to the further parts of Halong Bay still keeps its pristine beauty. Hopefully, this article somehow helps you have an overall picture of how to find and book a cruise in Cat Ba Island for your trip. Let's discover, explore and immerse in Cat Ba Island with Heritage Cruises – Vietnam's first boutique cruise, contact us now.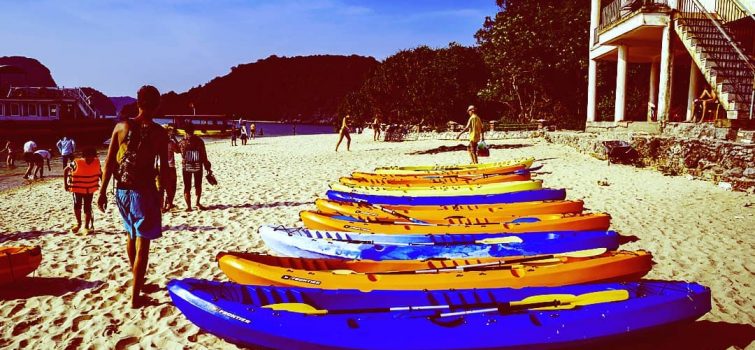 With geographical features and incredibly natural landscapes similar to Halong Bay, Cat Ba Island has become a rising trend as a pristine heritage site that there are not many tourists stepping on. When visiting Cat Ba Island, you can stay at some resorts and enjoy magnificently pristine waters, white sandy beaches under the sun. More interestingly, if your hands really want to touch upon marvelous beauties of the island, hiring a kayak never makes you feel disappointed. Beside contemplating natural sceneries, taking a kayak to visit every corner of Cat Ba Island on your own makes you have an unforgettable adventure during the holiday. The article below will give you the details about how to hire a kayak in Cat Ba Island.  
1. The best time for kayaking
As we know that Cat Ba Island – the range islands of the farthest end of Halong Bay – now is taking into consideration as the World Natural Heritage about diverse biologies. So, the natural landscapes and climate features of Cat Ba Island have close similarities to that of Halong Bay. If Halong Bay – one of the new seven world natural wonders, is too crowded and cramped, why don't you move into Cat Ba Island for relaxation?.  People are always asking that what is the best time to travel and take part in a kayaking tour on Cat Ba Island? That absolutely depends on how you define a perfect vacation. Since visiting Cat Ba Island at any time throughout the year inevitably brings different feelings and experiences. However, if you go to Cat Ba Island for kayaking, you should pay attention to weather conditions carefully. 
The time from June to August starts summer and also is the outbreak of the domestic tourism market in Cat Ba Island. Traveling to Cat Ba Island at that time, it's extremely crowded and accommodations always run out of. In addition, between June and July, it's time for storm seasons in some Northern Vietnam coastal provinces. The unexpected storms coming and going have a significant impact on your journey in terms of transport and sightseeing. Especially, kayaking services on Cat Ba Island might be prohibited by local government due to unfavorable weather conditions.
Except for the months that have the potential for storms, other months are always an ideal time for you to visit Cat Ba Island. Domestic tourists normally travel to Cat Ba Island from April to October since this time overlaps with many holidays of Vietnamese. However, international tourists usually come to Cat Ba Island from November to March as it's the best time for them to go traveling. Furthermore, at this time Cat Ba Island is quite deserted, you can comfortably choose to take a kayak trip on Cat Ba Island to explore fully the heritage site by yourself. 
2. The places that you can't neglect when kayaking 
Cat Ba Archipelago, an area of 345 km2 and including 367 islands with different sizes, creates a limestone area emerging from the ocean. Cat Ba Island is the biggest island as well as has the largest number of residents living on. Most tourists coming to Cat Ba Island always seek for an extraordinary experience like going kayaking. Certainly you would never forget the feeling that you take a kayak and go out to sea on your own where there are many breaking waves. Those surging waters will lead to some islands or even isolated beaches for sunbathing, swimming or just relaxing. If not, you can sail your boat to reach fishing villages, ravines in the gulf. Some professional tourists state that: "Lan Ha Bay and Dark & Light Cave are the two most ideal spots to go kayaking on Cat Ba Island". Besides, there have been magnificent destinations for kayaking that you can't neglect such as Lan Ha Bay, Dark & Light Cave, Three Peaches Beach, and Vem Cave. 
Lan Ha Bay – the coquettish primitive pearl on Cat Ba Island 
Lying in the south of Halong Bay, Lan Ha Bay has been attracting plenty of tourists to go sightseeing because of its pristine beauties. Lan Ha Bay is considered as a neglected paradise in the Gulf of Tonkin, taking a kayak in Cat Ba Island to discover Lan Ha Bay is the fascinating experience that you should have once in your entire life. 
With different routes of going kayaking around Lan Hay Bay, you will have a chance to visit Cua Van Fishing Village featured by an interesting reef system. From this place, you'll come across a small ravine, called Luon Cave ("Hang Luồn" in Vietnamese) which is considered as one of the most narrow caves in Vietnam for visiting. With stalactite architectures and turquoise waters, Luon Cave always brings a tranquil feeling for those who want to go kayaking by themselves on Cat Ba Island. There are other islands and islets, characterized by varied cliffs with unique shapes that all are waiting for you to visit on Cat Ba Island. The price for sightseeing on Lan Ha Bay is VND 40,000. 
Dark & Light Cave – Sung Sot Cave underwater of Cat Ba Archipelago
Dark & Light Cave belongs to the cleft palate cave with the cave floor submerged in the water; however, the ceiling above the water. To discover Dark & Light Cave, you will take a kayak in Cat Ba Island instead of climbing up slippery stone steps. When going on kayaking, you'll get a chance to get accessed to the base of the mountain and understand more about an interesting phenomenon that the base of limestones is corroded by water. Besides, you are likely to contemplate various vegetation around the base which makes you exclaim that why the greenery can survive under a strange and harsh limestone topography. As tapping the stalactites ceiling in the cave, you can see different classes of stalactites on the ceiling and on the cliffs. Certainly, you will be impressed by magnificently natural beauties featured by the stalactites and limestones system in the cave. 
Three Peaches Beach – A pristine place on central Cat Ba Island 
Although Three Peaches beach belongs to Halong Bay, it's pretty close to Cat Ba Archipelago. This place includes 3 small mountains with a height of 20 meters like 3 giant peaches petrified close together. That's why people normally call it's Three Peaches. That's so amazing if you are able to go kayaking to go around blue beaches and natural mountains in the middle of the ocean or suddenly startle when there are waves splashing slightly on the boat. 
Discover Vem Cave, Ang Thinh Linh 
If you are planning to go kayaking on Cat Ba Island, certainly that you shouldn't miss the area around Vem Cave – Ang Thinh Linh ("Hang Vẹm – Áng Thình Lình" in Vietnamese). According to local spoken-language in Cat Ba Island, people usually use "Áng" for valley area lying amongst ranges of mountains in the distinctive regions. More especially, the lake in Vem Cave – Ang Thinh Linh area brings the biological features of brackish water. Undoubtedly, some of you must have understood the feeling when adventuring amongst special valleys on kayaking by yourself, aren't they? If you're a big fan of kayaking, please don't miss a chance to go kayaking in Vem Cave – Ang Thinh Linh on Cat Ba Island. 
3. How to rent a kayak in Cat Ba Island
3.1 Coming to Cat Ba Island and rent a kayak on your own 
Going kayaking on Cat Ba Island on your own is an amazing experience to discover the entire island. Nevertheless, if you want to do this by yourself, you should go with a group of people; otherwise, you must have detailed information about Cat Ba Archipelago. This helps to ensure tourists' safety since Cat Ba Archipelago lies in the Gulf of Tonkin and the East Sea where there are a few waves suddenly crashing or limestone reefs might crash into your kayak. Moreover, you may get lost in a cave or on an isolated island. All those things can put tourists in danger. However, If you are an adventurous person, certainly that going kayaking on Cat Ba Island will bring an extraordinary experience for you. The price of renting a kayak depends on the number of tourists in your group.  Most service providers of the kayaking concentrate on Beo Harbour. 
* If you go with a large of people (>15 people), get to Beo Harbour to buy a ticket and then, hire boats to reach floating-house in Lan Ha Bay so as to go kayaking. Normally, the price for hiring boats from Beo Harbour to Lan Ha Bay is ranging from VND 1,000,000 – VND 4,000,000. At the floating-house in Lan Ha Bay, you can rent a double kayak with VND 50,000 – VND 100,000 and there is no limitation for using time. However, if you go with a large of tourists, the time for using a kayak will be limited due to the time of the tour package. 
* If you go with a small of people, hire a big kayak will cause waste. So from Beo Harbour, there are many fishers' small boats transferring tourists to Lan Ha Bay. The price of a boat is VND 200,000 – 300,000. Please note that there is no life jacket for tourists in the boat of fishers. When reaching Lan Ha Bay, you can hire a kayak to visit the whole island. Otherwise, you can go around Beo Harbour and make an offer with a group of people to share a big boat. Of course, when getting the island, you freely discover the gulf by a kayak. 
3.2. Kayaking tour combined with other experiencing patterns on Cat Ba Island 
If going on kayaking is only one of the tourism experiences that you want to explore on Cat Ba Island, you should take part in a kayaking tour combined with other tourism activities such as swimming and scuba diving to watch coral reefs. Let's spend a whole day on Cat Ba Island to enjoy various experiences and relax for relieving the pressures of a normal life. 
Kayaking tour 1 day on Cat Ba Island: 

Price: VND 350,000 – VND 700,000; depending on the attached services and activities. 

Several prestigious travel agents offering a kayaking tour: 
| | |
| --- | --- |
| Travel agent  | Contacts  |
| Cat Ba Express | +84 84 824 4999 |
| Du lich Canh Dieu (Kitetravel)  | +84 038 999 8081 |
| Goodmorning Cat Ba | +84 914 607 571 |
Kayaking tour (2 days 1 night): If you have much time and want to go on a kayak, you should take part in some kayaking tours offered by travel companies or kayaking services on Cat Ba Island via hotels, homestays or hostels.
Price: VND 1,500,000 – VND 2,500,000 depending on the attached services and activities. 

Some prestigious travel companies: 
| | |
| --- | --- |
| Travel agents  | Contacts |
| Vietsense Travel | +84 916 172 338  |
| Du lich Canh Dieu (Kitetravel)  | +84 038 999 8081 |
| Du lich Khat Vong Viet  | +84 962 70 5533 – +84 934 507 489 |
3.3. How to rent a kayak on Cat Ba Island via Heritage Cruises – offering accommodations in the gulf 
Tourism on Cat Ba Archipelago has become trendy as the second heritage site in Northern Vietnam. Cat Ba Archipelago possesses a primitively natural beauty which is not less than Halong Bay. Finding the cruise that offers overnight accommodation on Cat Ba Island is quite easy since all of the cruises operating on Cat Ba Archipelago provide kayaking service to visit and contemplate the natural landscape around the gulf. They usually offer the kayaking service for free or if have, it's only a little free so you don't need to worry. You just need to choose the cruise that you like and enjoy your vacation. If you pick Heritage Cruises as your partner along the trip, you will probably have an unforgettable experience since we'll help you go back with Vietnamese nautical stories of the early 20th century or you can touch completely the heritage.