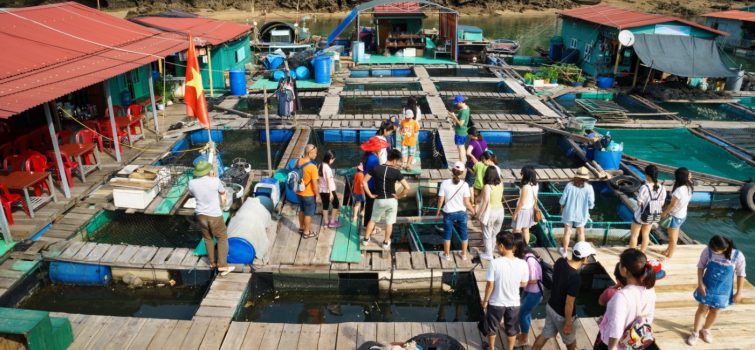 Lan Ha Bay, in the Cat Ba Archipelago, is covered by nearly 400 limestone mountains and has for centuries been a safe shelter for fishing boats when ferocious storms occur. There are approximately 300 households living in permanent floating villages in the bay and you have the chance to explore the intriguing life in these villages.
Cai Beo fishing village in Lan Ha Bay (commonly known as Lan Ha fishing village) is probably the largest and most famous floating village in Asia, where most people live largely by fishing and fish farming.
Cai Beo fishing village is only about 2km from Cat Ba town and just 10 minutes from Beo seaport. If you join our Heritage Expedition four-day program, you initially travel by van and then take a small boat or our speedboat or tender to visit the village.
Years ago, Lan Ha Bay had about 5,000 households farming Otter Snout clams in floating ponds using plastic baskets, but a disease wiped out the entire population and the fishermen lost their means of earning money and went bankrupt.
The farmers discarded all the baskets used to raise the clams and these sank to the bottom of Lan Ha Bay. Red algae started to grow on the baskets, polluting the water and creating a major problem for the fish living in the waters.
Many fishermen drag their nets across the sea bottom when fishing and some nets are torn by the discarded baskets, so the fishermen continually have to repair their nets. Now these baskets have been retrieved to help clean the water.
Although a fisherman's life is hard and simple, they appear quite content with their lot in life. They have to start very early and finish very late doing lots of physical work. Fishermen live away from the mainland, but they can buy anything from the hawkers who sell supplies to the villagers from their boats. The fishermen do not have a huge variety of food available to them, like on the mainland, but they can catch fish to feed their families and they just need to buy vegetables, salt and fish sauce.
The scenery here is very beautiful with colorful floating houses nestled in the shelter of the islands, a stone backyard. The fishing village of Beo is spread across 18.000m2. The people who live in the Cai Beo settlement evolved from the Neolithic period and were hunter gatherers right through to the Bronze Age when their civilization evolved to become fishermen and also settled on the land to create agricultural settlements. The first indigenous people in Cai Beo are probably descendants of an ancient civilization from Hoa Binh – Bac Son, from around 12,000 years ago.
In early 2007, a team of specialist scientists undertook extensive excavations and 10 tombs were revealed with 137 stone artifacts and 1,424 pottery shards, all made from granite, ceramic, and twisted rope as well as fish bones, shells and oysters. Analysis indicated that Cai Beo is a site of archaeological importance and was the home of fishermen around 7,000 years ago, who lived mainly from fishing, scallops and oysters, a way of life that continued until around 4,500 years ago.
Guests taking part at Heritage Expeditions (4 days and 3 nights) will have the chance of visiting this unique historical site, and experience this community's eccentric lifestyle.