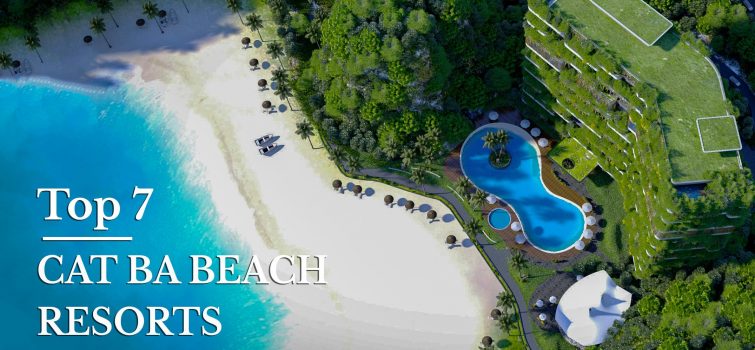 Cat Ba Island, known as the largest island in Halong Bay, is endowed with spectacular landscapes and seascapes and nice weather conditions. Obviously, this island has still remained pristine natural beauty and rugged features of Halong Bay. Many tourists recently have shifted to visit Cat Ba Island, which helps tourism on the island more and more to develop. Spontaneously, other services including accommodations, foods and beverages, tourism activities included, spa and so on also have been increasing. It can be noticeable that the accommodations in Cat Ba Island have developed a lot from basic accommodations to luxury ones. So with the aim of helping tourists get a memorable experience, Heritage Cruises will give you brief information on Top 7 Cat Ba Beach Resorts that you want to try when visiting Cat Ba Island. 
1. Cat Ba Sandy Beach Resort
Located on a  private island – Nam Cat Island in the middle of Lan Ha Bay, Cat Ba Sandy Beach Resort, one of the best Cat Ba beach resorts, offers distinctive wooden bungalows. It is endowed magnificent seascapes and surrounded by a wide range of limestones, white sandy beaches of pristine water and diverse flora and fauna. It takes around 30 mins from Cai Beo Pier by junk boat to reach Nam Cat Island. 
This resort distinguishes from others by its architectures and special experiences to the guests. The cozy bungalows are built on stilts and feature with classical wooden furniture and large windows. Those bungalows are quite suitable only for relaxing and nature lovers. Since it's a remote area, the room facilities are simply basic, no wifi/internet connection and electrical power is limited. Therefore, when coming to Cat Ba Sandy Beach Resort, you absolutely can leave bustling lives and workload behind to enjoy the tranquil beauty of the island. 
Staff at the receptionist desk can arrange activities for guests including diving and visiting the island. Moreover, tourists can taste local dishes in the restaurant and light snacks and beverages served at the bar. The price of meals is reasonable. Lunch/dinner cost from $10/person (5 – 7 dishes), a can of soft drink costs $1.5, a bottle of mineral water – $1, a can of beer costs $2, etc. 
Regarding prices, it offers the best price, ranging from $55 to $95 (around VND 1,300,000 to 2,200,000) per night and the prices depend on the room's type. 
To book bungalows, you can visit its website. 
Contact information: 
Location: Nam Cat Island, Lan Ha Bay, Cat Ba, Hai Phong Province, Vietnam 

Tel: (+84) 24 3926 2326 or (+84) 963 500 788 

Email:

[email protected]

 
2. Cat Ba Sunrise Resort
Cat Ba Sunrise Resort is the ideal island paradise featured by uniqueness, luxury and, breathtakingly natural beauties. Located on Cat Ba Island and settled in a sandy bay protected by marvelous karst cliffs, the gardening resort gives its guests panoramic views of a crystal clear water ocean and magnificent islets. It takes about more than 2km from Ben Beo Harbour to Cat Ba Sunrise Resort. 
All rooms have standard facilities and spacious balconies with distinctively sensational sea views. Moreover, outdoor facilities consist of a sparkling pool, Jacuzzis, beachfront bar – The Coco Bar Lounge, and easy access to a soft beach and a magnificent cliff-side walk away. On the other hand, for indoor amenities, the guests can enjoy VOCO Restaurant, 4-star restaurant serving Western cuisines and Asian foods, and fully immerse in spa services and completely relax in Vietnamese theme lounges. Besides, the place is appropriate for meetings and events as well. 
Regarding its recreation, this Cat Ba beach resort offers Karaoke, GYM room, and Kid's Club. The Kid's Club provides spaces for children including various toys, games, computers offering games' offlines to maximize the child's interests, so it's a perfect place for family. 
Offering a swimming pool inside the resort and an interesting corner to play for children is the bonus point of Catba Sunrise Resort compared to others. Another thing is that the ideal location is in front of the beach. It must be great for guests to take a few steps to get the seashore and enjoy the sunrise as its name. 
Prices are ranging from around VND 2,700,000 to 4,700,000 for 2 people/night. 
To book rooms, contact via its website 
Cat Co 3 Beach, Catba Island, Hai Phong City, Vietnam
Phone: (+84.225) 388 7360 
Email: [email protected] 
3. Cat Ba Island Resort & Spa
Ideally located on a cove near Cat Ba Island, Cat Ba Island Resort & Spa is considered as a perfect place for tourists to experience relaxing ambiance and enjoy the natural beauty of Cat Ba Archipelago as well. Well, the ocean view resort attracts guests with magnificent beachfront views, the freshwater in swimming pools and sufficient facilities being ideal for a honeymoon, romantic weeks, family vacations and resting weekends.  
Generally, Cat Ba Island Resort & Spa offers 165 spacious rooms and suites designed the concept of island-inspired decorations and modern amenities. The guests can choose amongst rooms with varied views and different types including deluxe suites and condo-style suites. Additionally, all rooms are equipped with flat-screen televisions, free wifi connection and many of them feature private balconies to overlook ocean views or mountain views. Cat Ba Island Resort & Spa also offers friendly lodgings for those who're traveling with their pets. 
Outside the door room, tourists can immerse rays of sunshine on the Cat Ba seashore or on the deck chairs near two beachfront swimming pools which separates space for adults and family. Besides, you can enjoy Jacuzzi Spa with unique experiences at the relaxing beachfront resort. The resort also invites guests to enjoy tropical cocktails at lively Pirate Bar. The guests are delighted by the 100-square-foot Fitness Center in the resort and some activities like beach volleyball. Moreover, they can enjoy a peaceful garden featured with a green grass cover and a reflecting pond. Cat Ba Island Resort & Spa also offers a shuttle service to reach the city center being famous for friendly local shops, bustling nightlife, and dining. Besides, if you want to discover Cat Ba Island, you can find all kinds of packages at the receptionist's desk. 
Especially, Cat Ba Island Resort & Spa is a distinctive destination for meetings and events. The resort will overwhelm guests with 6,000 square feet of function rooms and different details creating signature events. Whether you're planning to organize a conference over 200 guests or a close wedding near the beach, Cat Ba Island Resort & Spa certainly brings you unforgettable experiences. 
Each type of room offers a different price. Prices are from VND 2,500,000 to 3,700,000 for 2 people/night 
To book the rooms,  contact via website. 
 Here is some information: 
Location: Catba Island Resort & Spa Cat Co 1, Catba Island, Cat Hai, Haiphong, Vietnam.  

Reception Tel: +84 (225) 368 8686 Fax: +84 (225) 368 8989 
4. Monkey Island Resort
Monkey Island Resort is perfectly located on an isolated beach of Monkey Island (also called Cat Dua Island) in Lan Ha Bay, Cat Ba Island. It's about 3,2 km far from Cat Ba Town and it takes about 10 mins for guests to get to this resort by boat from Ben Beo Harbour. 
All rooms in Monkey Island Resort are equipped comfortably for your staying with full modern facilities combining with distinctive views from the rooms and private balconies to contemplate hundreds of islets in front. The restaurant's Monkey Island Resort lying next to the beach and spectacular eco garden serves the guests with Vietnamese cuisines and Western foods. Additionally, there might be great to take part in a daily BBQ party on the beach. 
The unique feature is that Monkey Island Resort is located on a private island in which tourists can see easily and play with friendly monkeys. Playing and feeding for monkeys are absolutely distinctive experiences that the resort brings to the guests. When staying in bungalows, you can feel the cozy atmosphere and be familiar with Vietnamese architecture. Most bungalows and furniture totally made of wood, which brings exceptional feelings for the guests. If you're interested in watching monkeys and immersing in the natural environment, Monkey Island Resort will certainly be a perfect choice for you. 
For pricing, it offers reasonable prices for the guests. With different types of rooms, it costs different prices which are ranging from around VND 1,400,000 to 3,500,000 for 2 people per night. 
To book rooms, contact via its website 
Location: 25 Lac Trung Street, Hai Ba Trung District, Hanoi 
Tel: 0981 222 029 – Reservation: 0981 222 028 
Email: [email protected] 
5. Cat Ba beach resorts on Nam Cat Island
Being totally isolated from the mainland, Nam Cat Island Resort certainly makes guests satisfied with the preference of discovering and traveling. After 30 mins on board from Beo Harbour, the guests are present at a beautiful islet to explore spectacularly natural sceneries and provided accommodations with wooden houses being surrounded by cliffs. 
For rooms, you can choose rooms with a sea view and no air-conditioning and rooms with sea view and air-conditioning. Rooms with no air-conditioning have big windows and doors which brings a sense of being closer to the environment for the guests.
Nam Cat Island Resort offers the guests a wide range of services including kayaking, submarine diving, firewood camping, fishing at waiting for houses overnight, visiting Viet Hai Fishing Village, exploring Monkey Island and Lan Ha Bay as well. In the evening, you can go to the mountain bar for drinking, singing karaoke with many friends from different places. Maybe you can enjoy dancing before going to bed until midnight or walking with your partner on the beach nearby. 
Regarding pricing, Nam Cat Island Resort offers appropriate prices for the guests. It ranges from VND 1,200,000 to 2,000,000. 
To book the resort, contact its website
Here are some details of the resort: 
Address: CatBa – Hai Phong – Vietnam 
Hotline: Mrs. Diu 0977.157 822 – Mr. Vuong: 0989 555 773 – Mr. Phong: 0989 555 811 
Email: [email protected] 
6. Cat Ba Eco-Lodge Resort
Cat Ba Eco-Lodge Resort (originally Suoi Goi Resort) is approximately 13 km far from Cat Ba Town and it takes 15 mins to get to Cat Ba National Park. This resort is an absolutely different world of tranquility, pure air, magnificently natural beauty, and biodiversity. 
Lying on the top of a private hill in Xuan Dam Village, Cat Ba Eco-Lodge Resort is the most out-of-the-way resort in Cat Ba featured by primitive forests and melodic songs of various wild birds. Moreover, it's designed and comforted in mind and Muong Ethnic Culture with rooms that are arranged in three separate buildings around the restaurant. 
Rooms at Cat Ba Eco-Lodge Resort are designed as wooden stilt house styles, with a long corridor. The rooms in this Cat Ba beach resorts are spacious and pretty suitable for those who travel in a big group of friends and for a family holiday. It's noticeable that the resort helps guests immerse themselves with natural landscapes which is totally different from other resorts. 
Tourists are appealed by its friendly-environmentally surroundings and Muong people's architectures. The bungalows and restaurants have lied deeply in the forest which makes the surrounding temperatures cooler. This helps the resort differentiate from others. Obviously, this resort is constructed as a place of peace and tranquility, providing guests an opportunity to escape from a bustling daily life and the workload. If you're an environmental lover and seeking for a luxury vacation, Cat Ba Eco-Lodge Resort is an absolutely perfect option. 
In terms of pricing, the resort offers quite competitive, ranging from nearly VND 1,000,000 to 1,900,000. The prices are pretty cheaper than other resorts. 
For booking, contact it via website 
Location: Xuan Dam, Cat Ba, Hai Phong, Vietnam 
Office: 136 Ngoc Tri Street, Long Bien, Hanoi
Phone: (+84) 225 688 966 – (+84) 973238686
Email: [email protected] 
7. Cat Ba Beach Resort
Cat Ba Beach Resort is situated in Cat Co 2 Beach which is known as the most beautiful beach on Cat Ba Archipelago and featured by a primitive landscape and seascape and stretching white sandy beaches. 
The resort consists of 21 bungalows including Seaview Bungalow and Seafront Bungalow which brings a private space and comfort for guests and Duplex Family which provides the guests with a cozy atmosphere and conveniences. 
Additionally, coming to Cat Ba Beach Resort, tourists have chances to enjoy special and fresh dishes of seafood at Rock and Sea which are front beach restaurants. 
Like other resorts in Cat Ba Island, Cat Ba Beach Resort is in front of the beach with clear water and white sandy beach. However, the resort offers a large area for guests to go on a walk and relax under the canopy of coconut trees. This area is full of coconut trees and the path is arranged skilfully by a different piece of rock. 
More interestingly, the guests will have an opportunity to visit The Cannon Fort. From The Cannon Fort at the highest point of 177 meters, you can look forward to farthest distance, the ocean, the high mountain, blue clouds, and the skylines. All huge objects now look tidy in your eyes. Especially, it's extremely marvelous to see the sunset on the top of Cat Ba Island.
The prices are ranging from VND 1,200,000 to 2,800,000 for 2 people/night.  
To book rooms, contact it via website
Address: Cat Co 2 Beach, Cat Ba town, Cat Hai, Hai Phong 
Tel: +84 31 3888 686
Hotline: 098 659 6363 | Email: [email protected]
All resorts mentioned above offer a good location, rooms with modern facilities and high quality of accompanied service regarding accommodation, restaurant, spa and tourism activities included. So, how can you decide the best place to stay? If you want real comfort, you can also choose to go on a cruise from Hai Phong and have a chance to visit all the major destinations in Cat Ba Island, coming back to the comfort of your room afterward. Unlike other Cat Ba beach resorts, Heritage Cruises offers authentic experiences on the cruise ship with modern amenities in Lan Ha Bay and Cat Ba Archipelago. If you're interested in living on our cruises, you can contact us for more detail. Hopefully, that information might help you to choose a place to stay for your fascinating holiday on Cat Ba Island.