Cat Ba Island (Cat Hai, Hai Phong) has been a rising star of Northern Vietnam tourism in recent years. With an area of 300km2, this island has 367 all-size islands surrounded by deep blue water. Cat Ba Island weather varies in different seasons, but each of them has its own unique beauty. 
Tourists can visit Cat Ba all year round without worrying about extreme weather conditions. Indeed, you can choose the most suitable weather to visit this destination thanks to the diversity of Cat Ba Island weather.

Spring – January to March
In Spring, the weather in Cat Ba is quite cold with some frequent drizzles or light rain. There are chances that it will be a little murky. However, this Cat Ba weather can be a perfect pick for visitors coming from all-hot-and-sunny climates.  This can be an one-of-a-kind opportunity to experience humid and chilly weather. 
However, swimming is not suggested in this weather. Recommended activity for this weather is cruising in which you can enjoy the scenery in a sense of luxury and warmth. Besides, spring is the time when Vietnamese celebrate Tet. This is a wonderful time to learn more about Vietnam's culture through traditional celebrations. Heritage Cruise includes exploring fishing villages where you can get to know more about local traditions.
Summer – April to August 
The summer weather of Cat Ba Island is perfect for swimming. There is nothing more refreshing than immersing yourself in the clear water of Cat Ba to beat the heat of summer. Summer is also a wonderful time to travel with your family and leave behind all the stress and strain. 
April to August is when Cat Ba Island is most busy with visitors from all over the world. There are plenty of activities to choose from without worrying about being disturbed by the weather. Tourists can visit Lan Ha Bay on a cruise to explore the limestone islets or kayak on the sea, trek in Cat Ba National Park or swim in Monkey Island. At night, visitors can come to the night market and make new friends as this time of the year Cat Ba Island will welcome a lot of travellers from Vietnam and abroad.
Autumn – September to November 
Autumn has always been associated with romance, and there is no exception for Cat Ba weather. This is a great time for couples to relax in Cat Ba and enjoy the fresh air of autumn. The weather is similar to summer, but there is no extreme heat. If you are lucky, you might get to enjoy the best days of Cat Ba weather when it is pleasantly cool and not too sunny.
If tranquility is what you seek for on holiday, Cat Ba in autumn is definitely a perfect fit. There is no crowd or endless waiting to be served. Most of all, the sea is not rough at all in this weather of Cat Ba. There are 2 tempting consequences following this weather condition. Firstly, swimming will be incredibly pleasant. Secondly, seafood will have fattier taste – a unique feature of this season in Cat Ba. 
There is no emphasis when saying that Cat Ba in autumn is ideal for a honeymoon.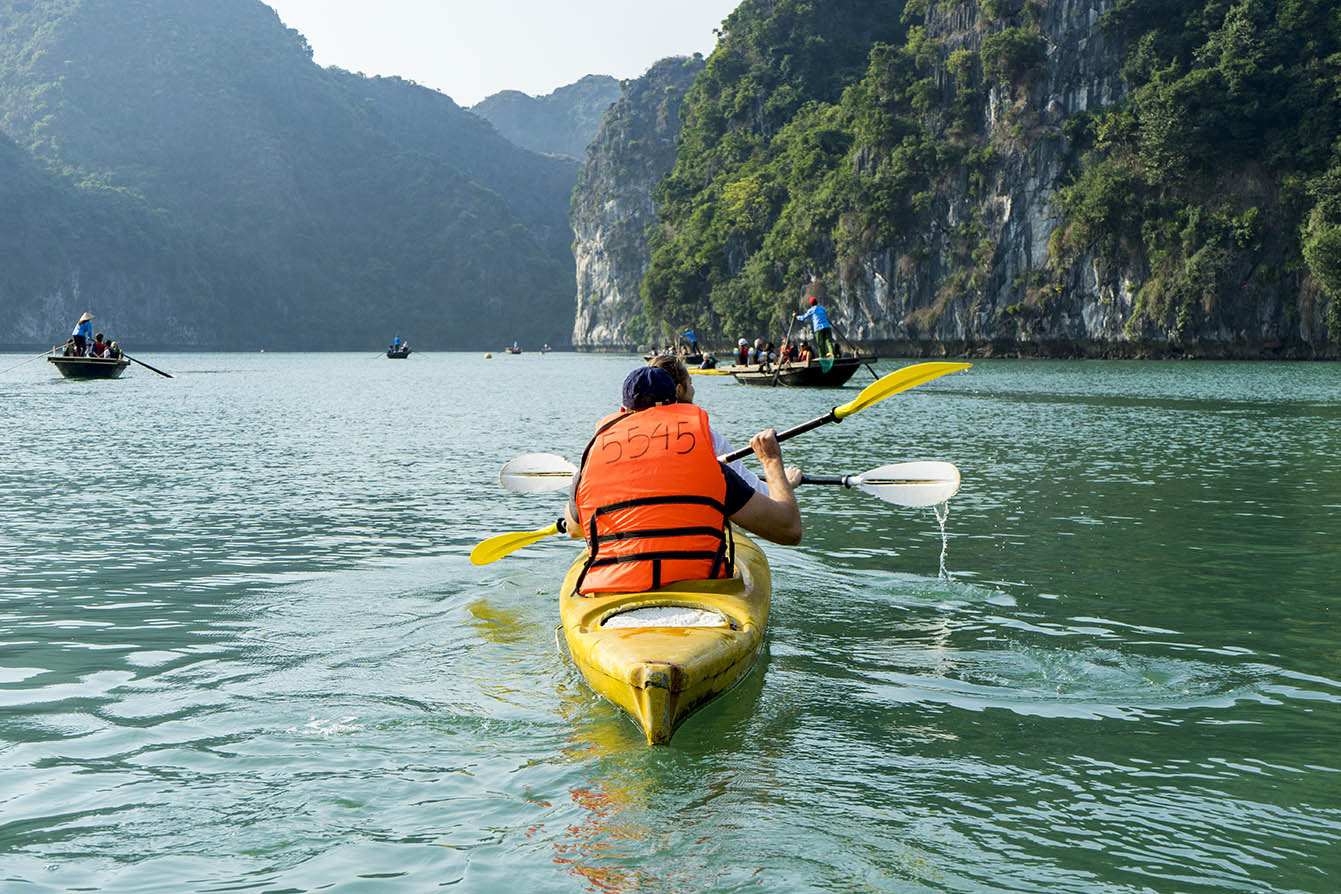 Winter – November to December
Like anywhere else in the world, the winter weather in Cat Ba is cold and foggy. However, the winter temperature is from 10 to 20 Celsius degrees only thanks to Vietnam's tropical climate. In fact, this is a lot warmer than many European and Asian countries in winter. For that reason, Cat Ba in winter is still attractive to visitors from abroad. 
On the other hand, Cat Ba Island in winter is surely peaceful and relaxing as there won't be too many tourists. If you want to explore the hidden beauty of this treasure island of Northern Vietnam, don't hesitate to come at the end of the year. Some comments revealed that winter is the best time as there is absolutely no cicada noise. 
If you are still unsure, imagine celebrating a memorable Christmas and New Year Eve on water in a 4-star cruise at Lan Ha Bay. What can be more special? 
Recommendations 
Regardless of the differences of Cat Ba weather, tourists actually can visit this island all year round. Peak season of Cat Ba is summer when there will be a lot of travellers from all over the world gathering at this destination. If you are a sociable person who loves to make new friends, summer is your fit. This is also the time to release all the stress and reward yourself with a vacation. So just come and explore the sandy beach of Cat Ba if you don't mind the bustle (and the cicada noise).
Yet, spring, autumn and winter always welcome you to enjoy the serenity charm of Cat Ba Island. If you can spare some time to explore this island in these seasons, it will be a worthwhile experience at very low cost. 
However the weather in Cat Ba Island is, it is still worth a visit.