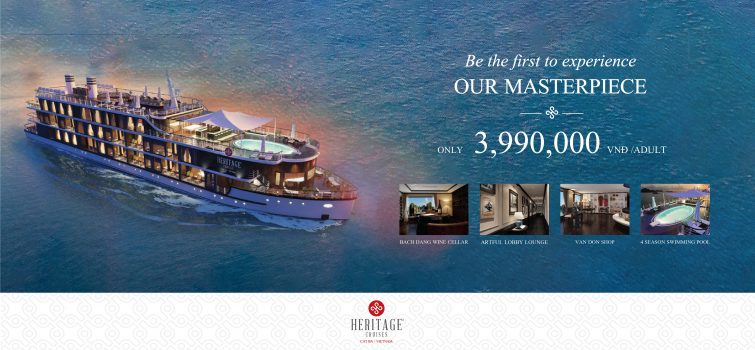 Only 𝐕𝐍𝐃 𝟑,𝟗𝟗𝟎,𝟎𝟎𝟎 per adult (Applying for VIETNAMESE & EXPAT)
COMPLIMENTARY 02 CHILDREN UNDER 12-YEAR-OLD
COMPLIMENTARY A ROUND-TRIP TRANSFER HANOI – GOT HARBOUR
Are you ready to cruise artfully with historical Heritage Cruises – Vietnam's First Boutique Cruise Brings Heritage Alive.
Cruising is all about you, destinations, experiences and memories. Discover, Explore, Immerse and Relax on our masterpiece in the Natural wonder of Cat Ba Archipelago, Lan Ha Bay, one of the most beautiful gulfs in the world in Vietnam.
Prices Starting from Only 𝐕𝐍𝐃 𝟑,𝟗𝟗𝟎,𝟎𝟎𝟎 per adult per night.
Including:
01 Delta Suites for 2 people, a private balcony with an ocean view.
Complimentary for all means including lunch, dinner, light breakfast & drinks in mini bar
Complimentary for 02 children under 12 years old sleeping with parents.
Complimentary for a round-trip transfer Hanoi – Got Harbour
Complimentary for a four-season swimming pool, sauna service and gym
Complimentary kayak to explore the gulf.
Period applied: From August 10, 2019 – October 31, 2019.
As Vietnam's first boutique cruise brings heritage alive, with a story to tell, our fleet aims to provide you with an authentic and unique cruising experience as well as showing you Vietnam's culture, history, and gastronomy on the very first art cruise in the country. Creating Your Memories!
BE THE FIRST TO DISCOVER
OUR AUTHENTIC @ UNIQUE EXPERIENCES.
Limited Period Offers, Book Now!
𝑯𝒆𝒓𝒊𝒕𝒂𝒈𝒆 𝑪𝒓𝒖𝒊𝒔𝒆𝒔 𝑪𝒂𝒕 𝑩𝒂 𝑨𝒓𝒄𝒉𝒊𝒑𝒆𝒍𝒂𝒈𝒐

088 603 6668

sm@heritagecruises.com/[email protected]

heritagecruises.com