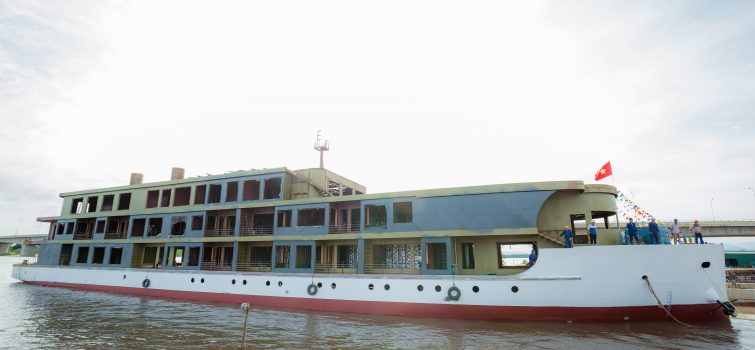 On 18th June 2019, Nam Phat Shipbuilding and Shipping JSC cooperated with Heritage Cruises JSC to organize the Float-Out Ceremony of the first boutique cruise in the Gulf of Tonkin in Quang Yen Town, Quang Ninh Province. It's true that Heritage Cruises is completely invested by Heritage Cruises Joint Stock Company, which is the member of Lux Group.
Heritage Cruises is the third cruise of Lux Group and the first 5-star boutique cruise ship in the Gulf of Tonkin, Vietnam.
Deriving the inspiration for its boutique concept and design from the heritage ships of patriotic entrepreneur Bach Thai Buoi who is considered as "King of cruise ship" in Vietnam in the early 20th century, Heritage Cruises consists of 20 suites ranging from 33m2 to 80m2, divided into 4 different categories with a maximum capacity of 60 guests. Besides, there have been luxury amenities including two restaurants related to Indochine and Le Tonkin for Vietnamese gourmet cuisine, Vietnam's first infinity swimming pool and pool bar, luxury wine cellar, Red River Lounge for relaxing and contemplating the original arts of Hang Trong. Heritage Cruises, especially, offers a floating exhibition, L'Art de l'Annam which shows the first designer art gallery of artist Pham Luc, known as the Picasso of Vietnam, as well as the works of many famous Vietnamese artists and Bach Thai Buoi Library for reading and relaxation which displays the pictures depicting the daily life of people in Northern Vietnam before The August Revolution.
In the float-out ceremony of Heritage Cruises, Mr. Pham Manh Ha – CEO of Lux Group said that "Both domestic and foreign tourists always care much about experiences on the cruise ship when discovering Halong Bay in general and Lan Ha Bay in particular. On Heritage Cruises, we promise to bring our guests not only a 5-star luxury accommodation but also a chance to immerse in cultural, artistic and historic spaces of Vietnam in the early 20th century. Besides, Heritage Cruises, which is the first boutique cruise operating in Halong Bay, equipped with waste treatment system to avoid littering and disposing directly to the ocean and protect the natural environment during the journey with Heritage Cruises".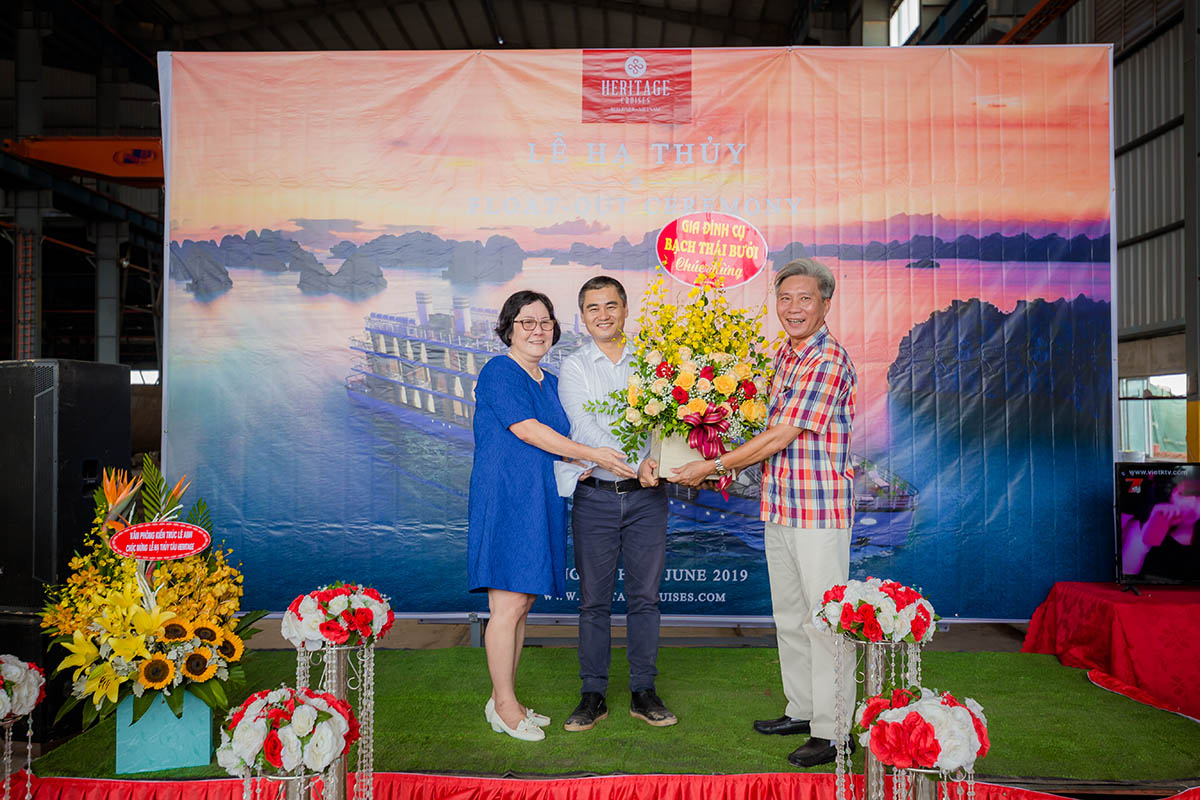 In the float-out ceremony, there is a special guest – Mrs. Bach Que Huong, who is the great-granddaughter of patriotic entrepreneur Bach Thai Buoi. She is considered as the godmother of Heritage Cruises. She said: "By 2019, Heritage Cruises floats out, there have been a full 100 years (1919 – 2019) since my great-grandfather floated out Binh Chuan Ship. I'm really emotional when I can see with my own eyes a part of the family's history which is partly reconstituted on Heritage Cruises. I would like to say thank Mr. Pham Ha, who is imbued with the spirit "Vietnamese people boarding Vietnamese cruise ship" which my great-grandfather takes the initiative in the early 20th century. Heritage Cruises seems to bring guests not only the style but the spirit of Bach Thai Buoi as well".
The first voyage of Heritage Cruises is expected to start on June 2019, with an initial price from VND 10,000,000/cabin for 2 days 1 night trip.
Contact us at website if you need any further information.