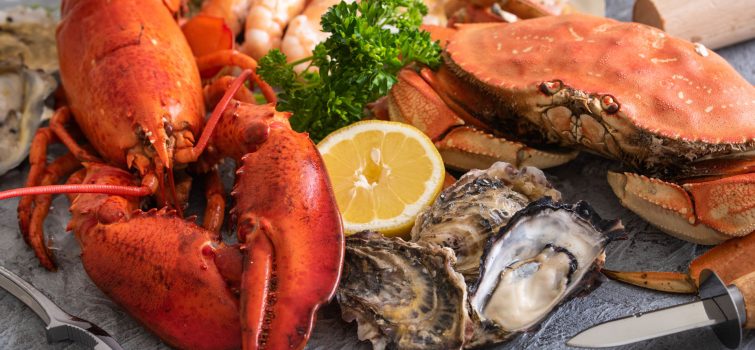 Imagine that you're traveling to a beautiful island without tasty food and specialties in that area. That sounds so boring, isn't it? Not only tourists have chances to discover and explore the natural landscapes but also do they enjoy fresh seafood and specialties in Cat Ba Island. In the article, we'd like to recommend the best food in Cat Ba Island you should not miss when visiting Cat Ba Island. 
1. Horseshoe Crab – best food Cat Ba
The horseshoe crab can be processed into many delicious and nutritious dishes which have specific aromatic flavours of the ocean including the raw horseshoe crab, sweet and sour horseshoe crab, boiled horseshoe crab or grilled, in particular, grilled eggs of horseshoe crab have a greasy taste and contain a high level of protein. Besides, the meals made from the horseshoe crab are very healthy since it helps to relieve the body heat. 
Particularly, the horseshoe crabs always go together. Fishermen usually say that one crab dies between the two crabs going together, the other also dies. If one crab dies, the other doesn't then the crab left will become a toxic horseshoe one and live alone forever. 
Horseshoe crabs are crustaceans and cold property seafood so when processing, it must be very careful. The head, legs, edge fins, and crab shells are discarded. The guts are cleaned carefully to avoid exposing to crabmeat. The crab meat is very tasty and has a distinctive flavour as the concentration of salt is quite high, the seafood in this area has a higher level of protein and nutrition than that of other areas. So the horseshoe crab is one of the best food in Cat Ba Island that you cannot miss. In recent years, the price of horseshoe crab has been high, about more than VND 500,000. 
Amongst the best food in Cat Ba from the horseshoe crab, the raw horseshoe crab is highly recommended for tourists. After being grilled until turning yellow color, the meat of horseshoe crab is torn into small pieces and then mixes with eggs of crab, persicaria, peanut and some herbs, which creates a sweet and aromatic flavour of the raw horseshoe crab. 
2. Vietnamese Geoduck Clam 
Vietnamese Geoduck Clam, which has another name called Elephant Trunk Clam, is known as rare and highly nutritious seafood with a special flavour. Recently, Vietnamese geoduck clam can be seen in many areas and regions but the best place to taste the geoduck clam is Cat Ba Island which is a suitable place for its growth.    
The geoduck clam is a two-piece molluscous which is considered as a wonderful remedy for men. It's not common amongst tourists like cockles, shells, oysters, etc but when you've tried the dishes made from the geoduck once, probably you've forgotten this flavour. 
Vietnamese geoduck clam could be processed into different dishes such as raw geoduck clam, grilled geoduck clam, geoduck clam rice gruel, etc. You can soak the geoduck clam into hot water (about 80oC – 90oC) within 2-3 minutes, then clean the shell with water and finally, use a knife to slit vertically along the heliotrope of the geoduck clam. It's a little hard to bite, tasty, soft and combined with various spices for cooking. 
Especially, steamed geoduck clam is notably recommended for tourists as the best food in Cat Ba Island. After steaming within 15 mins, the geoduck clam is displayed in the dish, its flavors combined with many spices make a perfect dish. 
3. Lobster – best food in Cat Ba
Lobster is considered as the king of seafood with a high level of nutrition and vitamin. The meat inside exoskeleton is firm and exquisitely sweet that you've never forgotten when eating once. You can eat all parts of the lobster, except for the shell and its stomach. The most delicate and sweet part of the lobster is the meat near the head and lobster's tail rather than the meat in the claw and knuckle. The chunky meat of those tails is wonderfully tender and light in flavour. 
Lobster can be cooked many delicious meals including lobster rice gruel, grilled lobster, steamed lobster, boiled lobster, hot pot of lobster, roasted lobster with salt, raw lobster, etc. In addition to this, lobster can be variably processed into different dishes like stewed lobster with shiitake mushroom, seaweed roll lobster, steamed lobster with wine, etc. The lobster is really rare and valuable seafood that nature endows in Cat Hai District. So this is one of the best food in Cat Ba you should know as traveling to this island. 
4. Sea Snake
Cat Ba Island has a lot of valuable and rare specialties from the ocean and sea snake is one of the best food in Cat Ba. The sea snake has a small and slim body with a length of 1 – 1.2 meters and has specialized in flattened tails which acts as a paddle for swimming. The smallish head has horns and its teeth are venomous. People usually say that the sea snake has a high value in gastronomy and medicine. 
The sea snake is simply prepared by washing with water and cutting from the throat to its tail and discarding its gallbladder and suet. You have to wash the blood snake by 90oC alcohol, not using water, then dry it. The sea snake meat contains a high amount of prostate and acid amine such as arginine, taurine, cysteine, tyrosine, etc. Besides, medicine from the sea snake helps to cure rheumatoid arthritis, bone degeneration, and spinal pain, etc. Moreover, the gallbladder will help to relieve the pain and act as a tranquilizer. With a high value of nutrition and medicine, the meals made from the sea snake are considered as one of the best food in Cat Ba Island. 
5. Fried Snail Hai Phong  
The snail is processed as the cooking manners of Hai Phong people, which is combined with fresh ingredients like coconut, chill, ginger, lemongrass, tamarind, etc. Those ingredients are harmoniously combined to make a perfect dish of a fried snail. One thing making Vietnamese dishes differentiate from other cuisines is the way people combine and mix different spices, herbs, and ingredients. 
Especially, the shell snail is kept while frying. When eating the snail, you have to use something like sewing needles to make the snail meat more accessible. Restaurants will mixture various snails for cooking so tourists can have a chance to choose which is your favourite. So fried snail Hai Phong is one of the best food in Cat Ba Island that travelers should try. 
6. Lobster Rice Noodles Cat Ba 
One of the simple and best food in Cat Ba is lobster rice noodle. Until now, lobster rice noodle has become attractive and famous for not only the flavor but its ingredients and unique cooking tips as well. 
The main ingredient playing an important part to make a great dish is fresh lobsters in Cat Ba. Those lobsters are steamed and cooked with other special herbs and ingredients. The lobster rice noodle is more tasty and delicious due to the aroma of fresh lobsters, exquisitely fatty bouillon, along with vegetables and spices. You can eat the noodles with some kinds of fresh and raw vegetables and a little chili. So all the things are harmoniously mixed to make it one of the best food in Cat Ba Island. 
7. Garrupa 
Garrupa is known as a kind of grouper that has a great flavour of the ocean owing to its greasy skin and delicate and exquisitely sweet meat compared to other fish. On Cat Ba Island, there are 3 types of garrupa including greasy grouper, black grouper, and fox grouper. Garrupa can be processed into different dishes which are nutritious and yummy like raw garrupa, garrupa rice gruel, grilled garrupa, steamed garrupa, etc. So garrupa is one of the best food in Cat Ba Island. 
8. Toasted Mantis Shrimp With Salt 
When mentioning the best food in Cat Ba Island, toasted mantis shrimp with salt is always listed for tourists. The mantis shrimp could be processed into many dishes, especially being toasted with salt. In fact, there's a huge number of mantis shrimps in Cat Ba which are usually big. 
When processing the toasted mantis shrimp with salt, the chef normally fries through a little bit of cooking oil, which makes it greasy but not too fat. This meal is elaborately cooked by combining harmoniously different spices, so it has a delicate and exquisitely sweet flavour. 
9. Oysters – best food in Cat Ba
One of the best food in Cat Ba that you should try is oysters, which can be processed into many dishes like a roasted oyster with tamarind, roasted oyster with salt, grilled oyster and oyster rice gruel. The roasted oyster with tamarind has sweet and sour flavour and should be tasted when it's still warm. Fresh oysters and the mixture of tamarind, chili, water, sugar and fish sauce make it one of the best food in Cat Ba. 
The roasted oyster with salt which has a different flavour from the roasted oyster with tamarind is also the best food in Cat Ba. The meal is more spicy and salty. The grilled oyster is a specialty in Cat Ba as well. It's extremely easy to cook and eat. You just need a stove, raw and fresh oyster and special sauce only used for the grilled oyster. After that, you'll have a chance to taste the best food in Cat Ba. The oyster rice gruel is delighted guests with an aromatic taste and its highly nutritious value when traveling to Cat Ba Island. It should be eaten with some herbs and an amount of pepper. 
In the article, we'd like to recommend to you some restaurants to enjoy the best food in Cat Ba: 
1. Bamboo Cafe, which is located on April 1st Road, is the best restaurant in Cat Ba for tasting fresh seafood both Vietnamese dishes and European ones. Price is from VND 80,000 – 120,000/ dish. 
2. Vien Duong Restaurant, No. 12 Nui Ngoc Street, is famous for its tasty seafood as well as a hot pot of seafood. Price is reasonable, from VND 100,000/dish. 
3. Phuong Nhung Restaurant, No. 184-185 April 1st Road, mainly serves noodles, pho, rice, and seafood.
4. Yummy Restaurant – Cat Ba, No. 180 Nui Ngoc includes noodles, fried rice, pho, nem, etc. which are quite similar to those dishes in Phuong Nhung Restaurant, but its price is cheaper.
5. Family Bakery, No. 194 April 1st Road, you should try different kinds of bread as Turkey styles and marzipan. Here has the best caramel in Cat Ba, price is from VND 80,000 – 120,000/dish. 
Besides, there are some places serving drinkings for tourists: 
1. Green Mango, April 1st Road, VND 15,000 – 220,000 offers many drinkings like wine, cocktails, espresso and other European food. 
2. Flightless Bird Cafe, April 1st Road has New Zealand's style of decoration. 
3. The Good Bar Cat Ba, April 1st Road also serves excellent drinkings. 
Amongst the ton of best food in Cat Ba, which one do you choose for your trip? Heritage Cruises has just listed out the best food in Cat Ba as well as specialties from seafood regarding horseshoe crab, garrupa, lobster, geoduck clam, sea snake, mantis shrimp, oyster and etc which cannot miss when visiting this magnificent island. Besides, we also suggest some restaurants taste and enjoy the best food in Cat Ba. Now we have the best food in Cat Ba, how about a detailed package for tourists to travel any corner of Cat Ba Island? So you can read more about Heritage Expedition – Cat Ba 2N1D, contact us now, please!