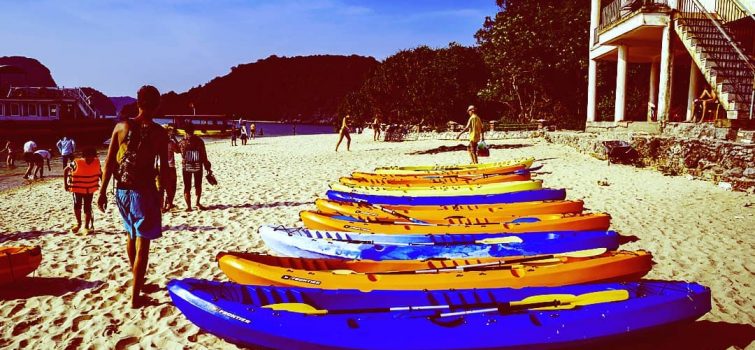 With geographical features and incredibly natural landscapes similar to Halong Bay, Cat Ba Island has become a rising trend as a pristine heritage site that there are not many tourists stepping on. When visiting Cat Ba Island, you can stay at some resorts and enjoy magnificently pristine waters, white sandy beaches under the sun. More interestingly, if your hands really want to touch upon marvelous beauties of the island, hiring a kayak never makes you feel disappointed. Beside contemplating natural sceneries, taking a kayak to visit every corner of Cat Ba Island on your own makes you have an unforgettable adventure during the holiday. The article below will give you the details about how to hire a kayak in Cat Ba Island.  
1. The best time for kayaking
As we know that Cat Ba Island – the range islands of the farthest end of Halong Bay – now is taking into consideration as the World Natural Heritage about diverse biologies. So, the natural landscapes and climate features of Cat Ba Island have close similarities to that of Halong Bay. If Halong Bay – one of the new seven world natural wonders, is too crowded and cramped, why don't you move into Cat Ba Island for relaxation?.  People are always asking that what is the best time to travel and take part in a kayaking tour on Cat Ba Island? That absolutely depends on how you define a perfect vacation. Since visiting Cat Ba Island at any time throughout the year inevitably brings different feelings and experiences. However, if you go to Cat Ba Island for kayaking, you should pay attention to weather conditions carefully. 
The time from June to August starts summer and also is the outbreak of the domestic tourism market in Cat Ba Island. Traveling to Cat Ba Island at that time, it's extremely crowded and accommodations always run out of. In addition, between June and July, it's time for storm seasons in some Northern Vietnam coastal provinces. The unexpected storms coming and going have a significant impact on your journey in terms of transport and sightseeing. Especially, kayaking services on Cat Ba Island might be prohibited by local government due to unfavorable weather conditions.
Except for the months that have the potential for storms, other months are always an ideal time for you to visit Cat Ba Island. Domestic tourists normally travel to Cat Ba Island from April to October since this time overlaps with many holidays of Vietnamese. However, international tourists usually come to Cat Ba Island from November to March as it's the best time for them to go traveling. Furthermore, at this time Cat Ba Island is quite deserted, you can comfortably choose to take a kayak trip on Cat Ba Island to explore fully the heritage site by yourself. 
2. The places that you can't neglect when kayaking 
Cat Ba Archipelago, an area of 345 km2 and including 367 islands with different sizes, creates a limestone area emerging from the ocean. Cat Ba Island is the biggest island as well as has the largest number of residents living on. Most tourists coming to Cat Ba Island always seek for an extraordinary experience like going kayaking. Certainly you would never forget the feeling that you take a kayak and go out to sea on your own where there are many breaking waves. Those surging waters will lead to some islands or even isolated beaches for sunbathing, swimming or just relaxing. If not, you can sail your boat to reach fishing villages, ravines in the gulf. Some professional tourists state that: "Lan Ha Bay and Dark & Light Cave are the two most ideal spots to go kayaking on Cat Ba Island". Besides, there have been magnificent destinations for kayaking that you can't neglect such as Lan Ha Bay, Dark & Light Cave, Three Peaches Beach, and Vem Cave. 
Lan Ha Bay – the coquettish primitive pearl on Cat Ba Island 
Lying in the south of Halong Bay, Lan Ha Bay has been attracting plenty of tourists to go sightseeing because of its pristine beauties. Lan Ha Bay is considered as a neglected paradise in the Gulf of Tonkin, taking a kayak in Cat Ba Island to discover Lan Ha Bay is the fascinating experience that you should have once in your entire life. 
With different routes of going kayaking around Lan Hay Bay, you will have a chance to visit Cua Van Fishing Village featured by an interesting reef system. From this place, you'll come across a small ravine, called Luon Cave ("Hang Luồn" in Vietnamese) which is considered as one of the most narrow caves in Vietnam for visiting. With stalactite architectures and turquoise waters, Luon Cave always brings a tranquil feeling for those who want to go kayaking by themselves on Cat Ba Island. There are other islands and islets, characterized by varied cliffs with unique shapes that all are waiting for you to visit on Cat Ba Island. The price for sightseeing on Lan Ha Bay is VND 40,000. 
Dark & Light Cave – Sung Sot Cave underwater of Cat Ba Archipelago
Dark & Light Cave belongs to the cleft palate cave with the cave floor submerged in the water; however, the ceiling above the water. To discover Dark & Light Cave, you will take a kayak in Cat Ba Island instead of climbing up slippery stone steps. When going on kayaking, you'll get a chance to get accessed to the base of the mountain and understand more about an interesting phenomenon that the base of limestones is corroded by water. Besides, you are likely to contemplate various vegetation around the base which makes you exclaim that why the greenery can survive under a strange and harsh limestone topography. As tapping the stalactites ceiling in the cave, you can see different classes of stalactites on the ceiling and on the cliffs. Certainly, you will be impressed by magnificently natural beauties featured by the stalactites and limestones system in the cave. 
Three Peaches Beach – A pristine place on central Cat Ba Island 
Although Three Peaches beach belongs to Halong Bay, it's pretty close to Cat Ba Archipelago. This place includes 3 small mountains with a height of 20 meters like 3 giant peaches petrified close together. That's why people normally call it's Three Peaches. That's so amazing if you are able to go kayaking to go around blue beaches and natural mountains in the middle of the ocean or suddenly startle when there are waves splashing slightly on the boat. 
Discover Vem Cave, Ang Thinh Linh 
If you are planning to go kayaking on Cat Ba Island, certainly that you shouldn't miss the area around Vem Cave – Ang Thinh Linh ("Hang Vẹm – Áng Thình Lình" in Vietnamese). According to local spoken-language in Cat Ba Island, people usually use "Áng" for valley area lying amongst ranges of mountains in the distinctive regions. More especially, the lake in Vem Cave – Ang Thinh Linh area brings the biological features of brackish water. Undoubtedly, some of you must have understood the feeling when adventuring amongst special valleys on kayaking by yourself, aren't they? If you're a big fan of kayaking, please don't miss a chance to go kayaking in Vem Cave – Ang Thinh Linh on Cat Ba Island. 
3. How to rent a kayak in Cat Ba Island
3.1 Coming to Cat Ba Island and rent a kayak on your own 
Going kayaking on Cat Ba Island on your own is an amazing experience to discover the entire island. Nevertheless, if you want to do this by yourself, you should go with a group of people; otherwise, you must have detailed information about Cat Ba Archipelago. This helps to ensure tourists' safety since Cat Ba Archipelago lies in the Gulf of Tonkin and the East Sea where there are a few waves suddenly crashing or limestone reefs might crash into your kayak. Moreover, you may get lost in a cave or on an isolated island. All those things can put tourists in danger. However, If you are an adventurous person, certainly that going kayaking on Cat Ba Island will bring an extraordinary experience for you. The price of renting a kayak depends on the number of tourists in your group.  Most service providers of the kayaking concentrate on Beo Harbour. 
* If you go with a large of people (>15 people), get to Beo Harbour to buy a ticket and then, hire boats to reach floating-house in Lan Ha Bay so as to go kayaking. Normally, the price for hiring boats from Beo Harbour to Lan Ha Bay is ranging from VND 1,000,000 – VND 4,000,000. At the floating-house in Lan Ha Bay, you can rent a double kayak with VND 50,000 – VND 100,000 and there is no limitation for using time. However, if you go with a large of tourists, the time for using a kayak will be limited due to the time of the tour package. 
* If you go with a small of people, hire a big kayak will cause waste. So from Beo Harbour, there are many fishers' small boats transferring tourists to Lan Ha Bay. The price of a boat is VND 200,000 – 300,000. Please note that there is no life jacket for tourists in the boat of fishers. When reaching Lan Ha Bay, you can hire a kayak to visit the whole island. Otherwise, you can go around Beo Harbour and make an offer with a group of people to share a big boat. Of course, when getting the island, you freely discover the gulf by a kayak. 
3.2. Kayaking tour combined with other experiencing patterns on Cat Ba Island 
If going on kayaking is only one of the tourism experiences that you want to explore on Cat Ba Island, you should take part in a kayaking tour combined with other tourism activities such as swimming and scuba diving to watch coral reefs. Let's spend a whole day on Cat Ba Island to enjoy various experiences and relax for relieving the pressures of a normal life. 
Kayaking tour 1 day on Cat Ba Island: 

Price: VND 350,000 – VND 700,000; depending on the attached services and activities. 

Several prestigious travel agents offering a kayaking tour: 
| | |
| --- | --- |
| Travel agent  | Contacts  |
| Cat Ba Express | +84 84 824 4999 |
| Du lich Canh Dieu (Kitetravel)  | +84 038 999 8081 |
| Goodmorning Cat Ba | +84 914 607 571 |
Kayaking tour (2 days 1 night): If you have much time and want to go on a kayak, you should take part in some kayaking tours offered by travel companies or kayaking services on Cat Ba Island via hotels, homestays or hostels.
Price: VND 1,500,000 – VND 2,500,000 depending on the attached services and activities. 

Some prestigious travel companies: 
| | |
| --- | --- |
| Travel agents  | Contacts |
| Vietsense Travel | +84 916 172 338  |
| Du lich Canh Dieu (Kitetravel)  | +84 038 999 8081 |
| Du lich Khat Vong Viet  | +84 962 70 5533 – +84 934 507 489 |
3.3. How to rent a kayak on Cat Ba Island via Heritage Cruises – offering accommodations in the gulf 
Tourism on Cat Ba Archipelago has become trendy as the second heritage site in Northern Vietnam. Cat Ba Archipelago possesses a primitively natural beauty which is not less than Halong Bay. Finding the cruise that offers overnight accommodation on Cat Ba Island is quite easy since all of the cruises operating on Cat Ba Archipelago provide kayaking service to visit and contemplate the natural landscape around the gulf. They usually offer the kayaking service for free or if have, it's only a little free so you don't need to worry. You just need to choose the cruise that you like and enjoy your vacation. If you pick Heritage Cruises as your partner along the trip, you will probably have an unforgettable experience since we'll help you go back with Vietnamese nautical stories of the early 20th century or you can touch completely the heritage.