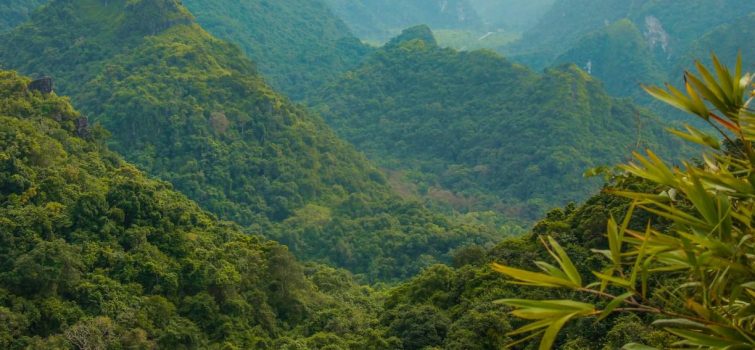 In recent years, Cat Ba Island has become one of the most visited destinations by both Vietnamese and international tourists. The visitors not only contemplate the beaches with pristine waters and white sandy but also have a chance to see spectacular attractions of this place, Cat Ba National Park. 
An overview of Cat Ba National Park 
Cat Ba National Park is located in Tran Chau Commune, Cat Hai District, Hai Phong City. It takes 60 km from the city center of Hai Phong and 15 km from Cat Ba Town. In total, the protected area of Cat Ba National Park consists of 15,200 hectares including 9,800 hectares of forests and 4,200 hectares of the seashore. This national park which is considered as one of the biosphere reserve areas in the world comprises of the marine ecosystem, tropical rainforest ecosystem, coral reef ecosystem and so on.
Furthermore, situated in the northwest of Cat Ba Island, Cat Ba National Park makes a contribution to an ecologically diverse ecosystem of Vietnam in terms of plants and animals. Regarding flora, there are 745 kinds of plants consisting of rare wood namely Lat Hoa, Tri Ly, Lim Set, De Hoa, Kim Giao and white wood which are needed to put under strict conservation.
Interestingly, Kim Giao wood is the material used to make chopsticks for the Kings and nobles in the ancient times since it is stated that the chopsticks will turn into a red color when exposed to poisoned dishes. Regards animals, they can easily find 20 species of mammals, 69 kinds of birds, 20 species of reptiles and amphibians as well in Cat Ba National Park. Many of them are listed in the Vietnamese Red Book and put under solid protection. Especially, Vietnamese langurs or golden-headed langurs ( "Vooc" in Vietnamese) which might be only found on Cat Ba Island, are one of the most seriously endangered primitives on the planet.
Another interesting thing in Cat Ba National Park is a highly toxic type of fruit, called Ma Tien. If a normal person bites a small piece of Ma Tien fruit, he will absolutely die in a short period of time; however, langurs can survive by eating leaves and fruits of Ma Tien.
In addition, some archeological researches reveal that human beings have probably lived on these island for over 6,000 or 7,000 years. With a natural magnificence and various system of flora and fauna, Cat Ba National Park was recognized as one of the four Biosphere Reserves in Vietnam by UNESCO in 2004. 
2. How to get to Cat Ba National Park 
In this article, we recommend you some route options to get Cat Ba National Park. First of all, for those who go by airplane, you can land at Noi Bai Airport and take a taxi directly to Hai Phong City (about 130 km from Noi Bai Airport to Hai Phong).
Another way is taking a bus or a taxi to get Hanoi's city center and then you catch the shuttle buses or coaches at the city center that transfer you to reach Cat Ba Island within 1 hour and a half. So whether you start from Hai Phong City or Cat Ba Island, you can easily access to Cat Ba National Park by a few available choices such as a private car, a bus, and a taxi. 
Secondly from Hai Phong, tourists can take a speedboat from Binh Port ("Phà Bính" in Vietnamese) to Cat Ba Island and continue getting to Cat Ba National Park on the bus. The second option from Hanoi is taking a train from Hanoi Railway Station to Haiphong Railway Station. Then, you will go to Cat Ba National Park as mentioned before. If you go by a private car from Hanoi, you will go along the new highway 5B to get Got Harbour ("Bến Gót" in Vietnamese), then get to Cat Ba Island and keep going a 15 km journey until to reach Cat Ba National Park. In short, traveling from Hanoi to Cat Ba National Park takes about 3 – 3,5 hours without traffic jams. 
If you are at Cat Ba Town, it takes 15 km to get Cat Ba National Park. Probably, you can rent a motorcycle and stop anywhere you want to enjoy the picturesque landscapes of this park. The budget from renting a motorcycle is quite reasonable, ranging from VND 70,000 to VND 100,000 per day. 
Finally, from Halong City, you will take a Tuan Chau ferry, 45 mins from Halong City to get Gia Luan Harbour and then take a 10 km journey by bus to reach Cat Ba National Park. There have been 5-7 ferries every day. 
If you want to know more information about transportation, you can see this article for more details. 
3. Weather conditions in Cat Ba National Park 
In Cat Ba National Park, the average temperature is 25 – 28oC. In summer, the temperature can be up to 30oC; however, in winter, it can go down, maybe around 10oC. 
Tourists can go to Cat Ba National Park at any time throughout the year. For Vietnamese people, they normally visit Cat Ba National Park in the summer, mainly in June and July which is a great time for them to avoid a scorching hot of summer. International tourists usually go to Cat Ba National Park in their winter holiday, from November to March. Apparently, with a huge number of tourists visiting Cat Ba Island every summer, this would lead to overcrowding at Got Harbour and increasing the price of transportations and accommodations, especially on the weekends and special occasions as well.
If you are planning to visit Cat Ba Island and Cat Ba National Park in particular, we highly recommend that you should go there on weekdays in order to avoid overcrowding, reducing waiting time for transports, running out of hotel rooms and increasing prices for other stuff. 
4. Accommodations around Cat Ba National Park 
Recently, due to a substantial increase in tourism patterns in Cat Ba Island, the number of hostels, homestays, hotels, and resorts which offer tourism services from low to high quality has shown up a lot. Since Cat Ba National Park belongs to protected areas, so you have to go to some places near Cat Ba Town to find proper accommodations. 
If you prefer low priced accommodation but good quality, hostels will be quite suitable for you. 
Cat Ba Hostel, at 160 Nui Ngoc and 300m from Cat Ba Island. It has comfortable rooms, a great restaurant serving Vietnamese specialists and international dishes. The price is reasonable, ranging from VND 70,000 – 280,000. 

Cat Ba Central Hostel, No.204, ¼ Road, Cat Ba and 1.9 km from Dau Be Island. It has a beautiful view of a garden and a good restaurant. The price is ranging from VND 100,000 to VND 160,000. 
About homestay where you can know more cultures of local people, we highly recommend some homestays. 
Cat Ba Central Homestay, 1.4 km from Dau Be Island and No.6, Cat Beo Street. It provides a good quality of accommodation and excellent service from owners. The price is from VND 570,000 to VND 690,000 for King Room with a large double bed. 

Cat Ba Santorini Homestay, at No. 12, 4 Lane, Nui Ngoc, Cat Ba. It provides good accommodation and accesses to a garden with children's playgrounds. The homestay offers reasonable prices, from VND 50,000 for a bunk bed to VND 1,000,000 (10 people)  for 5 double beds with a private bathroom. 
Actually, there are many hotels located around Cat Ba Island, here are some suggestions that may be helpful for you. 
Cat Ba Oasis Bungalows, 2-star hotel, at No. 254, ¼ Road, Cat Ba Town. The location is extremely convenient, near Cat Ba Ferry and Beo Harbour. It has an excellent quality of service and facilities, with a garden and terrace. The price is pretty proper, ranging from VND 180,000 for a single bed to VND 728,000 for a deluxe double room with a balcony. 

Hung Long Resort, a 3-star hotel, is at 268, ¼ Road, Cat Ba Town, Hai Phong City. This hotel is convenient for tourists because it's near Cat Ba Port, 10 mins for walking and 15 mins walking for Tung Thu Beach and it takes nearly 5 mins to get the seafood market by car. The price is ranging from VND 350,000 – 450,000 for a twin room. 

Sea Pearl Hotel, a 3-star hotel, is at 219, ¼ Road, Cat Ba Town, Cat Hai, Phai Phong City. The price is VND 600,000 – 700,000. This hotel is quite convenient for guests because of its location, in front of Lan Ha Bay, 5 mins walking from Cat Co Beach and also a 5-min walking to Cat Ba Market. It features a magnificent view, good facilities in the hotel room and nice staff as well.  
Last but not least, resorts have been developed a lot to focus on high-end class. Heritage Cruises will suggest some resorts highly recommended by guests. 
Cat Ba Island Resort & Spa, a 4-star hotel, is at Cat Co 1 Beach, Cat Ba Island, Cat Hai District, Haiphong City. The normal price is USD 50. This hotel is designed according to the combination of French and Vietnamese traditional architectures. It has been received many positive feedbacks from guests. 

Monkey Island Resort, a 3-star hotel, is located in Monkey Island, Cat Hai District, Haiphong City. The minimum price is USD 49.5. The hotel is delighted guests in a beautiful view, professional and friendly staff and is pretty suitable for a long journey. 
5. Cuisines and restaurants around Cat Ba National Park 
When traveling to marine places, like Cat Ba Island, the seafood dishes are the thing that tourists cannot be missed. In this article, we would like to recommend for travelers some must-try dishes around Cat Ba National Park. 
Firstly, geoduck is the kind of meal possessing a high amount of nutrition and sophisticated taste; however, the source of geoduck is quite hard to find as well. Actually, there have been many techniques to cook geoduck but steaming geoduck with aromatic components is the best one. 
The second meal is about Song Fishes which normally have more than 30 species of Song Fishes in Vietnam. In particular, three of them are found in Cat Ba Island namely Song Deo, Song Mo, and Song Cao. This kind of fish might be cooked into varied dishes with its own flavor including salad, streamed, sauce, grilled dishes and so on. 
Another dish suggested for tourists is superb specially King-Crab. Normally, the residents in Cat Ba Island can process King-Crab into seven distinctive dishes. So if you have an opportunity and time, please don't hesitate to try all kinds of those dishes to taste its superior flavor. 
The food cooked from the sea snake is the next dish. The sea snake is not only famous for its distinct seafood but an effective cure for sick people as well. 
Last but not least, rice vermicelli cooked with shrimp has a unique sense of taste by the harmonious combination of fresh shrimp, the broth, exclusive smell of betel leaves covering pork balls. This dish is also tasted with some herbs and some pieces of chili that makes a bowl of rice vermicelli with shrimp more colorful and appealing as well. 
Along with dramatically increasing the development of accommodation, the restaurant system on Cat Ba Island is also developing in recent years. Here are some suggestions about the restaurants around Cat Ba National Park. 
Firstly, Quang Anh Restaurant which is known as one of the best floating restaurants offers an extraordinary experience for tourists, well-cooked seafood. The address of the restaurant is Cai Bao Bay, Cat Ba Island, Haiphong city. 
Next is the restaurant highly recommended by local residents, called Phuong Phuong restaurant. The restaurant has a varied menu and expansive space for guests to enjoy the meals and the surrounding atmosphere. Phuong Phuong Restaurant is located in 232, 1 thang 4 Street, Cat Ba Town, Cat Hai, Hai Phong City. 
Additionally, if you want to try some restaurants that offer Vietnamese cuisines along with a variety of Western dishes, The Good Bar and Green Mango will be suitable for you. Those places are usually opened to serve breakfast for tourists. The Good Bar and Green Mango lie in 1 thang 4 Street, Cat Ba Town, Cat Hai, Hai Phong City. 
6. Different ecotourism patterns in Cat Ba National Park 
With a breath-taking beauty of the natural landscape, Cat Ba National Park has appealed a wide range of tourists by diverse biologies and the harmonious combination of land and ocean. Whenever you reach Cat Ba National Park, you might choose the varied ecotourism patterns that are offered by the conservation management of the park. Those patterns in Cat Ba National Park include forest ecological ecotourism, marine ecotourism, biological ecotourism, community-based ecotourism (CBT) as well as volunteer tourism. Regarding each ecotourism platform, there will be some tourism activities for tourists to get involved in. 
6.1. Forest ecological ecotourism 
For forestry ecological tourism, you have a chance to choose amongst various trekking routes of distinctive forest ecosystems including tropical primitive rainforest, mangrove forest and karst in Cat Ba National Park. With those geographical features, lots of trekking trails are exploited for tourism purposes such as Kim Giao Forest – Phu Lam Peak; Trung Trang Cave – Uy Ban Grotto; National Park's Headquarter – Frog Pond; May Bua – Quan Y Cave; Frog Pond – Viet Hai Commune.
If you are interested in enjoying sceneries from the peak, the trekking route from Kim Giao Forest to Phu Lam Peak won't be missed. It takes 30 mins on the 1.5 km route. You can start from the headquarter of the park to Kim Giao Forest to see the rare and endangered animals in the jungle and then get to Phu Lam peak to enjoy a marvelous landscape of the park and surrounding areas.
Besides, Trung Trang Cave – Uy Ban Grotto routes will satisfy you with a variety of mysterious stalactites and shelters of bat residents. National Park's Headquarter – Frog Pond will help you to explore the flooded willow jungle and then reach Frog Pond, the largest freshwater area on the island. With the route from Frog Pond to Viet Hai Commune, tourists can explore the astonishing forest ecosystem and the culture of local people in Viet Hai Commune. 
6.2. Marine ecotourism 
Besides forest ecological ecotourism, the seascapes of Cat Ba National Park also have a unique magnificence. With the aim of discovering enormous marine resources, visitors might choose to get involved in some activities such as going sightseeing, going kayaking to explore the gulf and bay systems namely Lan Ha Bay, Viet Hai Bay, Tra Bau, climbing to the cliffs of some marvelous islands, diving under the seawater to see coral reef systems, going fishing and sunbathing near magnificent seashores and beaches and final, participating in several delighting water sporting activities. Each aquatic tour will last about 2 – 6 hours which depends on which activities that tourists take. 
For instance, challenging with deep water soloing which is executed on the slide of hazardous cliffs on the sea is the activity that travelers should try once when they have the chance. The average height for beginners is 10 meters; however, it's up to 30 meters for the master. It is essential for climbers to have their courage, strength and brilliant calculations. People state that falling deep under the sea brings them a sense of freedom and comfort. Some say that deep water soloing also helps them to find the limits and try to break their own physical barriers. That sounds very exciting. 
6.3. Biological research ecotourism 
Cat Ba National Park is known as for diverse biologies, both flora, and fauna. Therefore, the biological research ecotourism pattern has been promoted actively in recent years. Most international visitors coming to Cat Ba National Park would like to see these rare and endangered animals like langurs, red crabs, deers, butterflies and so on.
Especially, Cat Ba National Park has an endemic original, golden-headed langurs. The thing is that tourists have a little chance to see these langurs due to tight conservation policies. Nevertheless, travelers can easily see other originals, for example, red monkeys in Nam Cat Island, Eo Bua, Me Con, Dong Co or other islands and islets. 
6.4. Community-based ecotourism (CBT) in Cat Ba National Park 
This kind of ecotourism pattern will be suitable for those who want to explore the cultures of local people living in Cat Ba National Park. In this tour, visitors will have a chance to stay at a homestay with local residents in one or two nights.
Moreover, they can enjoy the daily routines of residential people including learning how to make the meals, working and relaxing activities in order to understand more about local cultures as well as appreciate beautiful sceneries on the island. Thereby, community- based ecotourism brings benefits in terms of conservation on the island and economies. In detail, it helps to raise awareness of tourists about conserving the natural environment and cultural values of residents in Cat Ba Island and in surrounding areas and improves the living standard of local people. 
6.5. Voluntary tourism 
For those who are environment lovers, voluntary tourism can be an ideal choice for them. Involuntary tourism, tourists can not only discover natural landscapes of the park but get involved in protecting and conserving the natural environment such as collecting garage, working as volunteers at the conservation center of the park and other activities related to conservation. Nowadays, taking voluntary tourism has become a trend for the youth and therefore, so many people come to Cat Ba National Park for this type of tour. 
7. All the things that you need to prepare before coming to Cat Ba National Park 
In this article, we provide you with something that you might prepare before going to Cat Ba National Park. First of all, due to frequently changeable temperatures on Cat Ba Island, tourists have to ensure that they take a waterproof and windproof jacket with themselves. When you decide to stay overnight on the island, mosquito spray is also a must.
Secondly, a lot of Cat Ba Island activities normally occur around or underwater areas; therefore, taking a quite dry towel is necessary. Moreover, waterproof bags are also needed to keep electronic devices safe.
In addition, if you are planning to visit a cave or a grotto, a head torch is essential as well. Last but not least, you should bring refill bottles helping to avoid using plastic bottles and keep the environment clean. 
Visiting the national park this summer, what do you think? Cat Ba National Park has appealed a huge number of visitors because of its magnificent beauty and biodiversity in recently.
For this article, Heritage Cruises provides the information that travelers need to know before they go to Cat Ba National Park. It includes biological features, transportations to get Cat Ba National Park, weather, accommodations, cuisines and restaurants, ecotourism patterns and necessary items when traveling. Hopefully, this information above would be helpful for you when visiting Cat Ba National Park.