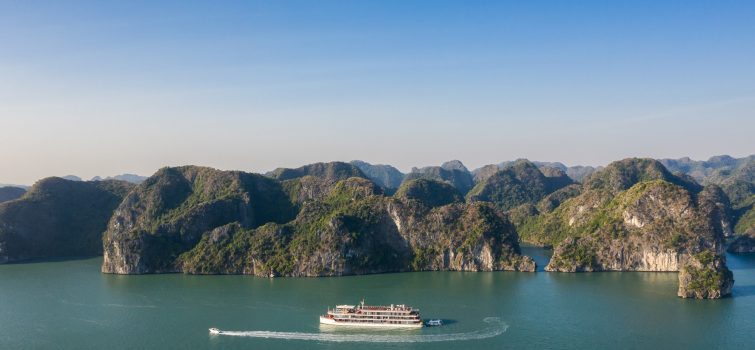 A proud Vietnamese expedition on the heritage-inspired designer cruise ship to celebrate 100 years since the legendary voyage of the Binh Chuan.
Heritage Binh Chuan expeditions offer the highest quality comfort onboard our brand-new exclusive boutique ship, featuring air-conditioned en-suite rooms. Cruising at its finest. Your on-board Vietnamese cruise manager and crew ensure a personalized experience for every guest with exceptional service delivered at all times. Enjoy sophisticated haute cuisine as all meals are prepared using local ingredients cooked and served in traditional style, but with a modern twist.
We pride ourselves on our local partnerships and are dedicated to delivering outstanding customer service. Maintaining our local knowledge and positive relationships within the Vietnamese community is essential to providing each guest with a memorable cruising experience,
Travelers usually travel by road, rail, and air and we are pioneering a cruise along the coastline following the heritage route the King of Cruise Ships, Bach Thai Buoi took 100 years ago. Vietnamese are proud of the legacy of this first ship made in Vietnam, the Binh Chuan, and our expedition, inspired by that ship, allows foreigners to immerse themselves in Vietnamese arts, culture, heritage, and history on this history-inspired voyage.
Be the first on this iconic voyage along the legendary cruise route and unlock the most beautiful bays, beaches, and islands of Vietnam in various day trips from the ports of call such as Saigon, Nha Trang, Danang (for Hue and Hoian), Halong Bay, Cat Ba Archipelago.
Highlights of Heritage Binh Chuan Expeditions: 
Expedition on the very first luxury boutique ship cruising along the stunning secluded Vietnamese coastline.
9 nights onboard our very best ship on an iconic voyage following the coastline of Vietnam for the very first time since the first 1920 voyage of discovery by the King of Cruise Ships, the Vietnamese nobleman Bach Thai Buoi.
Experience the natural wonders of Halong Bay and the Cat Ba Archipelago, explore the stunning islands, bays, beaches, lagoons by kayak, and so much more.
Discover historic seaside towns and iconic Vietnamese destinations with heritage walk in Hoi An and the former capital, Hue.
Sunset cruise in Nha Trang Bay with live entertainment, cocktails, and dinner.
Moonlight cruise on the Saigon River.
Enjoy a Captain's Dinner including traditional entertainment.
Swim off the ship in secluded, pristine bays just perfect for swimming.
Dream, explore, immerse and relax on the iconic voyage of discovery on our proud Vietnamese journey on a heritage-inspired designer cruise ship.
Important Notes:
Arrival time at destination ports is in the late afternoon or early in the morning for excursions.
Embarcation 9am and disembarcation 4:00 pm.
Exact timings may change according to the weather and port conditions.