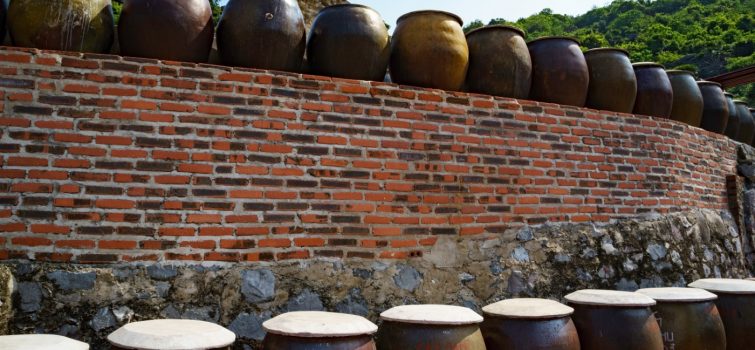 If Phu Quoc fish sauce is considered to be the most well-known specialty of Phu Quoc Island (Kien Giang province), then Cat Hai fish sauce is one of the most famous products of Cat Hai Island (Haiphong). It has also been selected as one of Vietnam's top condiments by the Vietnam Guinness Book of Records.
Fish sauce first appeared in Cat Hai in the 20th century and was originally called Van Van fish sauce. As soon as you set foot on the island, the first thing you will notice is the salty and fragrant smell of fish sauce being produced right across the island.
In the past, people in the north knew Cat Hai fish sauce under the Van Van brand, famous across Indochina because of its quality and rare flavour, with a protein content of around 15-40% per litre. In 1959, it was renamed Cat Hai fish sauce.
For locals, Cat Hai fish sauce is indispensable for the family meal and there is simply no substitute. The characteristic aroma of Cat Hai fish sauce stems from anchovy and squid, or Nham fish, combined with sea salt.
Each year, more than 7 million litres of Cat Hai fish sauce are supplied to the market with over 700 agents and outlets throughout 24 provinces across Vietnam. But it is not only for domestic consumption; Cat Hai fish sauce is also exported to many countries in Asia and to Eastern Europe.
The method of production determines the quality of fish sauce and is still mainly manual. Fish sauce here is made from Ca Com (anchovies) and Nham, a species with a special taste, from the waters surrounding Cat Hai. The fish must be fresh and anything else will ruin the natural flavour of the final product.
The fish is cleaned before being mixed with salt and the mixture, called chướp, is then placed into containers like wooden barrels or concrete tanks. The top layer is pressed down with a bamboo net containing heavy stones. It is very important that "chướp" must be exposed to sunlight and has to be stirred constantly.
"Chướp" is brewed and sun-dried for between 12 and 24 months during the self-ripening process. After that, the fish have naturally reacted with the water and are totally hydrolyzed, yielding the salty, fishy liquid that has a very high protein content and a light amber color. No chemicals are used to create the smell or color.
When visiting Cat Hai, visitors should ensure they take the opportunity to observe the process of making fish sauce and enjoy its delicious taste.