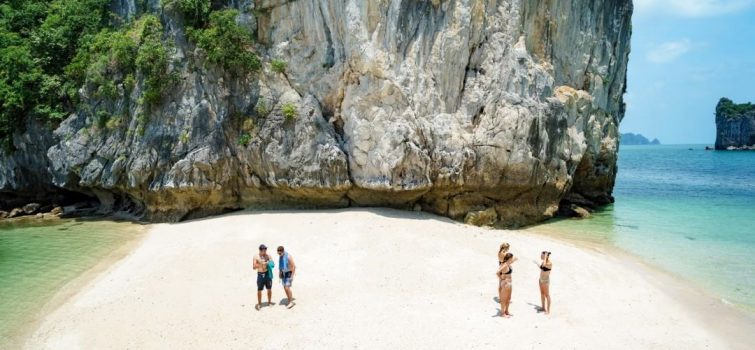 Many years ago, a young fairy fell in love with a poor fisherman. One day, she stole three peaches from Heaven for her lover so that he could have eternal life when he ate them, and they could be together forever. However, her father, the Jade Emperor, discovered the robbery and turned the peaches into three stone islands and compelled the young fairy to return home.
The Three Peaches (Ba Trai Dao) islets are to be found in Lan Ha Bay in the Cat Ba Archipelago. It is a truly pristine region with several small beaches and only a few cruise boats can reach this lost paradise. You can go swimming, kayaking or sunbathing on the beautiful beach or just do your own thing to unwind and relax, especially in the afternoon when there are few people around. Some months of the year, the tides are rather high, and it is only possible to swim from the beach for around 2-3 hours each day as the rest of the time the tide has engulfed it.
The Three Peaches islets are just off Cat Ba Island, not far from both Viet Hai village and Cai Beo floating village in Lan Ha Bay. A visit to this exquisite beach area is included in our cruise program en route between Halong and Cat Ba Island, frontier territory of Quang Ninh and Haiphong.
The island consists of three small hills, just 23m in height, and seen from afar they resemble three peaches. Around 22km from both Got Harbor and Cai Beo Seaport, it takes an hour to get there by Heritage Cruises or Heritage Express.
This place has become a destination on the bucket list of beaches to visit for many holidaymakers to the Halong Bay region because of its charming landscape and its connections to the romantic legend of the fairy and the poor fisherman.