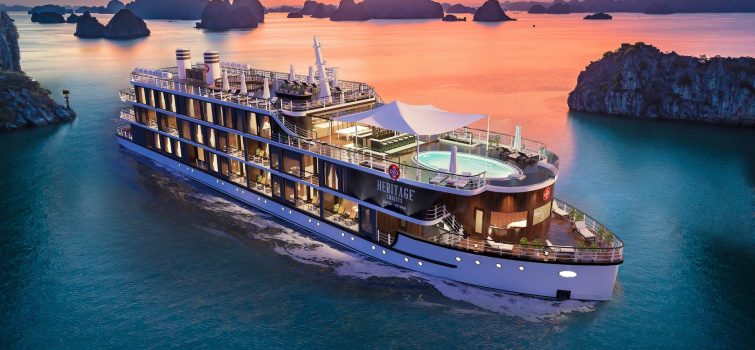 Positioning itself as Vietnam's first boutique cruise, bringing heritage alive with its own stories to tell, the Heritage Cruises fleet aims to provide guests with an authentic and unique cruising experience to showcase Vietnam's culture, history, and cuisine on the country's very first art cruise in the natural wonder of the Halong region.
What
Deriving the inspiration for its boutique concept and design from the heritage ships of patriotic entrepreneur Bach Thai Buoi, who was considered as the "King of Cruise Ships" in Vietnam in the early 20th century, Heritage Cruises consists of 20 suites ranging from 33m2 to 80m2, divided into three different categories (Delta, Ocean, and Heritage Suites) with a maximum capacity of 60 guests.
On board, there is a range of luxury amenities including two restaurants, L'Indochine and Le Tonkin, for Vietnamese gourmet cuisine, Vietnam's first infinity swimming pool, a pool bar, sophisticated wine cellar, and the Red River Lounge for relaxation and contemplating the traditional art form of Hang Trong, unique to Vietnam.
Heritage Cruises hosts a floating exhibition, L'Art de l'Annam, which showcases the first designer art gallery of artist Pham Luc, known as the Picasso of Vietnam, as well as the works of many famous Vietnamese artists. The Bach Thai Buoi Library is ideal for reading and relaxation surrounded by pictures depicting the daily lives of people in northern Vietnam.
Why
Apart from offering a cosier atmosphere, the small size of this ship allows easy access to remote, less-visited places that larger vessels just can't reach.
This boutique cruise company categorises its ships not using a star rating but by character, quality, style, and the overall unique experience. Each guest is treated like nobility and can experience the finest things in life, in private, and with every tiny detail attended to. Travelers spend their time spotting local wildlife, snorkeling, boating, kayaking, embracing Mother Nature, and passing time with their fellow passengers and crew.
Cruising is all about places, experiences and memories. The Heritage Cruises team ensures that their guests enjoy every single moment on board by providing the chance to cruise the Gulf of Tonkin (Lan Ha Bay, Bai Tu Long Bay, and Halong Bay) complemented by personalized service.
Heritage Cruises combines warm hospitality with a lovely ambiance to make our guests stay a cruising experience to remember.
When
Launching on 7 September 2019, with 1-, 2- and 3-night options, Heritage Cruises will offer authentic experiences on an architecturally designed boutique river and ocean cruise ship departing from Haiphong – only 90 minutes from Hanoi.
Bach Thai Buoi was an inspirational entrepreneur of the early 20th century for many Vietnamese generations. Everything he worked on was aspirational, visionary and for the nation, with profits as an afterthought. He even created a dictionary and a newspaper for the Vietnamese. In the early 20th century, Bach Thai Buoi was ranked among the "four bourgeois tigers" by Hanoians. He was one of the richest, most respected men and the first Vietnamese person to own a car. He had many names, such as the "Lord of the Rivers in Tonkin" and the "King of Ocean Cruise Ships."
This year marks the 100th anniversary of the launch of the Vietnamese Binh Chuan cruise, which in 1919 became the first ship to cruise along the coastline of Vietnam from Haiphong to Saigon.
How
The Heritage Cruises ship has 20 suites including four Heritage Suites, ten Ocean Suites, and six Delta Suites. The two King and Queen suites are the largest, at 46 sq m, and all suites blend heritage design with the elegance of 1930s Indochina. Heritage Cruises epitomizes the art of cruising with its state-of-the-art suites with floor-to-ceiling windows for panoramic views, 2 restaurants, 3 bars, a year-round infinity swimming pool, 2 spa treatment rooms, fitness center, sauna, hot tub, library, shop, art gallery, and other facilities.
Heritage Cruises is a popular choice amongst travelers to Cat Ba Island, whether exploring or just passing through. Offering a variety of facilities and services, guests enjoy free wi-fi in all rooms, 24-hour room service, 24-hour security, and daily housekeeping. Comfortable guestrooms ensure a good night's sleep with some rooms featuring facilities such as complimentary tea and coffee and free welcome drink.
Where
Halong Bay is one of the New Wonders of the World and tourists flock to sail on its karst-dotted waters in the Gulf of Tonkin. A few miles away, however, is another bay that is just as beautiful but with fewer tourists. Heritage Cruises provides guests with a unique twist in the natural wonder of Lan Ha Bay in the Cat Ba Archipelago, easily reached from Haiphong.
The Heritage Cruises route sails through the unique landscape of the Cat Ba Archipelago. Cat Ba Island has a surface area of 285km2 and retains the dramatic and rugged features of Halong Bay. This island belongs to Haiphong City – an important industrial city which, together with Hanoi and Halong, forms an important economic triangle in north Vietnam.
Approximately half of Cat Ba Island is covered by its national park, which is the home to the highly endangered Cat Ba Langur. The Cat Ba Archipelago boasts pristine beaches, secluded lagoons, coves, tropical forests, and lakes, allowing holidaymakers to swim, kayak and bike to fully experience the Gulf of Tonkin. The itinerary also includes the fishing villages of Lan Ha Bay, and watersports such as kayaking, squid fishing, and snorkeling as well as wildlife spotting.
Who
Heritage Cruises is available for FITs (free independent travelers), small groups and charters. This top-notch cruising experience is perfect for repeat travelers to Vietnam wanting something out of the ordinary and exotic.
The exclusive cruising experiences are highly recommended for heritage travelers, seasoned leisure travelers, active holidaymakers, honeymooners, families, fine-art enthusiasts, nature lovers, photographers, groups of friends, VIPs and celebrities.
Heritage Cruises operates from Got Harbor in Haiphong, on a daily basis for the day cruise, with scheduled 1-, 2-, 3- and 4-night programs. In addition, Heritage Expeditions is the first cruise line to offer a 4-night option in the Halong region as well as special event cruises. Private air or helicopter charters for leisure and professionals are available upon request.
Verdict
From October 1 to December 30, guests can discover, explore, and relax in the natural wonders of the Cat Ba Archipelago and Lan Ha Bay, one of the most beautiful marine areas in Vietnam, on cruises starting from VND3.99 million ($170) per adult per night for maiden voyages, valid until 30 December 2019.
The rate includes accommodation in a Delta Suite for two, with ocean views from a private balcony, a light breakfast, lunch and dinner, drinks from the minibar, roundtrip transfers between Hanoi and Got Harbor, and use of the four-season swimming pool, sauna, gym, and kayaks.
Two children under 12 years of age can sleep with their parents for free. For more information, contact 088 603 6668 or email [email protected], or discover more at www.heritagecruises.com.