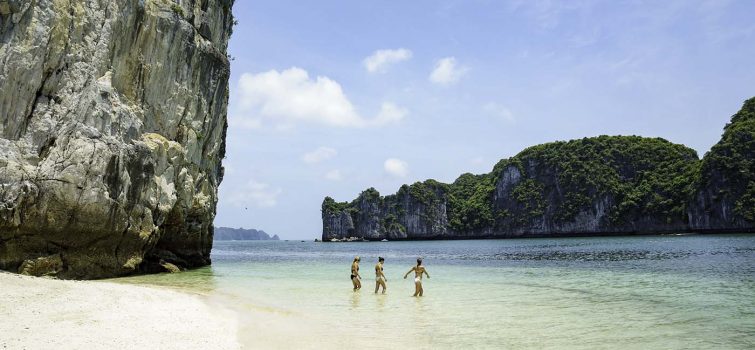 Authenticity is the buzzword for Cat Ba Archipelago and Lan Ha Bay. Traveling to Cat Ba by road only takes 1.5 hours from Hanoi by the 5B Highway. Nowadays, travelers are switching from Halong Bay to Cat Ba and Lan Ha Bay in increasing numbers.
This place is now firmly in the development phase; everything is just getting started. Lan Ha is so small that you can rent a cruise boat to explore the bay by yourself. This is perfect for Cat Ba's based travelers who are self-confident and experienced and want a whole new kind of adventure.
Cat Ba is the largest of the 366 islands spanning the 260km2 that comprise the Cat Ba Archipelago, which makes up the southeastern edge of Halong Bay in Northern Vietnam.
Cat Ba island has a surface area of 285km2 and retains the dramatic and rugged features of Halong Bay. This island belongs to Haiphong City – an important industrial city which, together with Hanoi and Halong, forms an important economic triangle in North Vietnam.
Approximately half of Cat Ba Island is covered by a national park, which is home to the highly endangered Cat Ba Langur.
The island has a wide variety of natural ecosystems, both marine and terrestrial, leading to incredibly high rates of biodiversity.
The types of natural habitats to be found in the Cat Ba Archipelago include limestone karsts, tropical limestone forests, coral reefs, mangrove and sea-grass beds, lagoons, beaches, caves, and willow swamp forests.
Cat Ba island is one of the only populated islands in Halong Bay, with roughly 13,000 inhabitants living in six different communes, and 4,000 more inhabitants living on floating fishing villages off the coast.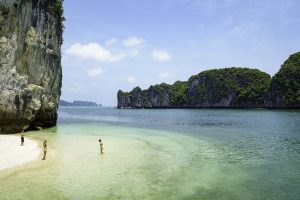 The majority of the population can be found in Cat Ba town, which is located at the southern tip of the island (15km south of the national park) and is the commercial center. Cat Ba's fish sauce is particularly famous and one of the main industries on the island and travelers can visit the factory in Cat Ba town.
Halong Bay is understandably popular and crowded, but if you want to experience it without other tourists, be sure to book our private charter boat that will sail where you want, cruising on your own itinerary.
Go deep into the bay, explore the caves and grottoes, head over to Bai Tu Long Bay and Lan Ha Bay, trek in Cat Ba National Park, go rock climbing, kayaking, and watching some of the most amazing sunsets that you'll ever set eyes on.
Heritage Cruises can help you to take up his challenge with three experiences: Dream Cruise for one day, Discover Cruise for two days, Explorer Cruise for three days and Expedition Cruise for four days. In addition, we arrange private charters for four or five day expeditions in the Gulf of Tonkin.