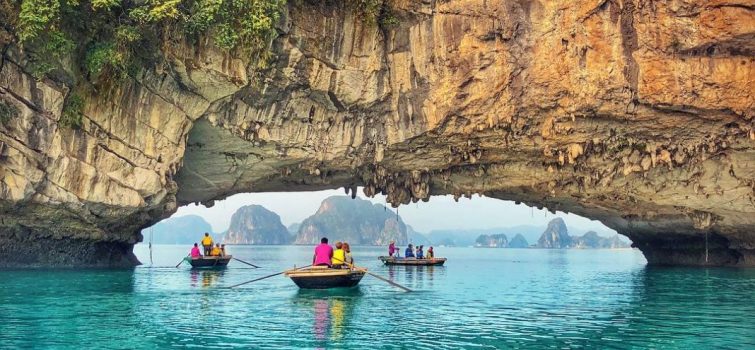 Travel is all about destinations, experiences and memories. CEO Lux Group Pham Ha suggests a new slogan and tagline for Vietnam Tourism.
The gods did not compromise when they chose to endow this small Far Eastern country on the coast of the East Sea. Resembling the shape of a serpent, Vietnam has an array of natural and cultural riches that make it one of the world's must-visit destinations.
The tagline for Vietnamese tourism, "Touching the heritage," invokes the country's blend of heritage and modern life for travellers who wish to experience the defining characteristics of V.I.E.T.N.A.M.
V – Varied landscape
Vietnam is one of the favourite playgrounds of Mother Nature, boasting a wondrous blend of mountains, highlands, caves, rivers, plains, beaches, and epic delta regions.
With Mount Fansipan, as its backdrop, Sapa is home to terraced rice fields, cascading waterfalls, and secluded tribal villages perched on distant slopes. Halong Bay is the perfect getaway to experience luxury cruises as well as outdoor activities such as kayaking. It is an enthralling experience to cruise amidst the towering limestone karsts jutting out of the Gulf of Tonkin. The endless spectacle of the limestone world continues further south in Trang An and Tam Coc located in Ninh Binh province, offering limitless opportunities for travellers.
Complementing the Central Highlands, exquisite pristine beaches enrich the beauty of Central Vietnam. Son Doong Cave, the world's largest cave system, is a particular highlight, although it remains difficult to explore. However, this imposing cave kingdom in Phong Nha and Ke Bang features many more, easy to explore yet stunning caves, grottoes, and underground rivers. Impressive coffee plantations sprawl over the highlands of Buon Ma Thuot, whilst Dalat is surrounded by spectacular scenery and churning waterfalls. The sandy shores of Cham Island, Nha Trang, and Quy Nhon meet the turquoise sea where scuba divers can explore the rich aquamarine ecosystem. Following the course of the mighty Mekong River, South Vietnam is equally photogenic. The river branches off into many estuaries, drawing up an agritourism paradise.
I – Indigenous culture
The country's indigenous cultures bear the marks of China, Japan, and France and a homestay within the ethnic communities is a special way to learn about their culture. Whether in the north, centre or south, there are significant cultural treasures and celebrations by individual communities expressed through festivals and performances. The A-O show portrays the rural lifestyle of farmers and fishermen nationwide. The Quintessence of Tonkin show narrates the ancient tale of the Thay Pagoda, Buddhism, and literature. Traditional music and folk art can be gleaned through the performances of Xoan and Cheo singers, while the captivating Water Puppet show in Hanoi, which originates back to the Red River Delta, is also a must-see. Mythology is an integral part of Vietnamese culture and beliefs and legends revolve around four sacred creatures – the Dragon, Phoenix, Turtle, and Unicorn. There are many colourful festivals observed all year around while the most important one is Tet – Vietnamese Lunar New Year which foreign visitors need to experience at least once.
E – Exotic beaches
Undeniable luxury and incredible visual treats are on offer along the nation's 3,260-kilometre coastline, home to some of the most romantic beaches and islands in the world. Mystical hideaways, secluded beaches, and coves on remote islands, the stretches of white and golden sands fringing the seas at My Khe, Nha Trang, Vung Tau, Phu Quoc, and the Con Dao archipelago are high on the wish-lists of beach lovers. The crystal-clear water offers unrestricted visibility of colourful marine life as well as swimming, snorkelling, scuba diving, and kayaking. Luxury beach resorts and hotels offer idyllic accommodation. Even the most remote are home to boutique resorts for luxury in seclusion, allowing discerning travellers to experience life close to nature.
T – Timeless charm
Emerging from a painful past, much has been done to restore Vietnam's many treasures and add even more. It is not only the natural world that draws visitors in, but also the people, culture, lifestyle, cuisine, and art. The honking of the ever-moving traffic in Hanoi and Ho Chi Minh City are a complete contrast to the tranquility of the countryside. The country presents a plethora of unforgettable images, from epic landscapes, ethnic cultures, legendary cuisine, and imperial monuments and continue through to its timeless village traditions, idyllic sea resorts, and bustling cities. The taste of egg coffee, using chopsticks to enjoy traditional dishes such as pho bo or bun cha, the ubiquitous conical hats, and the twinkling lanterns of Hoi An make for images that travellers will cherish forever.
N – Natural heritage sites
Vietnam takes pride in its diversity and has been blessed with some stunning UNESCO-recognised Natural Heritage Sites, such as Halong Bay, Trang An, Phong Nha-Ke Bang National Park, and Cat Ba Island. The world's largest cave system, Son Doong stuns visitors with its otherworldly splendour and ecosystem.
Halong Bay, featuring a cluster of 1,600 islets, is one of the world's natural wonders. Cruising through this karst landscape is a cinematic experience. Sailing beyond Halong Bay, visitors can get to Cat Ba Natural Heritage Site nestled in the heart of Lan Ha Bay, a treasure trove of flora and fauna. Trang An is another limestone world where the footprints of prehistoric humans and the fossils of extinct animals have been discovered. A bamboo boat ride along the Sao Khe River leads to mysterious underground caves and grottoes as well as ancient cave pagodas and temples.
A – Ancient cities
Hoa Lu in Ninh Binh was the ancient capital of Dai Co Viet (the ancient name of Vietnam). This ancient city, full of temples and pagodas dedicated to former kings, has witnessed many historical events. Its annual festival welcomes tourists from near and far. Hue is the last imperial capital of Vietnam and still preserves many relics from the royal empire. The Imperial Citadel of Hue, the royal tombs of King Minh Mang, King Khai Dinh, and other emperors along with the ancient Thien Mu Pagoda are just some of the major attractions of the former capital. UNESCO-protected My Son sanctuary dates back to the Pre-Angkorian era and was the capital of the Cham Dynasty. Hoi An was the most important port for trading in ancient Southeast Asia. The tranquil ambiance of this UNESCO-protected town, with its colonial architecture, traditions, and coffee culture, makes it a magnet for travellers. Further south, Dalat was one of the favourite hill stations for French garrisons and is filled with a plethora of colonial buildings. The Imperial Citadel of Thang Long marks the origin of today's capital, Hanoi, dating back to the 11th century and the reign of the Ly Dynasty. Ho Chi Minh City is also an ancient establishment from the prehistoric era and witnessed one of the earliest Asian civilisations.
M – Memories to cherish forever
Nothing quite compares to the charm that Southeast Asian countries and Vietnam have developed as a great holiday destination for both leisure and business travellers. It is a truly memorable experience travelling across the country, exploring the treasures of Halong Bay on a luxury cruise, savouring tasty Vietnamese dishes in the finest restaurants of bustling Ho Chi Minh City, relaxing on the idyllic sandy beaches of Phu Quoc Island or strolling through the lantern-lit alleys of ancient Hoi An. Holidaymakers will definitely fall in love with the food, landscapes, and lifestyle of Vietnam.
Once a hidden paradise, Vietnam is now fast emerging as an exciting upmarket destination in Asia, with a sophisticated hospitality industry. The recent development of world-class golf courses has opened a new avenue for golf tours to the nation. The introduction of luxury train journeys, boutique cruises, and upscale private tours spanning the length and breadth of the country has escalated the demand for new destinations and journeys. Travel is now all about places, experiences, and memories.