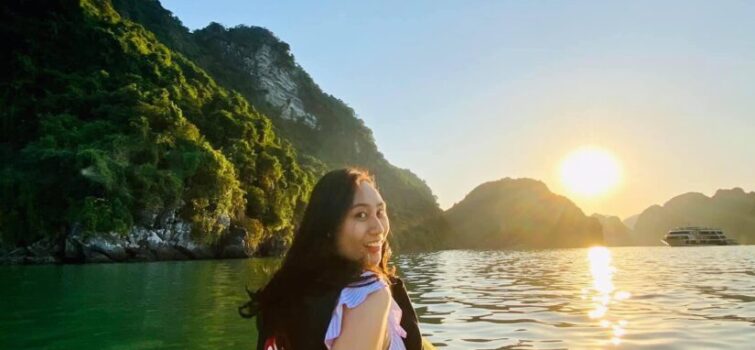 When you have chance to visit Lan Ha Bay in the Cat Ba Archipelago aboard Heritage Cruises Binh Chuan Cat Ba Archipelago, besides swimming, climbing or visiting some famous caves, the most activities to discovery Halong Bay is kayaking. Most cruises in Halong Bay, Bai Tu Long Bay or Lan Ha Bay offer kayaking. Kayaking will make your Lan Ha Bay trip more interesting, when you get closer to the caves, beaches and limestone Islands. Kayaking is generally assumed to be very safe in these calm waters of the Gulf of Tonkin but there is still some areas and warning that you should avoid and listen to the tour guide. So you should know some steps about kayaking in Lan Ha Bay for your safe and enjoy wonderful trip:

STEP 1- PREPARE BEFORE KAYAKING – IMPORTANT STEP:
• Necessary things: Life vests, water, sun cream, dry bag, camera, insect repellent
• Carefully follow the instructions and conditions before kayaking wear the life vest and use the dry bag (put on it your phone, camera, etc…)
• Prepare suitable clothes: T-shirt and short, swimming suit in the summer; warm clothes in the winter; wet shoes, hat, sunglasses. Lan Ha Bay water is pretty warm during winter so feel free to kayaking anytime of the year. However, keep yourself warm after you are done with the activity to avoid catching a cold.
• Keep a suitable distance with the others, not too far, keep in sight with the others, and avoid getting loss
• Even if you are an experienced kayaker, don't come too close to caves and karsts. They might suck you in. There are reports of people getting sucked into caves and it took from 30 minutes to hours to rescue them. (especially in Dark Cave or Ba Trai Dao Beaches)
• Never kayaking while being intoxicated. Drinking will dull your sense and might lead to unfortunate accident. There incidents of people drown because of swimming after consuming a large amount of alcohol.
• For the children should be follow the tour guide and their parents. Sit still in the kayak, do not move in front of or behind
• Children under 5 years old is suggest not using kayak

STEP 2 – WHEN YOU KAYAKING:
• It is very important to follow your tour guide, listen to the route, time and rules.
• Check with your tour guide the weather, tide and wind strength to have the best and safest route.
• Keep away from the places which have strong flow, against the wind; take advantage of the wind strength and flow.
STEP 3- HANDLE UNEXPECTED SITUATIONS:
• Adjust the speed of the whole group if any of the members is out of sight.
• In case the kayak capsizes, passengers need to swim a bit, and then take the water out of the kayak with the help of the tour guide. He will catch the kayak; take the water out by putting your kayak on his in the T- shape. After that, he will put the kayak back into the water; keep it still so that passengers can be on the kayak again.
• If there is an expected storm, find the safest place in the sheltered areas, beaches… to avoid the storm. In case passengers are in the middle of the sea and cannot find a safe place, passengers need to be gathered to make a raft kayaking is extremely an interesting activity in Lan Ha Bay. You also can enjoy kayaking for Halong 1 day tour however you only have about 15 to 20 minutes for kayaking at the small floating village (Ba Hang village). Normally with the tour 2 days 1 night, you also have change to kayak at Luon cave, kayak though this cave can bring you an impressive feeling. If you are like kayaking, 3 days 2 nights cruises is a best choice, you will have more time to explore Lan Ha Bay as well as have more than 3 hours for kayaking. In conclusion, kayaking is not difficult and we wish you enjoy it completely. Heritage Binh Chuan offers from 1 to 4 nigt cruise program including kayak experiences, discover more at www.heritagecruises.com