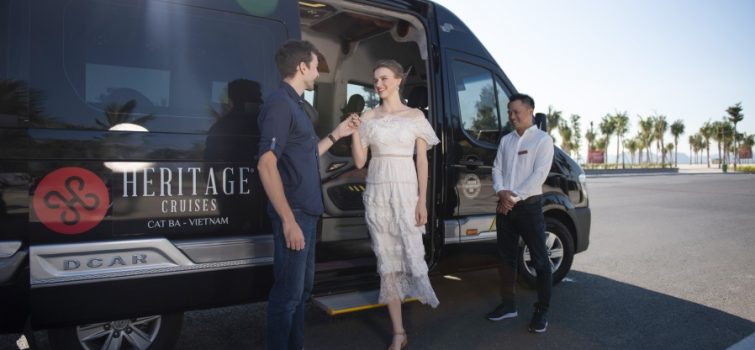 Xin chào
My name is Huong Pham, operations manager of Lux Cruises (Emperor Cruises and Heritage Cruises) in Hanoi. I would like to confirm for you that our Dcar Limousine will come and pick you up ataround 8:00 to 8:30 am at your given hotel address.
Mr. Tuan Nguyen will be your chauffeur driver for the comfortable journey from Hanoi to Halong Bay and the return (his cell phone number is 0944 768 833). This is a shared van for 9 guests so he may pick up some other passengers before heading to highway 5B to Halong Bay in Quang Ninh Province to the East of Hanoi. Upon arrival at the Tuan Chau harbor in Halong Bay, our cruise manager will be ready to welcome you aboard the cruise.
I would like to give you some brief information about the road journey. It takes about 2 and a half hours to get to Halong Bay from Hanoi on highway 5B for a distance of 180km from the destination. Halfway there, Mr. Tuan Nguyen will stop at the rest stop for refreshments. You will spend about 15 minutes there and you can get refreshments or take a bathroom break before getting back into the van.
At around 11:00 am, we will arrive at our Lux Cruises Lounge at slot number 28 in Tuan Chau International Passengers Port, and you will be met and greeted at our Lounge for refreshments before being transferred by our speedboat to reach the Heritage Cruises Binh Chuan or Emperor Cruises from 12 to 12:30pm . On board, fresh welcome drinks will be served, and the cruise manager will give you safety information, instructions, and the full itinerary for your cruise trip. Lunch will be served at around 1:00 to 1:30 pm.
In our van, for your comfort, we offer you complimentary wifi, water, wet tissues and an umbrella. For your entertainment, we have music, magazines and books. Mr. Tuan Nguyen will drive at an average of 80km per hour, and the air conditioning is set to a comfortable temperature by default. Feel free to ask him to adjust it to your preference.
During the journey from Hanoi to Halong Bay, if you have any questions or if you want to change the drop off hotel address in Hanoi, don't hesitate to ask Mr. Tuan – he can speak a little bit of English. You can call me at +84-886-039-009 around the clock if you need further assistance or information.
Once again, thank you very much for choosing our Lux Cruises and traveling with us today, and our team and I wish you a safe and pleasant road journey to the paradise that is Halong and Lan Ha Bays.
Enjoy your transfer and cruising experience!
Xin cảm ơn!
Hường Phạm
Operations Manager
Lux Cruises
www.lux-cruises.com