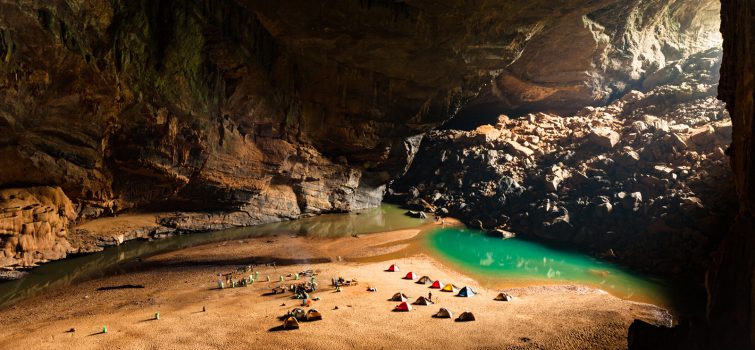 Vietnam has a wealth of attractions that make it one of the must-visit destinations in the world. It is a beautiful country with a stunning coastline, highland areas inhabited by colorful hill tribes, miles of lush green rice paddies, several World Heritage sites, a rich imperial history, delectable cuisine and fun-loving, friendly people.
Here are the top ten reasons to visit Vietnam, selected by Anita Sach of Lux Cruises, a member of Lux Group.
1.  The people
It goes without saying that Vietnam is a particularly beautiful country, but this is enhanced by its people, who are hardworking, forward looking, hospitable and who have a wonderful sense of humour.
2.  The variety
Vietnam is a country of contrasts with its lush green patchwork of rice paddies, dramatic mountains, unspoilt coastline and the watery worlds of the Mekong and Red River deltas. Other top attractions include the enigmatic limestone karsts in Halong Bay, bustling Hanoi and Ho Chi Minh City, laidback Hue and also Hoi An.
3.  The accommodation
Whatever your budget there is somewhere to stay that is perfect for you from simple mini-hotels, through to welcoming mid-range hotels, stylish boutique hotels and smart international chains.
4.  The food
Vietnamese food combines the best of Thai and Chinese cuisines with a twist of French heritage and Vietnamese creativity. Seafood is fresh and a hearty bowl of pho a must. Whether you choose to dine in a roadside café with the kitchen out front where you can watch your selection being freshly cooked or in a chic restaurant in an old colonial mansion, you won't be disappointed. Of course, if you are hankering for a burger, curry or pizza, you won't have to look far.
5.  The culture
Culture vultures won't know where to start! Take in ancient temples and pagodas such as the Temple of Literature in Hanoi, the Jade Emperor in Ho Chi Minh City and Cao Dai temple in Tay Ninh. In Hue, wander round the intriguing, beautifully landscaped tombs of the Nguyen dynasty emperors and try to imagine how the imperial palace would have looked in its heyday.
6.  Colonial history
Wherever you look you will see the remnants of the French colonial period from the freshly baked French-style bread to the gorgeous old villas in the former hill stations. Dalat could be a typical Provencal town surrounded by alpine scenery. The hill tribes selling vegetables in the market are a reminder that you are actually in Vietnam.
7.  Luxury journeys
With new luxury hotels and world-class golf courses opening as well as helicopter tours and sea plane flights over Halong Bay Vietnam is fast emerging as the world's latest luxury destination. For train lovers, the evocatively named Victoria Orient Reunification Express is a must.
8.  Cruising
From the decks of a smart river cruiser, enjoy viewing river life as you cruise along the waterways from the Mekong delta deep into Cambodia or overnight on Halong Bay. Nha Trang Bay now offers its first overnight cruises on Emperor Cruises and Heritage Cruises
9.  Shopping
Leave plenty of space in your suitcase for those must-have items, clothes, silk bags and lacquerware all of which can be found in the colourful markets. Enter into the fun by bargaining hard!
10. Authenticity
Travelers always want new and exotic experiences, plus value, both in terms of personal value and value for money. They seek new destinations, new hotels and new experiences. They want to be the first to discover a destination. Many have moved towards a quieter understated luxury and plan their trips with a focus on authenticity and experiential travel, particularly enriching once-in-a-lifetime experiences. For travel experts, it is essentially about creating a experiential travel that is personal as well as authentic and memorable.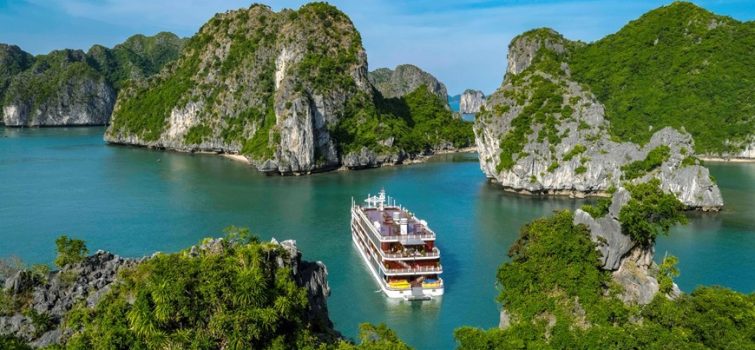 Vietnam now has world class hotels and resorts, beaches and cuisine, in addition to its natural beauty, rich history and traditional culture.
"Wow Vietnam" was created with an aim to attract discerning travelers, who wish to experience its defining characteristics: thrills, nature, heritage, festival, pristine, experiential travel, scenery and essence.
As travel expert, Pham Ha President and CEO of Lux Group advises TAB, VNAT, Ministry of Culture, Sports and Tourism, here is my definition of uniqueness and difference that the slogan of Vietnam tourism must be promoted in all trade shows, embassies, all media, travel players even local people.
Depending in each market and need, the marketing campaign can be focused and bespoke such as endless of discovery, food, nature, culture, shops…
WOW Thrills
The thrills  offered are endless and span a wide range, including: hiking, trekking, biking, kayaking, climbing, rafting, snorkeling, scuba diving, fishing, hot air ballooning, camping, yachting and more. Some of the locations where these activities can be enjoyed include: Sapa, Halong Bay, Cu Lao Cham, the Central Highlands,  the Mekong Delta, Nha Trang, Phan Thiet, Con Dao, the Phu Quoc Islands and many more.
WOW Nature
The nature amazes visitors, from the green beauty of the national parks, reserves and ramsars, to the mountains, waterfalls, rivers, lakes and grottoes. Halong Bay is among the new Seven Natural Wonders of the World. Visitors will  discover the natural allure of Vietnam by indulging  in a wide array of accommodations, tour packages and attractions at places such as Mai Chau, Sapa, Ha Giang, Ba Be, Halong Bay, Phong Nha Ke Bang, the Central Highlands, Nam Cat Tien and many more.
WOW Heritage
With its long history and unique way of life, Vietnam has a rich heritage. There are many interesting and diverse sites to be found around the country. Halong Bay is a tourism icon for Vietnam Tourism in the world. Trang An has been just named world heritage listed site, Vietnam now boasts 8 world natural and cultural heritage sites, not to mention many intangible cultural heritages.
WOW Festivals and lifestyle of Vietnamese
Many colorful festivals can be enjoyed year round. The time after Tet Nguyen Dan (Vietnamese Lunar New Year)  is especially  exciting.  Other festivals include the Perfume Pagoda, Hung King, Kate, and Lim and Giay Festivals, just to name a few. 54 nationalities with 54 various cultures and lifestyles to discover in the country. Vietnamese is friendly and hospital, always with smiles.
WOW Pristine
Many pristine islands and beaches are to be found in this tropical country. Vietnam has 3,620 km of coastline, with beautiful white sand beaches and world class resorts. Of these, you should not miss the stunning sand and clear waters of My Khe, Cua Dai, Nha Trang, Ninh Van Bay, Quy Nhon, Mui Ne, Vung Tau, Phu Quoc and the Con Dao Islands.
WOW Bliss
Holidaymakers have the choice of new and trendy boutique hotels, spas, golfing, cruises, shopping centers, restaurants and nightlife. With new luxury hotels and world class golf courses having recently opened or set to open soon, and the introduction of luxury train journeys, exclusive cruises and upscale private tours spanning the length of the country, Vietnam is fast emerging as an exciting luxury destination in Asia.
WOW Scenery
Spectacular scenery and a diverse landscape exist from North to South. Mountains, forests, nature reserves, rivers, beaches, and islands are all here to be enjoyed. Verdant patchworks of rice paddies and pointed lampshade-style hats are just a small part of what there is to be seen in this formerly war ravaged country. Visitors will see more than the economic repression often portrayed on worldwide television and in newspapers. There is also natural beauty,  a  harmonious  array  of ethnic  cultures, imperial monuments, timeless traditional villages, idyllic sea resorts and dynamic cities.
WOW Essence
Vietnam boasts scores of traditions, lifestyles and religions. The friendly and hospitable population has been influenced by the cultures of China, France and America, and this is reflected in the country's lifestyle, architecture, cuisine and art. Vietnamese cuisine is acclaimed worldwide and become the buzz words of all travelers. Should promote Vietnamese gourmet cuisine or heritage as an UNIQUE SELLING PROPOSITION