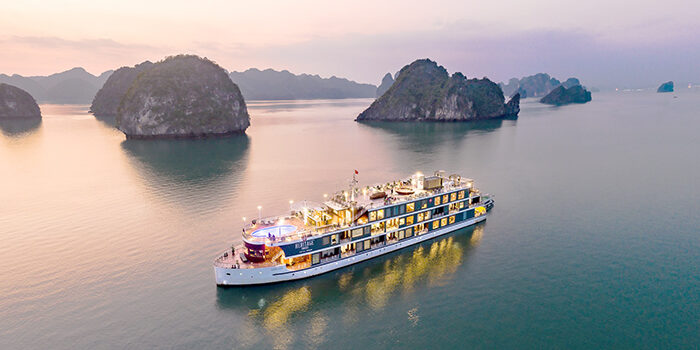 [Hanoi, Vietnam – June 16, 2023] – Heritage Cruises, an extraordinary sailing experience inspired by the legendary Bach Thai Buoi, known as the king of ships, has been honored with a prestigious nomination for the highly coveted title of World's Best Boutique Cruise Line 2023. This esteemed recognition marks a significant milestone as Heritage Cruises receives its first-ever nomination for this internationally acclaimed award.
Established in 2019, Heritage Cruises was brought to life by Pham Ha, the visionary founder and CEO of Lux Cruises, with the vision of celebrating the revered Bach Thai Buoi and reviving Vietnam's rich cultural heritage. Pham Ha, along with the entire team and corporate culture at Lux Cruises, takes great pride in this well-deserved nomination.
Featuring 20 lavish cabins that can accommodate up to 60 passengers, Heritage Cruises boasts an exceptional staff-to-guest ratio of 1:1, ensuring personalized and attentive service throughout the voyage. The cruise line specializes in 1 to 3-night expeditions in the Gulf of Tonkin, with a particular focus on the captivating Lan Ha Bay and the enchanting Cat Ba Archipelago.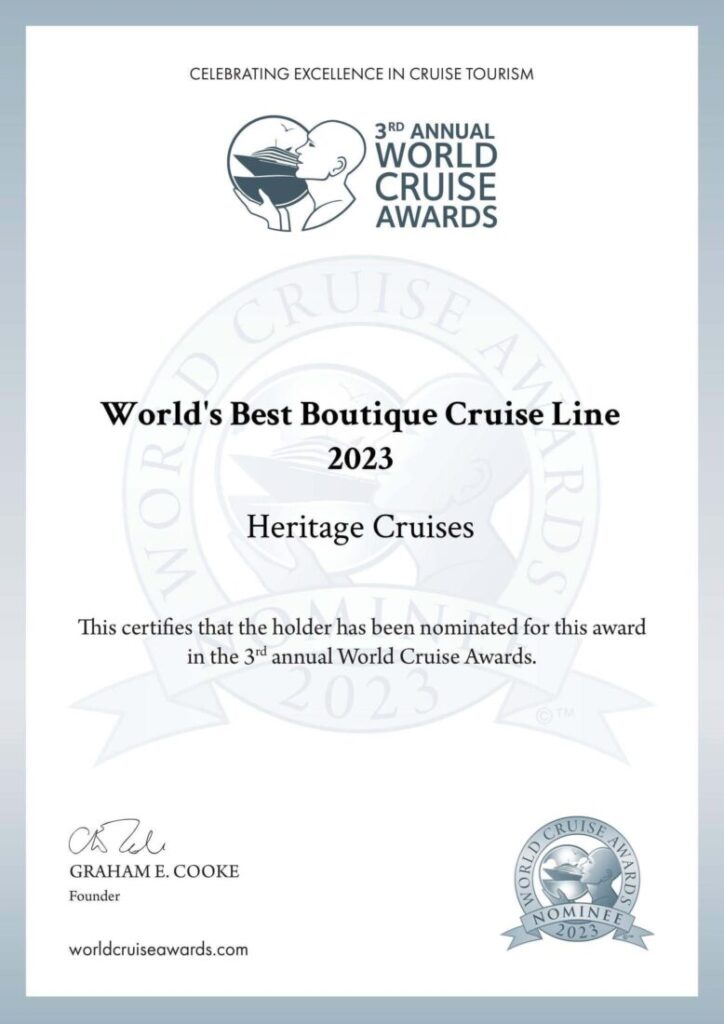 Heritage Cruises has been the recipient of numerous international and national awards, underscoring its commitment to excellence and further solidifying its reputation as a premier boutique cruise line. These accolades are a testament to the company's unwavering dedication to delivering an extraordinary and immersive cruising experience.
The term "boutique cruise" refers to a type of cruising that offers an intimate and personalized approach compared to larger, mainstream cruise ships. Borrowed from the retail industry, where it typically describes small, stylish, and specialized shops that offer unique and curated products, the concept of boutique cruises centers around exclusivity, attention to detail, and a more intimate ambiance. These cruises often feature smaller ships with a limited number of cabins or suites, providing guests with a tailored and personalized experience. The focus is typically on delivering high-quality service, immersive itineraries, and distinctive amenities.
Boutique cruises offer a range of features, including gourmet dining experiences, luxurious accommodations, personalized service from a dedicated crew, and unique activities or excursions. They often cater to specific interests or themes, such as cultural exploration, adventure, or relaxation, aiming to establish a more intimate and immersive connection to the destinations visited.
Today's travelers' never-ending search for something "new and different" inspired the evolution of boutique hotels and cruises. But what exactly is a boutique cruise? While there is no strict definition of a boutique cruise, the genre does tend to have some common features. Here are top ten characteristics of boutique cruises such as Heritage Cruises: Size, Individuality, Design, Character, Culture, Service, Gastronomy, Clientele, Sense of a place, Authenticity.
With voting for the World's Best Boutique Cruise Line 2023 set to commence from June 14 to September 15, cruise enthusiasts and travelers worldwide have the opportunity to cast their votes. The highly anticipated gala dinner and awards ceremony will take place in Dubai on October 15, 2023, where the winner will be revealed and celebrated.
To support Heritage Cruises and cast your vote, please visit https://worldcruiseawards.com/award/world-best-boutique-cruise-line/2023
Under the visionary leadership of Pham Ha, the company has realized his childhood dream of showcasing the beauty of Vietnam from the North to the South by constructing 30 ships that sail along the Vietnamese coastline. For more information about Heritage Cruises, please visit www.heritagecruises.com.
About Heritage Cruises:
Owned by Lux Cruises, Heritage Cruises is a boutique cruise line in Vietnam that offers a unique and immersive sailing experience. Established in 2019 to honor Bach Thai Buoi, the king of ships, Heritage Cruises brings Vietnam's rich cultural heritage to life through meticulously crafted voyages. With a strong emphasis on excellence and personalized service, Heritage Cruises has received numerous international and national awards.