On 18th June 2019, Nam Phat Shipbuilding and Shipping JSC cooperated with Heritage Cruises JSC to organize the Float-Out Ceremony of the first boutique cruise in the Gulf of Tonkin in Quang Yen Town, Quang Ninh Province. It's true that Heritage Cruises is completely invested by Heritage Cruises Joint Stock Company, which is the member of Lux Group.
Heritage Cruises is the third cruise of Lux Group and the first 5-star boutique cruise ship in the Gulf of Tonkin, Vietnam.
Deriving the inspiration for its boutique concept and design from the heritage ships of patriotic entrepreneur Bach Thai Buoi who is considered as "King of cruise ship" in Vietnam in the early 20th century, Heritage Cruises consists of 20 suites ranging from 33m2 to 80m2, divided into 4 different categories with a maximum capacity of 60 guests. Besides, there have been luxury amenities including two restaurants related to Indochine and Le Tonkin for Vietnamese gourmet cuisine, Vietnam's first infinity swimming pool and pool bar, luxury wine cellar, Red River Lounge for relaxing and contemplating the original arts of Hang Trong. Heritage Cruises, especially, offers a floating exhibition, L'Art de l'Annam which shows the first designer art gallery of artist Pham Luc, known as the Picasso of Vietnam, as well as the works of many famous Vietnamese artists and Bach Thai Buoi Library for reading and relaxation which displays the pictures depicting the daily life of people in Northern Vietnam before The August Revolution.
In the float-out ceremony of Heritage Cruises, Mr. Pham Manh Ha – CEO of Lux Group said that "Both domestic and foreign tourists always care much about experiences on the cruise ship when discovering Halong Bay in general and Lan Ha Bay in particular. On Heritage Cruises, we promise to bring our guests not only a 5-star luxury accommodation but also a chance to immerse in cultural, artistic and historic spaces of Vietnam in the early 20th century. Besides, Heritage Cruises, which is the first boutique cruise operating in Halong Bay, equipped with waste treatment system to avoid littering and disposing directly to the ocean and protect the natural environment during the journey with Heritage Cruises".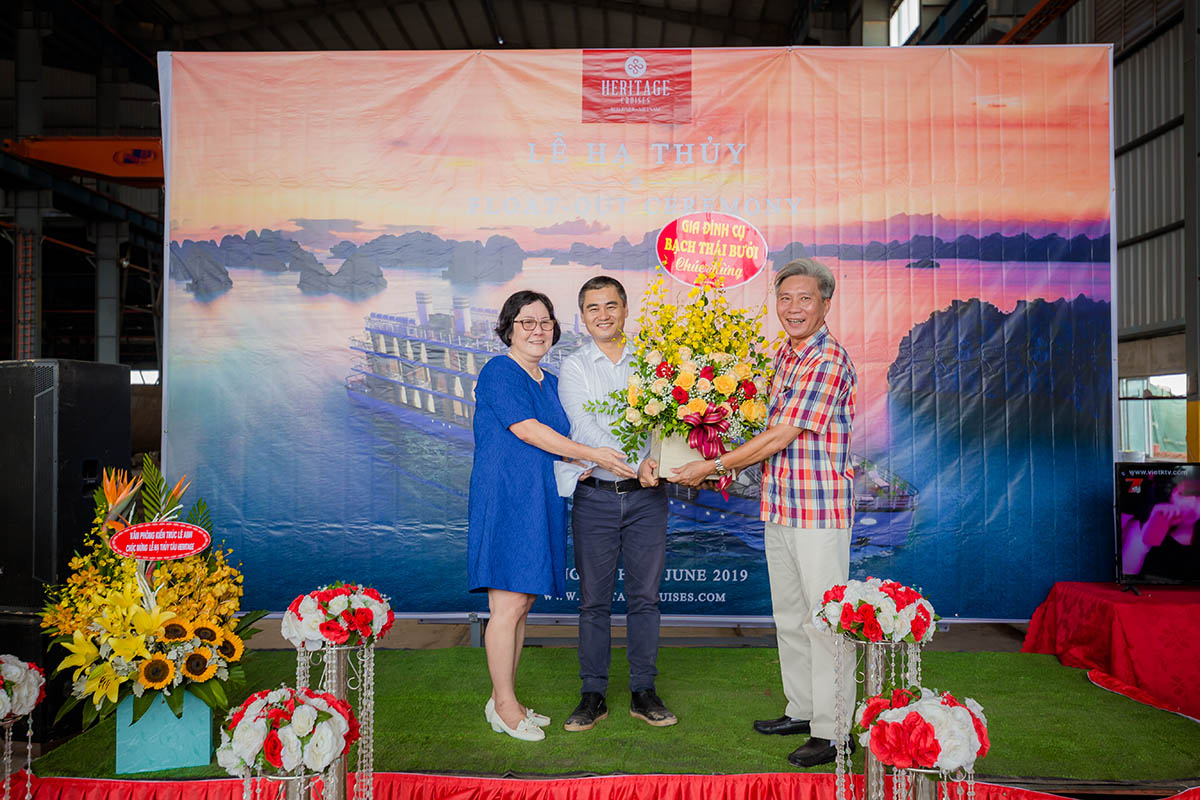 In the float-out ceremony, there is a special guest – Mrs. Bach Que Huong, who is the great-granddaughter of patriotic entrepreneur Bach Thai Buoi. She is considered as the godmother of Heritage Cruises. She said: "By 2019, Heritage Cruises floats out, there have been a full 100 years (1919 – 2019) since my great-grandfather floated out Binh Chuan Ship. I'm really emotional when I can see with my own eyes a part of the family's history which is partly reconstituted on Heritage Cruises. I would like to say thank Mr. Pham Ha, who is imbued with the spirit "Vietnamese people boarding Vietnamese cruise ship" which my great-grandfather takes the initiative in the early 20th century. Heritage Cruises seems to bring guests not only the style but the spirit of Bach Thai Buoi as well".
The first voyage of Heritage Cruises is expected to start on June 2019, with an initial price from VND 10,000,000/cabin for 2 days 1 night trip.
Contact us at website if you need any further information.
Heritage Cruises categorizes itself as ships not only using stars but also by characters, quality, style, and the overall special Feng Shui experience, which together ensure that our cruises have a story to tell.
Originating from China, Feng Shui has a 3000-year history and Vietnam, like many other Asian countries, continues to practice it in daily life, in its architecture and interior design. Our heritage-inspired cruise ship, Heritage Cruises, has been created with the balance of ying and yang in mind, with the five elements of Metal, Wood, Water, Fire, and Earth onboard harmonizing with the surrounding environment.
Feng Shui affects our health, relationships, quality of life and, of course, experiences when we travel. Cruising is all about you and your experiences. We have designed our cruise and accommodation with the best practices of Feng Shui in mind for your greater comfort, restorative sleep, and memorable experience while you are staying with us.
All our suites are designed using Feng Shui principles including the lighting, neutral colors, no TV, and the bed facing the ocean, respecting the free flow of Chi in the suite. You can see the ocean from every corner of your suite and we create a warm and pleasant ambiance for you to create your own memories. We even have a tree in each suite, there to bring good fortune.
Here are the top ten elements we include in the suites to conform with Feng Shui rules and to heighten your senses.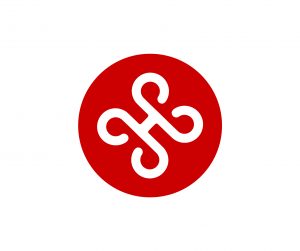 1. Design with a purpose
Our suites have been thoughtfully designed for our guests with safety, authenticity, sincerity, protection and great comfort in mind. All 20 suites are located on the main and upper decks, far from engine noise, public and social areas and easy access to all the exit areas both in the rear and at the front of the ship. The main stairs are at the heart of the ship benefiting from both natural light and fresh air.
2. Neutral colors and warm space
We use Indochine style heritage-inspired designs in neutral colors, using natural materials that create a warm, elegant, pleasant ambiance for our high-end guests. We ensure we give our clients the ultimate in luxury and sophistication with our extraordinary onboard facilities.
3. Feng Shui bed position
There is space above and around the bed to balance the Dragon and the Tiger (the white tiger represents female energy). With a classic colonial-style bed and wooden headboard, the bed is placed to avoid straight lines and positioned to fully enjoy the floor-to-ceiling windows and bring you energy.
4. The free flow of vitality.
Clutter in a bedroom hinders the free flow of Chi and the flow of air and vitality. Our suites are decorated minimally so that objects do not disturb the vitality, but are very neat, simple, and elegant, in a distinctive boutique style.
5. Tree in the suite – the wood element
The suite has a small tree which is the wood element of Feng Shui, together with an Indochine colonial-style bed with wooden headboard, lamp table, sofa, and smart luggage rack.
6. Slow pace of life
Each suite is designed with absolute privacy in mind, giving you the space to appreciate life and enjoy the wonderful views. There is no TV in the suite, so you can truly escape surrounded by the natural wonders of the bay. Indeed, you will be able to capture every romantic moment as every second counts while you are on board.
7. Connecting with nature
We use sustainable materials and neutral colors to enhance your mood and create the perfect ambiance for you and your companion so that you can connect with nature as well as appreciate the culture, arts, people, food and heritage.
8. The language of art in Feng Shui Experience
You can enjoy wonderful works of art with different themes on the Red River Delta, the ocean and heritage by one of the most famous artists in the country, Pham Luc. You will also learn about the early 20th-century pioneer, Bach Thai Buoi, the King of the Ocean and River Cruises, who inspired our team to follow in his footsteps and to apply ethical business practices in everything we do, ensuring you a once-in-a-lifetime experience.
9. Natural light – Feng Shui Experience
We understand the importance of illumination, and the suites have been tastefully designed to benefit from natural light and air circulation. With your own private balcony, you can spend time outdoors or stay in the comfort of your suite.
10. Make it simple
Simplicity is the ultimate in sophistication and luxury in the design of our suites. We avoid sharp-angled and reflective objects, ceiling fans, and vanity units which can become cluttered.