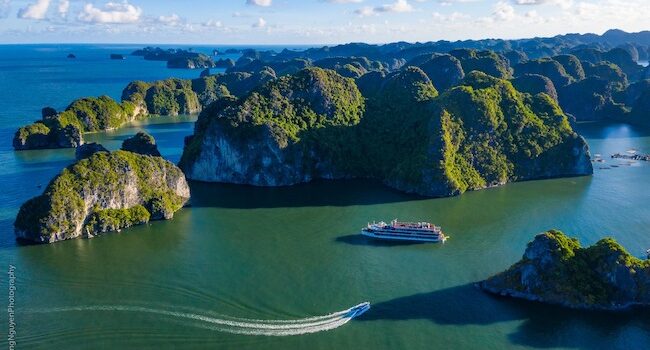 Hanoi,Vietnam – September 09, 2023 – Heritage Cruises Binh Chuan Cat Ba Archipelago, Vietnam's first boutique cruise, Tripadvisor award of "the best of the best", travelers's choice award, level 3 sustainable travel award… will be closed for routine maintenance, scheduled from September 11th to September 23rd 2023.
"At Heritage Cruises Binh Chuan Cat Ba Archipelago, we prioritize the safety and satisfaction of our passengers. To ensure that our ship operates at its best, we regularly conduct maintenance checks and necessary repairs. This planned closure is part of our proactive approach to maintaining the highest standards of quality and service" said by Ms Huong Do – Coo of Lux Cruises Group.
During this period, the Heritage Ship will not be available for any bookings or voyages. We apologize for any inconvenience this may cause and kindly request your understanding and patience. Our team of skilled technicians and engineers will be working diligently to complete the necessary tasks within the given timeframe.
If you currently have a reservation with us during this maintenance period, our customer service team will be reaching out to you shortly to discuss alternative options. We assure you that your booking will be handled with utmost care, and we will do our best to accommodate any changes required.
You can also cruising with us on Emperor cruises legacy Halong (www.emperorcruises.com), The Emperor Cruises brand is inspired by the luxurious lifestyle of the last great ruler, Emperor Bao Dai. A 5 star cruise that customers will be treated as a King and Queen yourselves, indulging in experiences such as music, fine arts, architecture, culture, fine cuisine, history, and outdoor activities where everything is included.
Once the maintenance is completed, we will resume our regular operations on September 24th. The Heritage Cruises Binh Chuan will be ready to welcome you back on board for an unforgettable cruising experience along the breathtaking coastal landscapes.
If you have any questions or concerns regarding this temporary closure, please feel free to reach out to our customer support team at [email protected] or hotline: +84 886 036 668. We are here to assist you and provide any necessary information.
Thank you for your continued support and kind understanding. We look forward to serving you again soon, offering even better experiences on the renewed and improved Heritage Cruises Binh Chuan Cat Ba Archipelago.
Warm regards,
Heritage Binh Chuan Team.