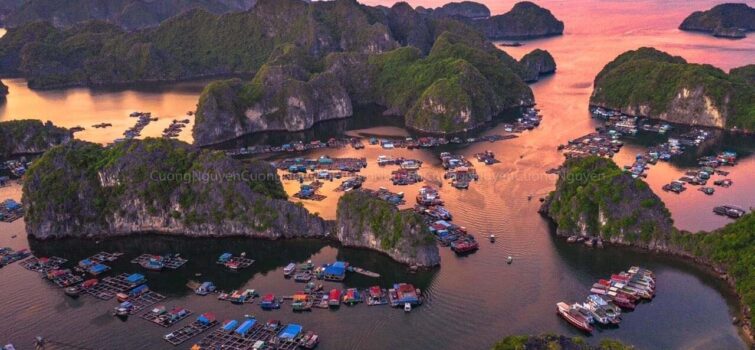 An exotic destination with pristine beaches, secluded lagoons, coves, tropical forest, and lakes allows you to discover the best places for kayaking, biking and hideaways.

Cannon Fort
Head out of Cat Ba Town to the entrance of the well-signposted Cannon Fort, just 15 minutes away, and take a leisurely 20-minute stroll to the fort. Take time to investigate the narrow passageways and go into the underground tunnels and rooms which were once used for storage or as sleeping quarters. The gun emplacements and enormous guns are still there, and the views across the island and sea are incredible. In one direction, are the green-clad limestone karsts stretching into the distance while the opposite side is dotted with colorful fishing boats, beaches, and the town itself.

Viet Hai village
No visit to Cat Ba is complete without a short visit, or even an overnight in Viet Hai village, a sleepy place in a valley, with high mountains as a backdrop. Despite the influx of visitors to the island, life has changed little in Viet Hai, where the locals live in thatched huts and mainly earn a living from fishing and farming, with just a few catering to the tourist trade. To reach Viet Hai take a 3-4-hour guided trek or cycle ride passing Ech (Frog) Lake, the island's largest lake, or an hour's boat trip from Cat Ba Town and then a 45-minute walk (or short ride by
electric car) to the village itself. Lush green paddies stretch along the valley floor and locals can be seen carrying water and produce on shoulder poles. Home-stays are possible or stay in a small, simple bungalow resort where the sound of frogs is the
only sound to break the silence at night.

CAT BA NATIONAL PARK
Cat Ba National Park was established in 1986, covers 9800ha of forest and 5400ha of marine habitat and is distinctive because of its limestone mountain range with an average height of 150m above sea level. The highest peak is Cao Vong at 322m. Adjacent to the mountains are white sand dunes, freshwater lakes and mangrove forests. The weather is pleasant throughout the year, with an average temperature of 23C and the dry season between November and April. The park is home to the largest primeval tropical forest in Vietnam with some hundreds of species of plants, including various rare trees that need to be protected. It is also home to several endangered mammals including the golden-headed langur. In the past there were thousands of these langurs on Cat Ba, but because of intensive hunting there are believed to be just a few dozen surviving. Other endangered species include the rhesus macaque, black giant squirrel, and civet cats.
Cat Ba island lies on a major migration route for waterfowl that roost in the mangrove forests. Around 70 different species of birds have been spotted here, including hawks, hornbills and cuckoos.
The details Flora
Tropical moist evergreen forest covers most of the park's area with over 745 flora species belonging to over 123 families, including approximately 300 medical plant species. The richness of floral biodiversity here amazes visitors with its endangered plants, hundred-year-old trees, moss, lichen, and creepers. There are also regionally important habitat types including fringe coral reefs, mangrove forests, sea
grass beds, willow swamp forest and tropical limestone forest. Most of the habitats are under severe threat, especially due to encroachment. Because of these important habitats, Cat Ba was acknowledged as a World Biosphere Reserve in 2004.
Fauna
Wildlife in Cat Ba National Park is plentiful with over 20 reptile and amphibian species and 32 mammal species including the golden-headed langur, which is found on Cat Ba but nowhere else in the world. Golden-headed langur live in small groups of 5-10 individuals in remote parts of theisland.
Birds
Cat Ba is an area of diverse bird species as it lies on a major migration route for waterfowl that roost in the mangrove forests. Around 70 different species have been recorded and visitors can easily spot kingfishers, sunbirds and magpies. Deeper in the forest, great hornbill and pied hornbill, the biggest bird residents in Cat Ba can be seen in pairs or alone, in the early morning or late evening.
Bats
A number of insect-eating bats live in various caves within the park, and Trung Trang Cave is most easy to access. When visiting please keep quiet so as not to scare the bats.
SUGGESTED WALKS IN CAT BA NATIONAL PARK
Headquarters
This is a good starting point for any route within the park as the guides can provide information and play a video about the park before visitors head off into the park. There is also a very informative Environmental Education Center from where maps can be bought.
Nature trails and points of interest
There is a nature trail network linking the headquarters and various points of interest within the park. The nature trails follow signboards or signs on tree trunks or on rocky cliffs and visitors must stay on the main paths and trails. It is recommended that walkers take a map, water and food (for some of the longer trails). Leech protection socks and insect repellent are also advised, especially during the rainy season. Long
trousers and good boots are needed at all times of year. A compass and binoculars are never a bad idea either.
Some suggested walks
1. Headquarters to Kim Giao forest.
Start from the park's main gate, cross the zoo and botanical gardens and from the foot of the mountain go up the rocky steps, to the first intersection, and turn right to Kim Giao (a precious timber tree) forest
Terrain: easy. Distance: 1km. Walking time: 30 minutes.
2. Headquarters to Ngu Lam Peak
Start at the main gate and at the intersection, follow the main path. Cross over the Yen Ngua Peak (where the two mountains meet), turn left and keep walking to the top of the mountain. At an altitude of 210m stop to take in the view of the tropical karst forest and the sea beyond.
Distance: 1.5km. Walking time: 1 hour.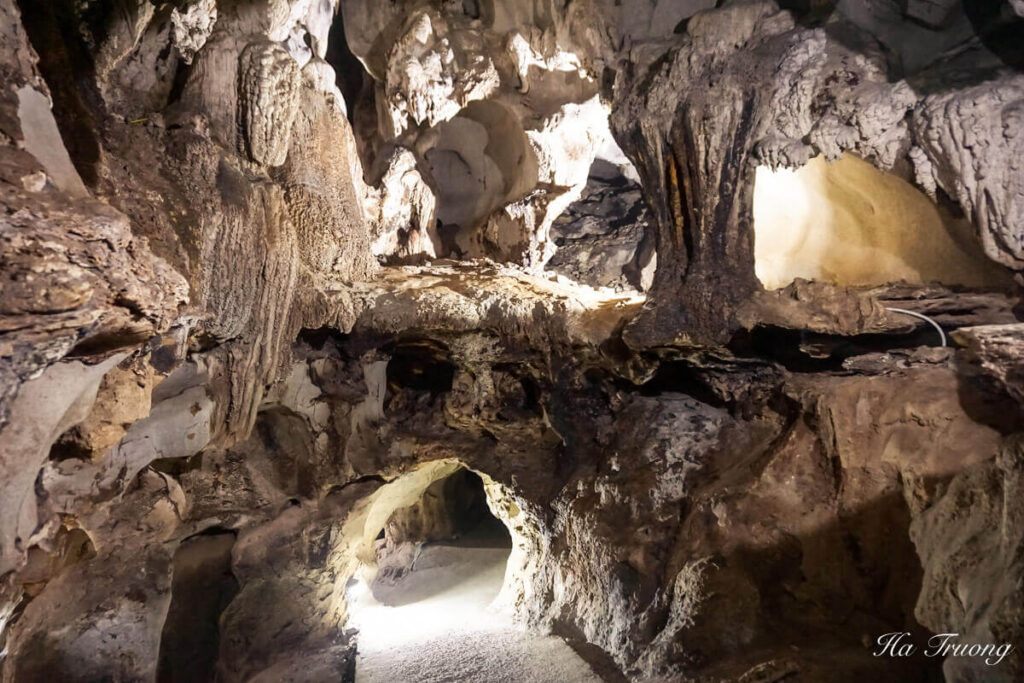 3. Headquarters to Trung Trang Cave
Start from the headquarters, walk around 1km towards Cat Ba town and a signboard for visitors is on the left side of the road. Trung Trang Cave has mysterious stalactites with amazing shapes and styles. Visitors can go through the cave and return to Headquarters. It is advised to take a torch if isiting the cave.
Distance: 3.5km. Walking time: 2 hours.
4. Headquarters to Ao Ech.
Start from behind the Headquarters and take care following the trail as the terrain is relatively hard, with lots of intersections. A newcomer may get lost without an accompanying guide. For the adventurous, this is an interesting route as it crosses hills, dense forest, and grassland.
Distance: 5km. Walking time: 2.5 hours (one way).
5. Headquarters-May Bau-Khe Sau
Start as route 4, pass May Bau Peak and continue down to the grasslands below (3km from the headquarters) and take a right-hand turn. Pass the primary school and through the limestone mountain forests and walk 2.5km along the main trail to Quan Y Cave. A lift in a pickup can be arranged from the cave.
Distance: 5.5 km. Walking time: 3 hours.

6. Headquarters-Ao Ech-Viet Hai fishing village-Lan Ha Bay.
Start as route 4 and from Ao Ech, keep walking along the main path to Viet Hai village (3 hours). A transfer by boat can be arranged to Lan Ha Bay, and from the bay to Cat Ba town (2 hours). This is a circular route, so a boat can be hired either in Cat Ba town or with the park's guides. A lunch break or an overnight at Viet Hai village are suggested for those interested in learning a little more about
local customs and culture.
Terrain: Hard.
7. Marine ecotourism route by boat
Start from either of the two main ports at Cat Ba town. Go through Ang Qua and Ang Vem to Lan Ha Bay, and if possible to Halong Bay. Visitors may stop at pearl cultivation spots and fish farms along the way. Short visits to the beaches at Van Boi, Cai Dua and Ba Trai Dao islands are recommended. Sailing time: 3 hours (by small boat).

Cat Ba Island
Many legends and mythologies surround the island's name
From my vintage postcards of French Indochina, I treasure a rich collection about local life, people, landscape, townscapes and villages in the early 1930s, as well as some of the many legends and myths which have been handed down the generations. The first is the legend of the name 'Cat Ba', which means Island of women in Vietnamese, where, once upon a time the island used to be the realm of women who grew vegetables and supplied food to the men so that they could have the strength to fight off invaders.
Cat Ba island is also characterized by the Kim Giao tree (scientific name Nageia-fleury) whose origin is linked with an ancient legend. These species grow in Cat Ba National Park and the most notable characteristic of these species is that the wood changes color when it comes into contact with any toxic substance. Therefore, in the past, this kind of wood was often used to make chopstick for the king.
The legend surrounds a romantic love story between a talented man, Kim Ngan, and a beautiful princess, Giao Thuy. The man was poisoned by envious and sycophantic courtiers and died. The princess cried so much for her lover that she lay down by his tomb and died with grief. Afterwards, two trees grew from the tomb and local people named the species Kim Giao in their honor. Cat Ba is the largest of the 366 islands, spanning over 260 km 2, that comprise the Cat Ba Archipelago, which makes up the southeastern edge of Halong Bay, and is a new hotspot for cruises, cultural activities, heritage travelers, and holidaymakers.