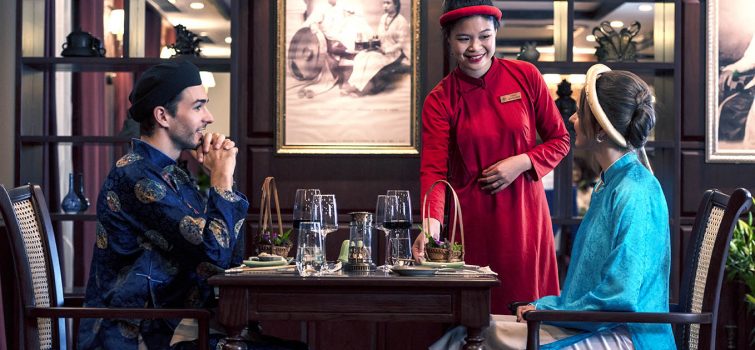 Dear valued guests
My name is Tran Thang, your Experience Manager aboard Heritage Cruises Binh Chuan Cat Ba Archipelago.
I trust that you are enjoying your unique cruising experience with us. I would like to reconfirm your à la carte menu for dinner at Le Tonkin Restaurant on the main deck at 07:00pm. Until then, discover, explore, immerse, and relax until our team call you by sounding the wooden bell to announce dinner time. This is the old-fashioned way in ancient Vietnamese villages, when the locals celebrated a festive dinner in the communal house.
Called after the former name for North Vietnam in French Indochina, the restaurant décor reflects the nostalgia of traditional Tonkin in the 1930s. One of Vietnam's most celebrated gifts to the world is its cuisine. Vietnamese food knows no borders and is appreciated for its freshness and unique mix of textures, flavors, and aromas. Every course is infused with creativity and served with passion, accompanied by a live traditional music performance as the backdrop for a one-of-a-kind dining experience to remember.
Your chosen menu is ideal to be paired with wine. We have our extensive Bach Dang wine cellar from which our sommelier will help you to select the perfect accompaniment. If you wish to change your mind about your menu or choose a different wine from our drinks list, please let me know before 6:00 pm so that our chef, Duong Thuy, has enough time to prepare your dining experience.
As the dinner tonight is Vietnam style, please wear the long traditional tunic and turban that we have prepared for you in the wardrobe. If you have any difficulty in wearing the "Ao dai", please call me or your concierge at any time, by dialling 0.
Until then, I wish you a very pleasant stay with us, and have a great dining experience on our Heritage Cruises Binh Chuan Cat Ba Archipelago.
Personally yours
Tran Thang
Your Experience Manager
ENJOY YOUR FINE DINING EXPERIENCE!