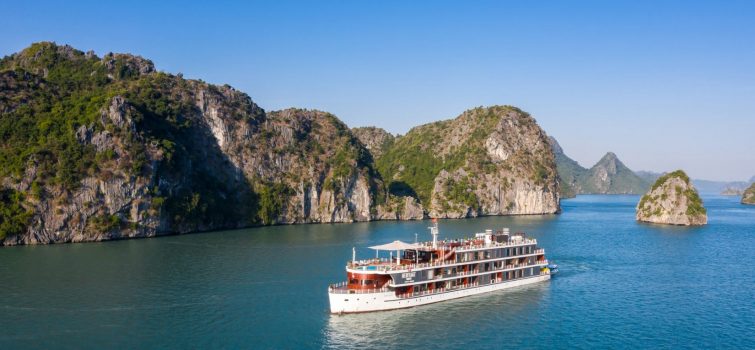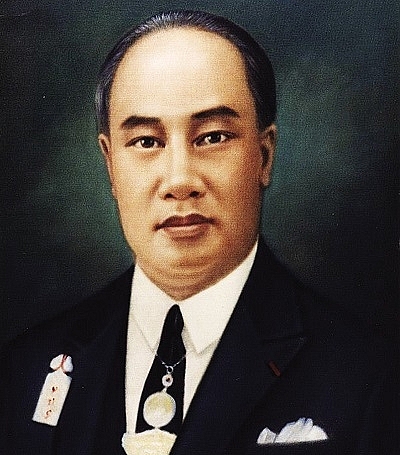 Bach Thai Buoi
Bach Thai Buoi was an inspirational entrepreneur of the early 20th century for many Vietnamese generations. Everything he worked on was aspirational, visionary and for the nation, with profits as an afterthought. He even created a dictionary and a newspaper for the Vietnamese. In the early 20th century, Bach Thai Buoi was ranked among the "four bourgeois tigers". He was one of the richest, most respected men and the first Vietnamese person to own a car. He had many names, such as the "Lord of the Rivers in Tonkin" and the "King of Ocean Cruise Ships".
Inspired by the spirit and the ambition of Vietnamese entrepreneur Bach Thai Buoi, who was very famous for his patriotism and business success in the early 20th century, Pham Ha builds up his brand Heritage Cruises.
---
An impoverished background
Bach Thai Buoi was born into a poor family, but became the fourth richest Vietnamese in the early 20th century and was always respected by the people. He was a patriot and placed great emphasis on social transformation.
Although his parents were poor, they sent him to school to learn both Quoc Ngu, the Vietnamese language script, and French. Every day, Bach Thai Buoi collected firewood from the banks of the Nhue River, sold it, and acquired the capital to start his business.
Bach Thai Buoi was always interested in machinery, so in 1894 he went to work in a workshop to learn how to organise and manage production. Shortly after that, he went to France to participate in an exhibition in Bordeaux.
On returning to Vietnam, a new opportunity presented itself when the Indochina Railroad Company needed a large amount of wood for the construction of the Paul Doumer Bridge. In the following years, he had earned much money and accumulated extensive experience in the business.
In 1928, Bach Thai Buoi invested in mining. At that time, coal mines were managed by the French, but he still gained permission for coal mining in Uong Bi and Quang Yen in Quang Ninh province. He also built a seaport, hired experts from France, and recruited talented Vietnamese people.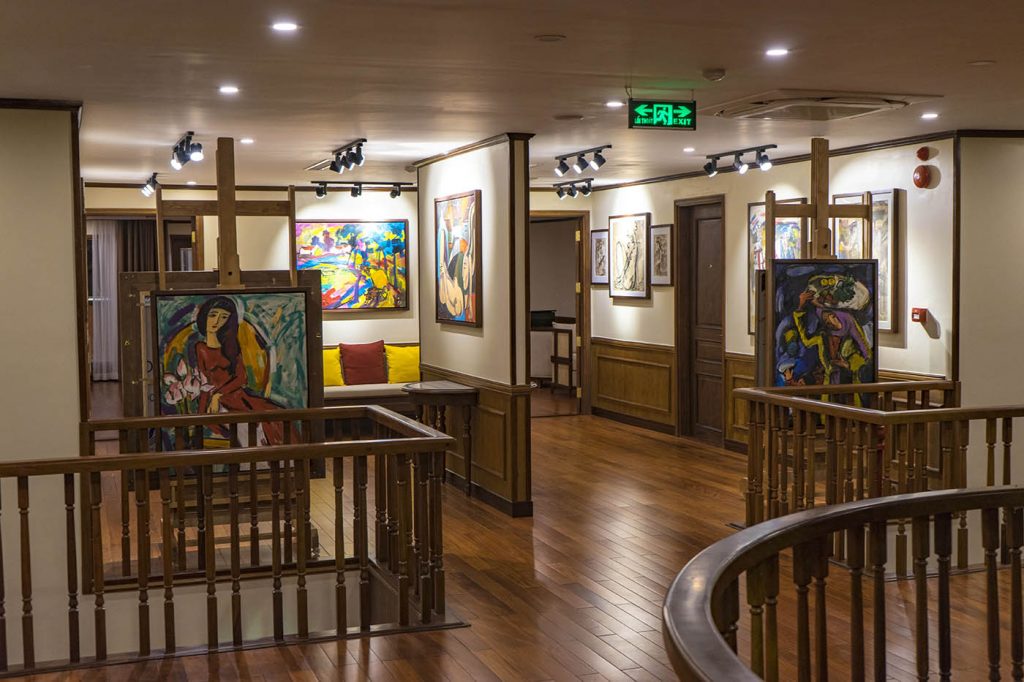 The King of the Tonkin Rivers
Bach Thai Buoi realised that the waterways between Nam Dinh, Hanoi, and Ben Thuy were always crowded, and, if developed, could bring greater benefit to the region.
In 1909, the Marty-D'Abbadie Company had just finished its contract with the French state for these waterways, and Bach Thai Buoi seized the opportunity and immediately hired three of their ships. He gave them the Vietnamese names Phi Long (Dragon), Phi Phuong (Phoenix), and Fai Tsi Long (Bai Tu Long).
He faced serious competition from the Chinese merchant ships. The French had been unable to take them on, but Bach Thai Buoi did so and started to run the Haiphong route as well, expanding again within just two years.
Besides his head office in Nam Dinh, he opened a branch in Ben Thuy in June 1914 and another one in Hanoi in August, which can still be seen in front of the Clock Pillar near the old Paul Doumer Bridge (now Tran Quang Khai Street). Bach Thai Buoi's ships dominated the waterways sailing between Hanoi, Haiphong, Nam Dinh, Tuyen Quang, and Cho Bo.
In 1916, Bach Thai Buoi officially established his business on the banks of the Tam Bac river in Haiphong, the Bach Thai Buoi Ocean and River Transportation Company.
As the years passed, the company opened more branches, and his fleet expanded from the original three to thirty ships. The passenger vessels' capacity varied dramatically, carrying between 55 and 1,200 people.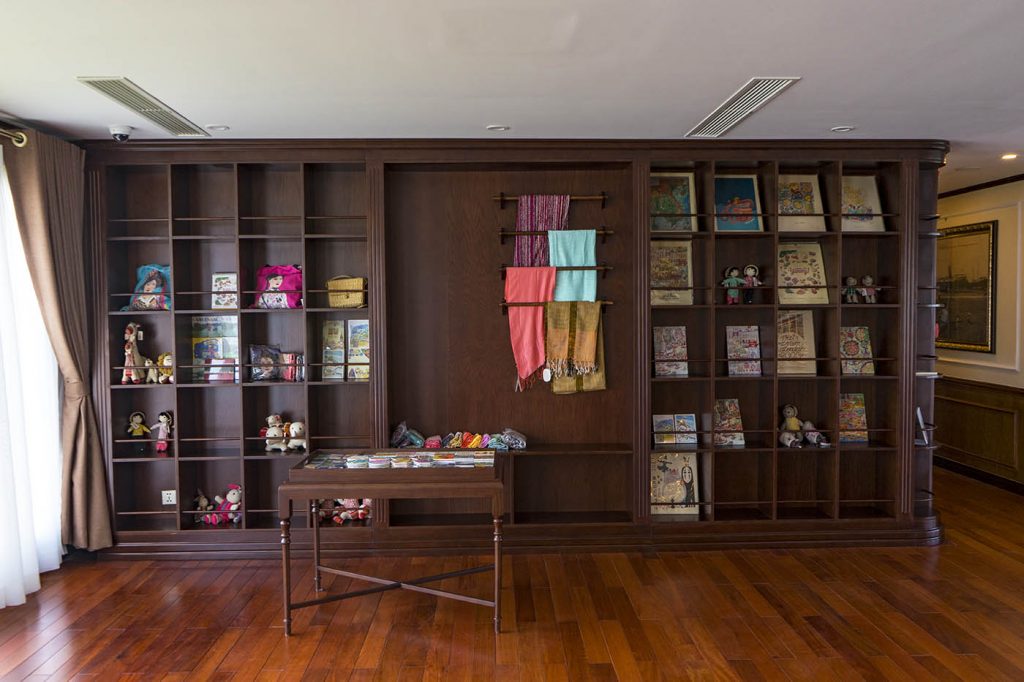 Bach Thai Buoi had overcome fierce competition, and his contemporaries hailed him as the "Lord of the Tonkin Rivers." However, his dream was to sail across the ocean.Reaching the Ocean
His next milestone was when he designed and built the largest ship in Vietnam at that time. On September 7, 1919, Bach Thai Buoi launched the Binh Chuan ship, which sailed from Haiphong to Saigon and created new markets and new businesses.
With his abundant wealth, he quickly captured the market. It seemed that nothing could stop him, and he started to make plans to expand his business even further, but unfortunately, he passed away in 1932 in Haiphong at the age of 57. He was buried in the Uong Bi coal mine area in Quang Yen (now Quang Ninh province). To this day, there is still a seaport named Bach Thai Buoi in Uong Bi.
Designer cruises inspired by his heritage
"My admiration for Bach Thai Buoi encouraged me, and Heritage Cruises was born. We endeavour to apply his ethical practices and values to bring the heritage of our nation to our guests," said Pham Ha, CEO of Heritage Cruises.
Heritage Cruises' travellers will follow in Bach Thai Buoi's footsteps to rediscover the Red River and its delta. This is the first step towards realising Ha's dream of introducing cruises along the coast, bringing the beauty of the country to travellers.
"The encouragement and enthusiastic support of Bach Que Huong, the great-granddaughter of our beloved Bach Thai Buoi, has made us very proud and given us even greater belief in the success of this cruising project in Haiphong", Pham Ha shares.
Huong shares a lot of untold stories, which will help Pham Ha's team in the compilation of a book they plan to publish about him. She is also helping us to create a library rich in memories as well as a floating exhibition about the life and work of Bach Thai Buoi. At his grave, we promised to apply his successful ethical business practices to Heritage Cruises: kindness, righteousness, uprightness, wisdom, and faithfulness.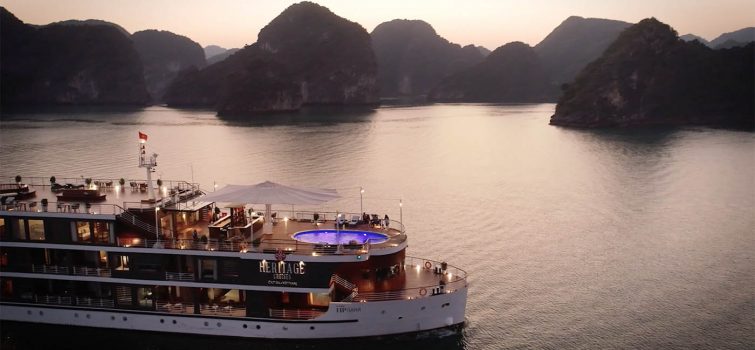 Heritage Cruises derives inspiration from the heritage ships of the inspirational patriotic entrepreneur Bach Thai Buoi, who transformed transportation on the waterways of Tonkin in the north of Vietnam in the early 20th century.  By Pham Ha, CEO of Heritage Cruises brand.
This year marks the 100th anniversary of the launch of the Vietnamese Binh Chuan cruise, which in 1919 became the first ship to cruise along the coastline of Vietnam from Haiphong to Saigon.When I was 12, a few years after the reunification of North and South Vietnam, my father and I sailed from Haiphong to Saigon on a cruise ship donated by the Norwegian government.
My childhood memories of industrial Haiphong are of extensive damage following the war and workers cycling home from factories.
I savoured the incessant beauty of my country while sailing all the way down the coast. It was like a dream come true and it was then that I planned to build my own fleet of cruise ships.
I fell in love with Halong bay in 1995 and came to know every single island, camping on the isolated beaches and exploring by kayak. At that time, travelling the 175km to Halong bay took almost 10 hours. In 1997, I took a film crew to the bay to film 'Vertical Ray of the Sun', directed by Tran Anh Hung and filmed in Cua Van floating village between Halong Bay and the Cat Ba archipelago.
The scenes that I treasure most from the movie are those with local people and the images of the frangipani trees with their creamy flowers. The film is shown on board Heritage Cruises.
PASSION FOR CRUISING
I initially launched a fleet of cruises under the brand Emperor Cruises in Nha Trang bay, Bai Tu Long bay and in the Cat Ba archipelago and have now established Heritage Cruises on the Red river. I plan to develop longer trips from north to south Vietnam to fulfill my childhood dream.
My first project, Emperor Cruises, explored some of the world's loveliest bays and beaches. The concept was inspired by the luxurious lifestyle of Emperor Bao Dai, the last monarch of the Nguyen Dynasty. He had six beautiful villas and palaces in the most exquisite destinations in Vietnam.
I was fortunate to meet the Hue Researcher, Nguyen Dac Xuan, and following an in-depth study of his life, I wrote a book about Emperor Bao Dai. On the Emperor Cruises boats, Vietnam's first five-star all-inclusive cruise with butler and limousine services, our guests can enjoy the luxurious lifestyle of an emperor.
The soul of Tonkin inspired the design and décor of the Heritage Cruise boats, Vietnam's first boutique cruise on the Red river and in the Gulf of Tonkin, that sails through the Cat Ba archipelago and Halong bay before connecting with the capital, Hanoi, and the Highlands via the Red river and its tributaries.
As a heritage-inspired designer cruise ship with a boutique concept, Heritage Cruises prioritises guest experience, offering upscale service with an artistic twist and a focus on local culture and arts.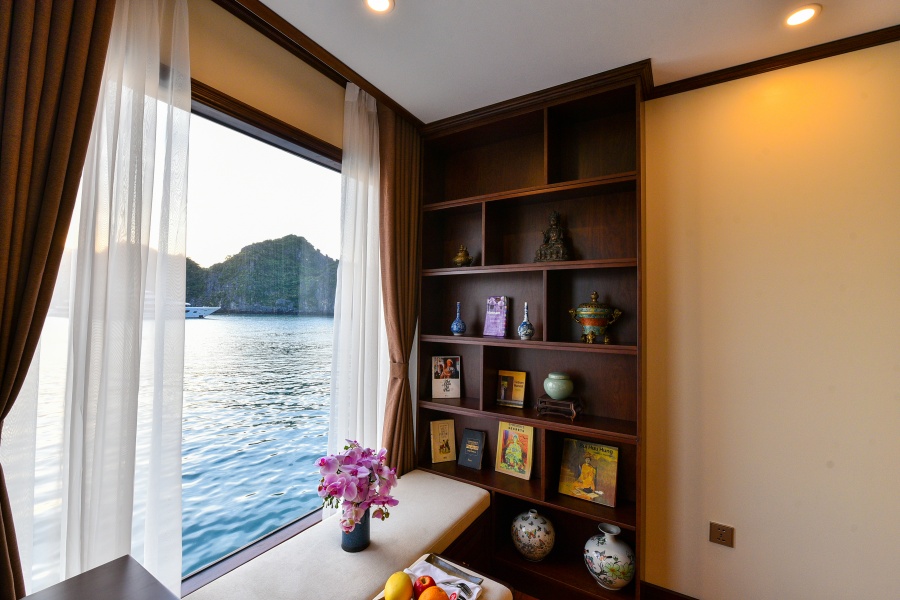 For this personal project, I explored from Hoa Binh on the Black River, along the Clear River and the Red River, right down to the delta regions in Nam Dinh, Ninh Binh and Ha Nam. Along the way I met artisans, craftsmen, historians, researchers, artists, painters and overseas Vietnamese and learned their stories.
MOVING STORIES
One evening during the fall of 2017, I was chatting with three friends in the vintage Maxim's Cafe on Dien Bien Phu street in Haiphong, when a French-speaking couple around 60-65 years of age and another Vietnamese couple of around 70-75 years entered the coffee shop.
The Viet Kieu gentleman approached me to seek help in a heavy accent. I knew he spoke French, so we started a conversation and I ended up becoming their interpreter. The man, Henri de Bollivier, shared his moving story with me.
Henri's Vietnamese mother had married a French doctor working in Haiphong during the Indochina War. They both left Vietnam in 1954 after the defeat of France at Dien Bien Phu when the Geneva Peace Accord was signed.
Henri grew up on the island of French Reunion but his parents divorced and his mother moved to Paris. As she grew older she wanted to return to Vietnam but was too weak to travel so far. She wanted Henri to go back home on her behalf, find his roots and pay respect to his ancestors and homeland.
Henri had visited Haiphong on two occasions to find his family, but without success. The third time, with the help of a letter from Vietnam, he travelled to Haiphong with his French wife and was overjoyed to find his family.
Henri was delighted to show his wife colonial Haiphong and other sights. They tried famous local dishes, learned how to make the best nuoc nam (fish sauce) and discovered the quintessence of Tonkin. I was touched by their story and realised how important it is to trace your roots.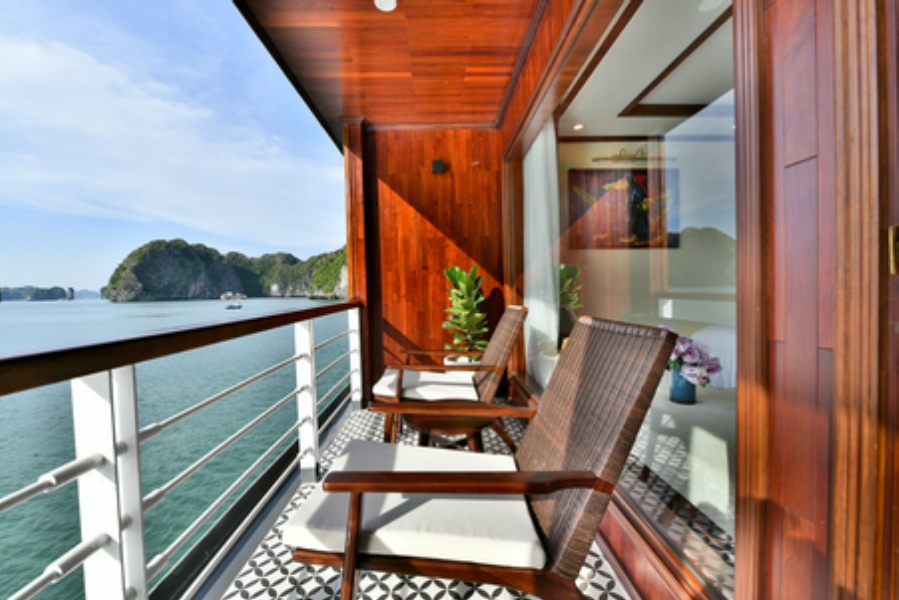 THE IMPORTANCE OF HERITAGE
Through the cruises I have met inspirational people, enriched my life with new experiences and started an ever-growing collection of old stamps, postcards, photos, paintings, and antiques. Heritage Cruises passengers can see this collection on board in the l'Art de l'Annam exhibition.
Heritage tourism is a niche market where guests personally encounter traditions, history, the arts and culture and visit communities whose residents tell their own story.
I admire the nationalist entrepreneur Bach Thai Buoi, his ethical business and start-up spirit; we have shared values as we both come from a poor background and started our working lives with French people. French is the first foreign language that I learned and my first trip abroad was to France at the age of 20.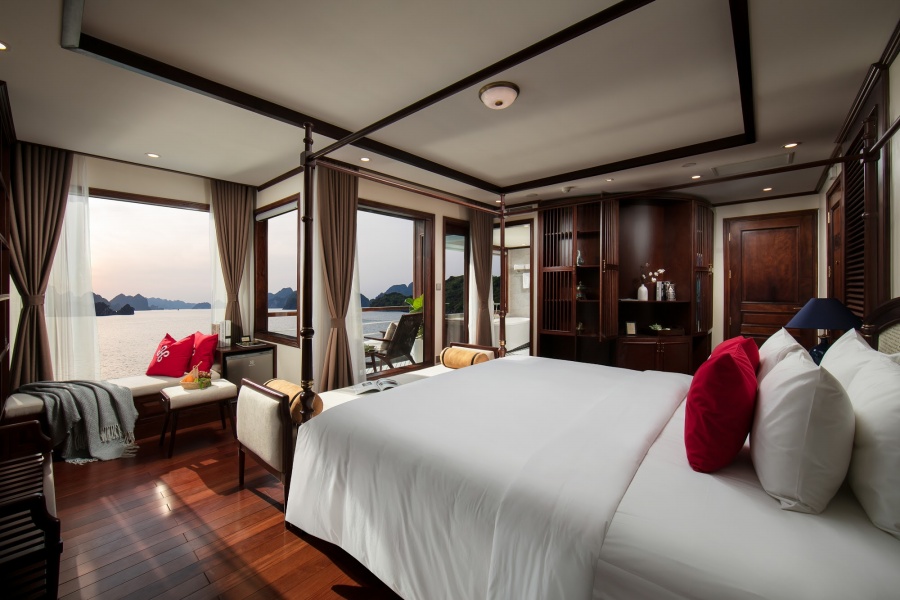 It was my burning ambition to cruise from Haiphong to Saigon, emulating the first Vietnamese ship to do so on its maiden voyage in the early 20th century.THINK BIG AND DREAM BIG
A century later you can embark on a voyage through time on a Heritage Cruises Binh Chuan ship – a vessel designed and recreated from heritage designs and with impeccable service fit for the 1920-30s bourgeoisie.
"Simplicity is the ultimate sophistication." Leonardo da Vinci's quote captures Heritage Cruises' vision and philosophy perfectly: the key principle behind every project is a devotion to simplicity, heritage, boutique and product authenticity.
It is the total experience − the unique impression derived from the quality, quintessence and ambiance in a spectacular location − that makes a Heritage Cruise unforgettable.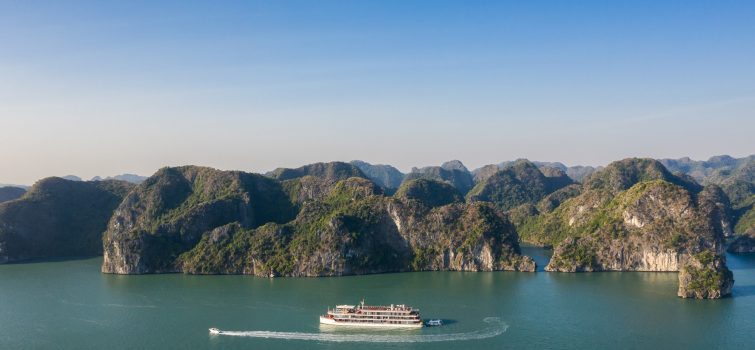 A proud Vietnamese expedition on the heritage-inspired designer cruise ship to celebrate 100 years since the legendary voyage of the Binh Chuan.
Heritage Binh Chuan expeditions offer the highest quality comfort onboard our brand-new exclusive boutique ship, featuring air-conditioned en-suite rooms. Cruising at its finest. Your on-board Vietnamese cruise manager and crew ensure a personalized experience for every guest with exceptional service delivered at all times. Enjoy sophisticated haute cuisine as all meals are prepared using local ingredients cooked and served in traditional style, but with a modern twist.
We pride ourselves on our local partnerships and are dedicated to delivering outstanding customer service. Maintaining our local knowledge and positive relationships within the Vietnamese community is essential to providing each guest with a memorable cruising experience,
Travelers usually travel by road, rail, and air and we are pioneering a cruise along the coastline following the heritage route the King of Cruise Ships, Bach Thai Buoi took 100 years ago. Vietnamese are proud of the legacy of this first ship made in Vietnam, the Binh Chuan, and our expedition, inspired by that ship, allows foreigners to immerse themselves in Vietnamese arts, culture, heritage, and history on this history-inspired voyage.
Be the first on this iconic voyage along the legendary cruise route and unlock the most beautiful bays, beaches, and islands of Vietnam in various day trips from the ports of call such as Saigon, Nha Trang, Danang (for Hue and Hoian), Halong Bay, Cat Ba Archipelago.
Highlights of Heritage Binh Chuan Expeditions: 
Expedition on the very first luxury boutique ship cruising along the stunning secluded Vietnamese coastline.
9 nights onboard our very best ship on an iconic voyage following the coastline of Vietnam for the very first time since the first 1920 voyage of discovery by the King of Cruise Ships, the Vietnamese nobleman Bach Thai Buoi.
Experience the natural wonders of Halong Bay and the Cat Ba Archipelago, explore the stunning islands, bays, beaches, lagoons by kayak, and so much more.
Discover historic seaside towns and iconic Vietnamese destinations with heritage walk in Hoi An and the former capital, Hue.
Sunset cruise in Nha Trang Bay with live entertainment, cocktails, and dinner.
Moonlight cruise on the Saigon River.
Enjoy a Captain's Dinner including traditional entertainment.
Swim off the ship in secluded, pristine bays just perfect for swimming.
Dream, explore, immerse and relax on the iconic voyage of discovery on our proud Vietnamese journey on a heritage-inspired designer cruise ship.
Important Notes:
Arrival time at destination ports is in the late afternoon or early in the morning for excursions.
Embarcation 9am and disembarcation 4:00 pm.
Exact timings may change according to the weather and port conditions.