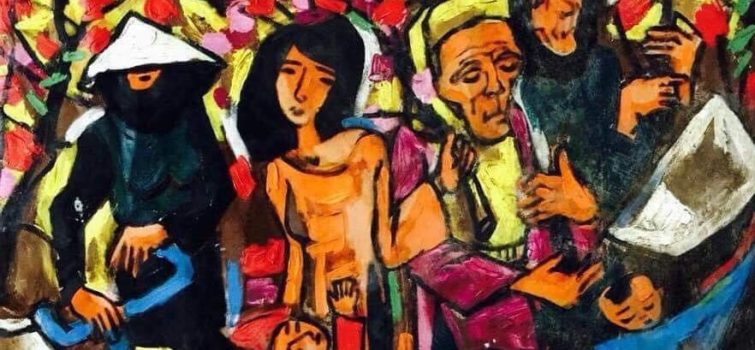 Pham Ha Founder and CEO of Lux Group (www.luxgroup.vn) reminisces about the Tet holidays, the most important festival in the Vietnamese calendar, and their importance.
Memories of past Tet holidays always come flooding back as the old Lunar Year comes to an end.
Tet during my childhood years meant eating well. The Lunar New Year in Vietnam is a time for family, both living and deceased, as people also invite their ancestors to Tet feasts. Activities have changed over time, but certain traditions are still followed by every Vietnamese family. It's not only an occasion to decorate the home and shop for special goods, but also a chance for family members to reunite and pay their respects to those who came before them. Time flies but memories remain.
Tet Market
No matter who you have become, the first 21 years of your life are the most memorable. Life for me began in the countryside, in the heart of the Red River Delta, cradled in village culture and ancestral traditions. Today, in my rich collection of artworks from the famous artist Pham Luc, there is one beautiful piece depicting a Tet market that still holds deep meaning for me.
It represents one of my fondest memories as a child during Tet. The artwork is signed 1975, or 'At Mao' (Year of the Cat), the same year I was born. Vietnam's north and south had just been reunified as brush met canvas, and while I didn't witness the war I saw its consequences, which lasted until the US lifted its embargo in 1990.
Pham Luc's Tet piece depicts the beauty of a busy rural market on the last day of Tet preparations in the north of Vietnam. People are wearing their best clothes or the traditional áo dài. Some clearly came from afar by bicycle. The happiness on their faces expresses their excitement at buying a peach blossom branch or cumquat tree to take home for Tet. The only young lady in the painting symbolizes spring, youth, and feminine beauty, while the young boy holding on to her seems to incessantly seek attention.
I can envision myself as this playful child, excited to be at the Tet market. I would know my parents were planning to buy me new clothes, that food would be abundant at family gatherings, especially because of my uncle's return from Hanoi, and that I would also receive some lucky money.
In Vietnamese culture and life, the marketplace is also a meeting place, not simply a trading point. Communities chose to set up markets to connect, look for friends or life partners, or simply to have fun. There is always a lot of excitement and joy associated with the marketplace environment and Tet is an excellent time to embrace it.
As part of Tet preparations, everyone is in a rush to get a haircut, buy new clothes, visit friends, and stock up on traditional Tet delicacies. Businesses hang festive red banners that read 'Chuc Mung Nam Moi' or 'Cung Chuc Tan Xuan' (Happy New Year) and the market is adorned with colored lights.
Stalls spring up all over the village selling mứt (candied fruit and jam), traditional cakes, and fresh fruit and flowers. People bring flowering peach trees into their homes, which symbolize life and good fortune and celebrate the coming of spring.
Best Bánh Chưng ever
I remember I was about ten when my parents let me wrap a bánh chưng (square glutinous rice cake) in coconut palm leaves for the first time. I spent the whole night cooking with them; an experience I'll cherish forever.
Preparing bánh chưng often involves the entire family. It's a time-consuming process so requires the joint efforts of several people. The main ingredients are glutinous rice, pork, and green beans, wrapped square in broad-blade leaves that give the rice a green color after boiling. My grandfather, parents, and three brothers and sisters used to sit around the pot chatting while the bánh chưng cooked. We stayed awake until they were ready, which can take about 12 hours, eager to have a bite.
Bánh chưng has become the most famous traditional Vietnamese food when welcoming guests during the Tet holiday. They will often ask how many bánh chưng we cooked as a measure not only of how big this year's celebrations will be, but also of the family's financial situation.
Worshipping Ancestors and Tet Eve
Most Vietnamese people believe that the spirits of their ancestors live alongside all who are living. Homes, businesses and offices all have a shrine dedicated to the deceased that is carefully tended throughout the year, with food being offered, incense lit, and special paper offerings burnt.
At Tet, this custom becomes even more important, as the family prepares to invite their ancestors to eat with them. Before the big holiday, family tombs are visited, weeds are cleared away, and any needed repairs done.
On the first day of Tet, special offerings of elaborately decorated paper, fruit, food, and wine are made to the ancestors and left on the altar until the fourth day. On special occasions like death anniversaries or Tet, special rituals are performed to communicate with the dearly departed.
The 'five-fruit tray' placed on the ancestral altar during Tet symbolizes admiration and gratitude towards Heaven and Earth and the ancestors, demonstrates people's desire for a life of plenty, and reminds them that 'When eating the fruit, think of the grower'.
We would all wait impatiently for 'Giao Thua' (Tet Eve), when the old year becomes the New Year. It's commonly believed among Vietnamese that in Heaven there are 12 Highnesses tasked with monitoring and controlling affairs on earth, with each taking charge for one year at a time.
Giao Thua is also the time to send off the old 'Highness' and welcome the new one. I remember my grandfather, being the oldest in the family, would practice the ceremony with simple offerings. We all then received best wishes from family elders and waited for the first guests to visit, known as xong dat (first visit to a land). Traditionally, the first person to visit the home in the New Year must be a family member with a pure soul and genuine nature.
Over the following few days, it was crucial for me to visit as many of my relatives as possible as well as friends and former teachers. As an old proverb has it, 'The first day of Tet is for visiting the father's family, the second day the mother's family, and the third day for teachers'.
New Year and Ancient Customs
After growing up in a village, life drastically changed for me once I began to attend university. Later, as a promising student, I went to study in France in the mid-1990s. It was not always an easy time. Some years I could not return for Tet and spent this special time of year at Besançon, near the Swiss border, enduring the snowy weather and wishing I could be home with my family.
On the 23rd day of the 12th lunar month, expect to see women in traditional conical hats selling goldfish from the back of motorbikes, families placing meals and pieces of elaborately decorated paper on small tables in front of their homes, and women and young couples releasing goldfish into any open body of water. As soon as the ceremony of freeing the fish is over, the family cleans the kitchen, polishing every utensil in preparation for the return of the Kitchen God.
In Hanoi, on the stroke of midnight, the whole family sits down to eat together. The family altar is decorated with fresh flowers, fruit, and red candles. Most Hanoians visit pagodas and make sure they have a leafy branch in the home; an ancient symbol of prosperity.
In the central region, people put a lot of energy into Tet preparations, baking biscuits and sweets for months beforehand.
The people of Hue in particular, are famous for their delicious food, cakes, and jam. Some people hire boats and drift down the Huong (Perfume) River reciting poetry that recalls olden times and setting candles afloat on the water.
Tet in Saigon is more vibrant, with friends getting together to have fun. People also visit pagodas, carrying huge sticks of incense or candles. The free and easy Saigonese are not as bound by tradition as their northern cousins. Many take their families to the beach or amusement centers as well as pagodas. Most shops stay open, and shopping is a popular pastime. Just like elsewhere, though, Saigonese never forget to wish one another all the best for the new year.
The year begins at the beginning of the second moon, after the winter solstice. The lunar year has 12 moons and a lunar month lasts 29 and a half days, and we add one month, every three or four years, to the third or fourth lunar month. www.luxtraveldmc.com
###
Heritage Cruises Binh Chuan Cat Ba Archipelago
Vietnam's first boutique cruise brings heritage alive
Contact us 24/7: 886036668
E: [email protected]
W: www.heritagecruises.com
P: (+84)24 3223 9988 Hotline 24/7: (+84)88 603 66 68