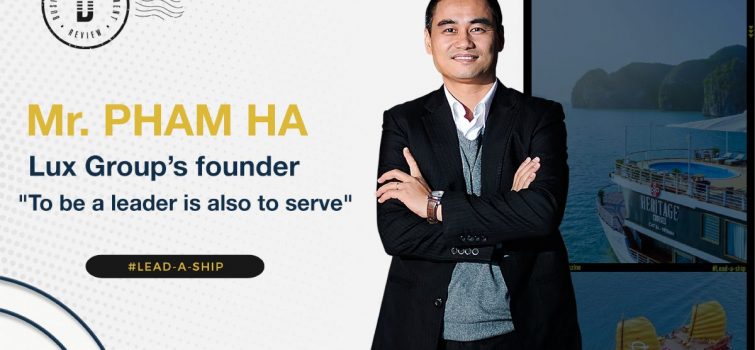 Mr. Pham Ha founded Lux Group with a modest capital of 1,000 USD. From his own strength, his optimistic spirit and profound philosophy, he has turned Lux ​​Group into a large corporation focusing on luxury tourism with Luxury Travel and two brands Emperor Cruises and Heritage Cruises. Destination Review had a talk with him to listen to the thoughts and values ​​this "captain" wants to spread.


Mr. Pham Ha founded Lux Group with a modest capital of 1,000 USD. From his own strength, his optimistic spirit and profound philosophy, he has turned Lux ​​Group into a large corporation focusing on luxury tourism with Luxury Travel and two brands Emperor Cruises and Heritage Cruises. Destination Review had a talk with him to listen to the thoughts and values ​​this "captain" wants to spread.

Lux Group and I focus on bringing special experiences and emotions to our customers. As the experiences in each place vary, we have to create different products.
The Emperor Cruises brand was founded with inspiration from Bao Dai King, who owned countless palaces across Vietnam, so the Emperor brand focuses on the royal-life experiences, offering guests comprehensive first-class luxury services. Emperor Nha Trang, for example, has itineraries for 60 guests like Day Cruise with activities such as diving, swimming and visiting the fishing village, or the Sunset cruise with activities like watching the sunset, enjoying dinner and cocktail party on the cruise. Emperor Bai Tu Long in Ha Long, on the other hand, offers 1- to 3-night stay on the yacht.
For those travelers who accept to pay more handsomely to get all-inclusive services onboard from wine and food to spa, Emperor offers unique experiences to satisfy travelers in this top high-end segment. It is also suitable for travelers who would like the highest level of privacy, personalization and authenticity in their experiences.
As for Heritage, it leans towards expressing Vietnamese cultural, historical, artistic and social values and is ​​inspired by the "King of Ship" Bach Thai Buoi. Heritage has a boutique concept and targets the 4-5-star segment, which helps it reach a wider range of customers compared to Emperor. Heritage has 20 rooms and can accommodate up to 60 guests. The Heritage Cruises Binh Chuan Cruise was also built to commemorate Bach Thai Buoi as indicated by its name "Binh Chuan", one of his old ships. There is a bronze statue of him and 100 paintings commemorating the 100th anniversary of Binh Chuan first sailing onboard. In addition, we also collect and display ancient postcards of the original ship. With Heritage Cruises Binh Chuan, voyagers can enjoy a heritage space on board while "floating" among the natural heritage of Cat Ba Bay.
The division into many products makes it possible for us to meet demands from many segments in different markets. In addition, the two cruise brands exhibit different values ​​and offer different experiences.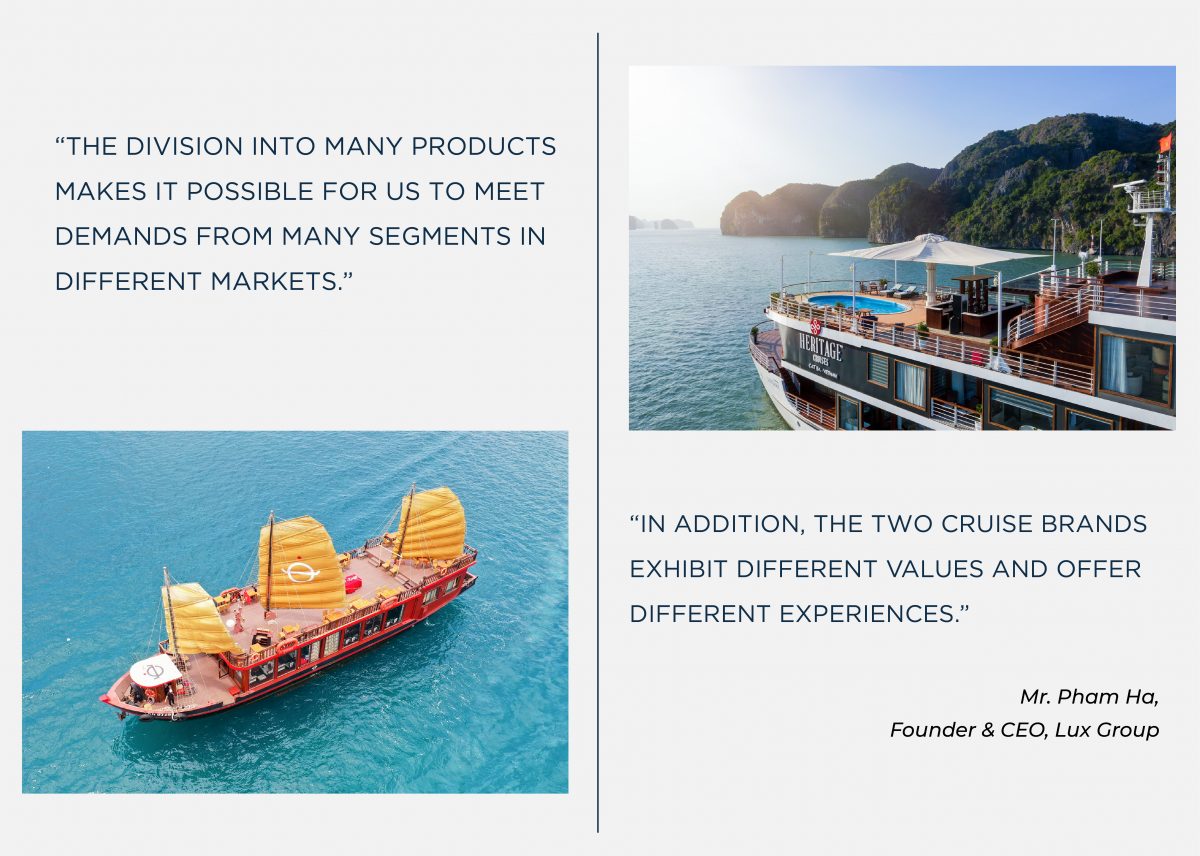 To answer this, it can first start with my great love for artworks and collecting paintings has been a hobby of mine. Vietnamese Fine Arts contributes to the art world with lacquer paintings and silk paintings, which are also the main types of Pham Luc's paintings. He is the artist whose artwork I adore and collect with very special sack paintings to describe the Vietnam War.
From this hobby, I realized that paintings and art in general can be the great assets of the country as they reflect national culture and history. Through paintings, we can understand more about the past and the present, the war, the heritage as well as the life of the Vietnamese people. They are all great features to introduce both Vietnamese and foreign visitors to our art, history and culture and that is why I choose to include these heritage values ​​on my cruises.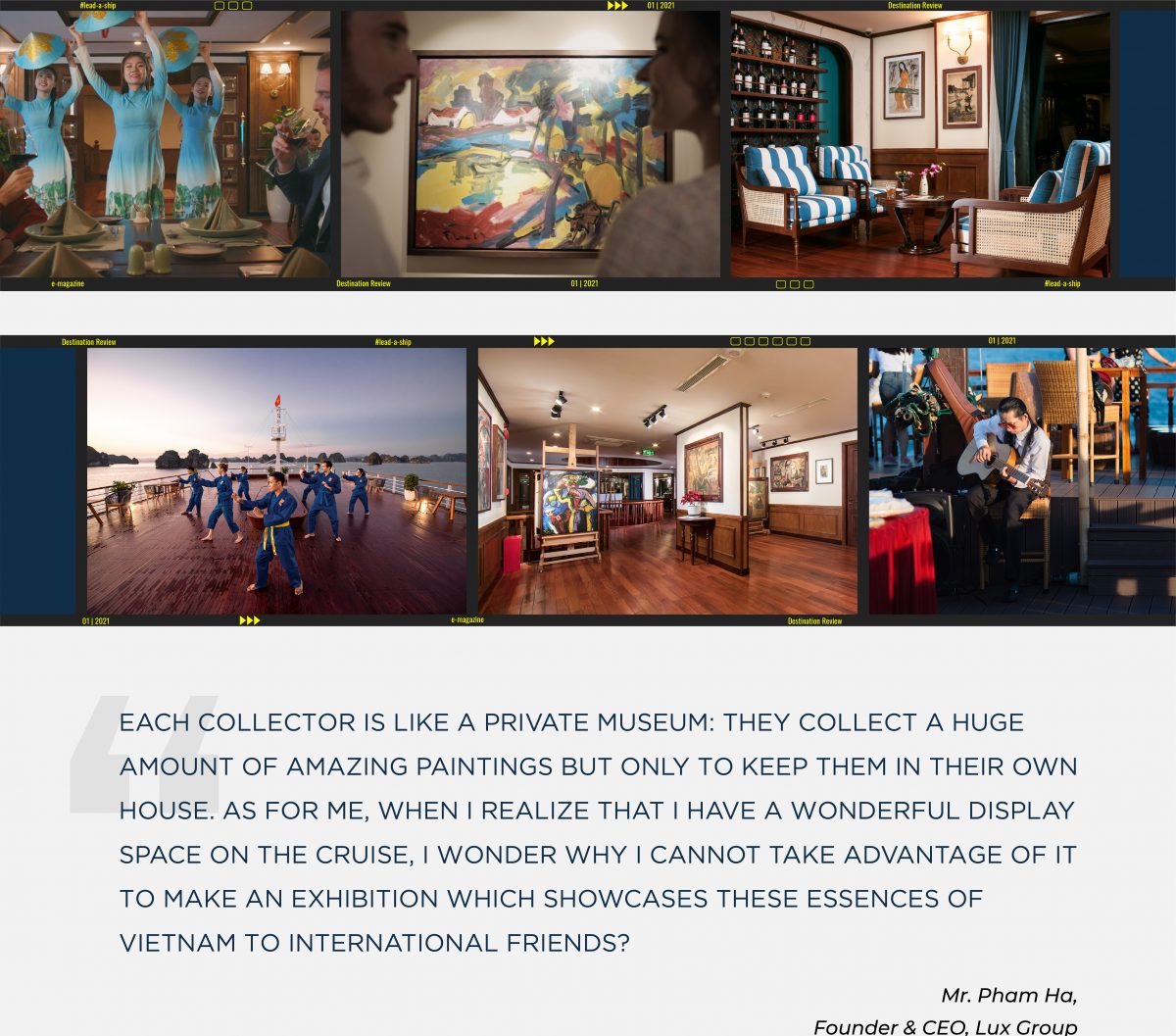 Besides paintings, the cruise also presents traditional Vietnamese costumes in the 30s, from royal attires to traditional ao dai. All of the above when converged on the Heritage Cruise Binh Chuan creates a "floating" cultural touch in the middle of the bay.
Visitors have a lot of time in their voyage, so they can experience and also learn more about the stories with ethnic values behind those very experiences. Instead of choosing to build the majestic Western-style ships, Heritage Cruises Binh Chuan chooses a true story to explore and express Vietnamese values ​​of art, history, culture, cuisine. This can be considered a continuation of patriotism from Bach Thai Buoi. Since Heritage Cruises Binh Chuan was deployed, many customers have rated their satisfaction level of 6-7 stars on 7-star scale, which marks a remarkable recognition for a product created by Lux Group.

In general, it can be said that tourism and travel has changed my whole life. I have worked in various fields but since I worked in tourism, I am truly happy. I realize that travel is my biggest passion and as I am happy with what I am doing, I can spread it to the entire Lux Group and to the member companies as well. All our teams see customer experience and satisfaction as their ultimate goal in work. Passion is also highlighted in Lux Group's 5P guiding principles, which are Passion, Purpose, People, Planet and Profit.
In my opinion, in the tourism and service industry, making customers happy can lead to self-happiness, so I call this a happy career. If you want to be happy, you must do it from the bottom of your heart, make it the way you wish to experience, towards the customer and put the customer's needs first. Therefore, the core value I orient to my team is always "delivering happiness".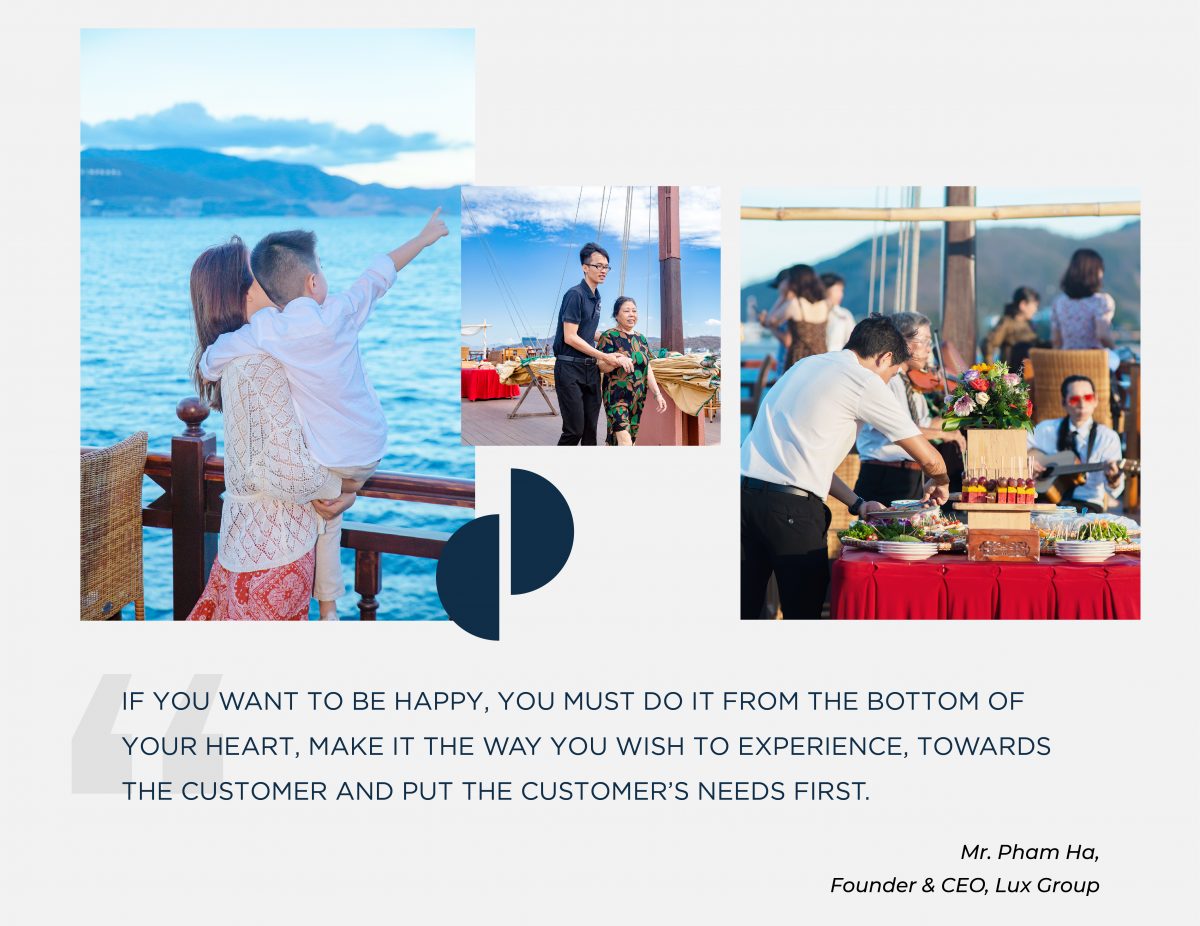 Only by perceiving customers as the biggest "boss" that keeps business running and helps the business pay for its employees, all of my teams are customer-centric, working for customers, and thus, contributing to Lux Group's success over the past 15 years. After years of experience, "delivering happiness" has always been and will always be the company's core value.
I think that to be a leader is also to serve: serve your people, your team and your customers to create the company's revenue. With the same mindset, we can easily and harmoniously join hands in creating new generations of businesspeople who share the same thought. To me, "delivering happiness" means to deliver happiness for myself first, then for my employees, for my customers, for social communities and finally for company profits.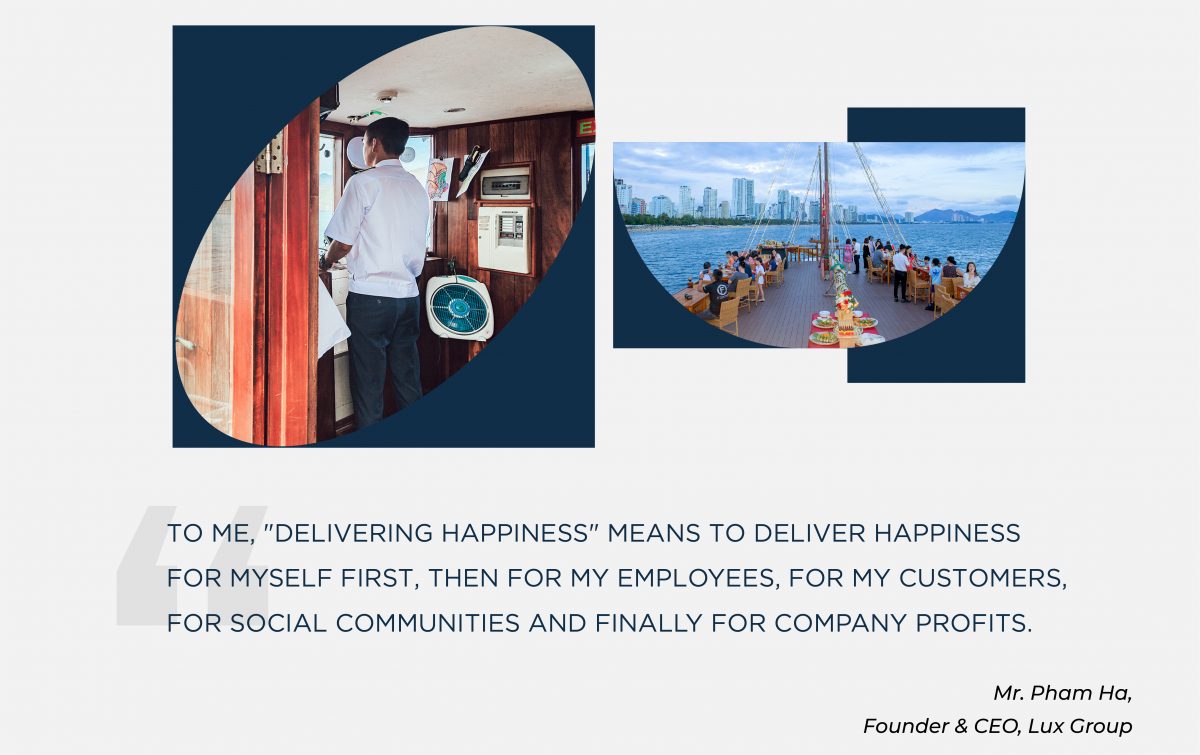 Before Covid, Lux Group mainly focused on inbound tourists. The global outbreak meant there were no longer international visitors, so the company quickly turned to domestic travelers, targeting the luxury customers of the domestic market. Conversion is a difficult decision as we have to retrain our employees to recaptivate the new target customers to understand them. Only after understanding them can we serve them better. It took us about a month to implement all the new changes after considering carefully between the two options – to close down or to adapt. Fortunately, everyone agreed to adapt to serve the domestic market. And once the decision has been made, everyone was very proactive in learning, training, and holding daily briefing sessions to create new products based on customer profiles and their consumption habits.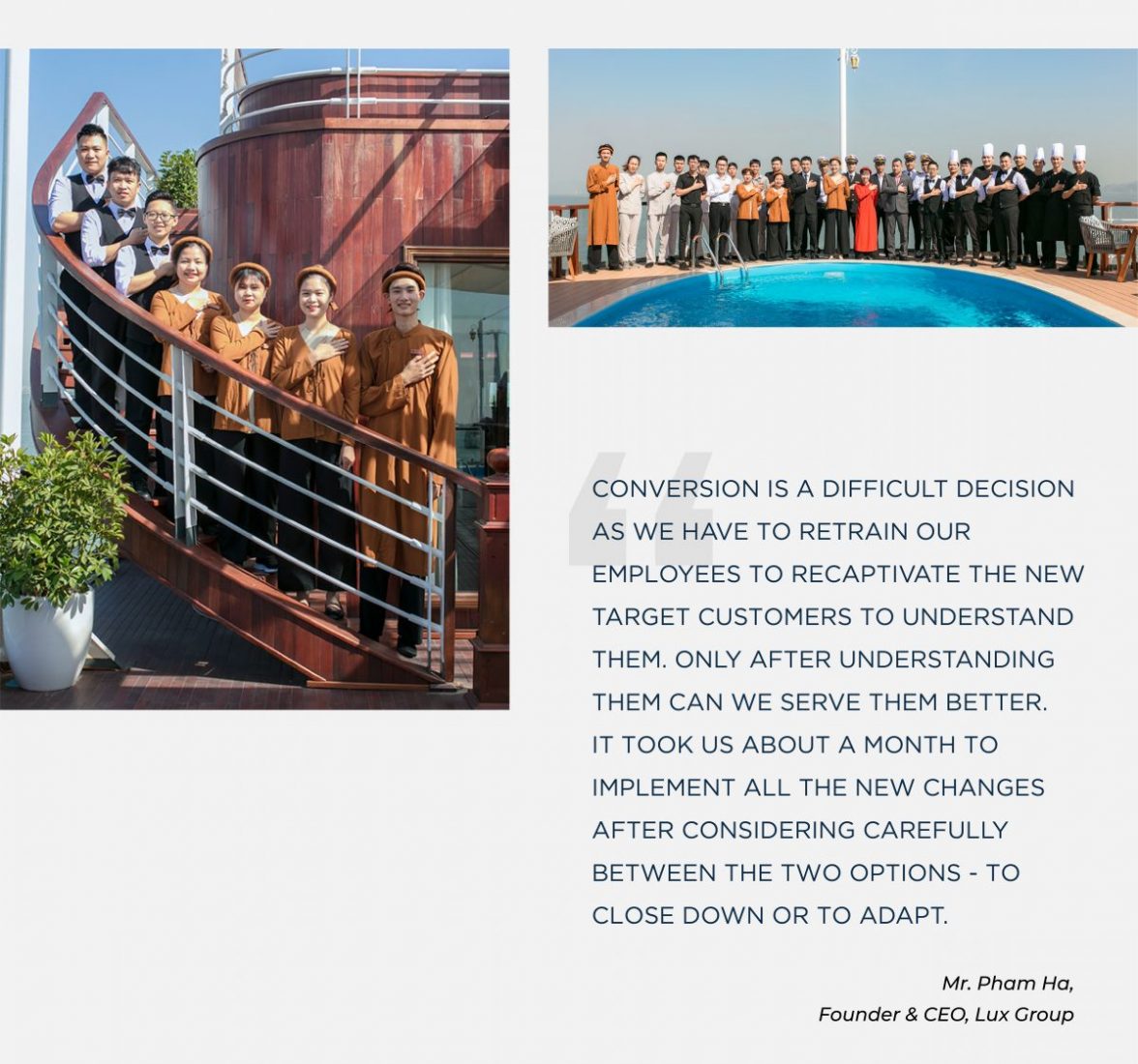 In addition, most of the company's activities are digitalized, making it possible for our employees to work from home, and for us to manage more easily. Thanks to digital transformation, we could collect data, analyze customer sentiments and predict travel trends so as to offer suitable products to meet customers' expectations.
When the social quarantine ended on April 30, we decided to immediately implement new plans for constrained travel demand in the Vietnam travel market. Therefore, as soon as the product was launched, people welcomed it very enthusiastically, helping us to recognize the signs of success as soon as we redefined the target market. In May, we launched 5,000 vouchers and they were sold out within 15 days. Moreover, Heritage Cruises Binh Chuan is also one of the busiest cruises that voyaged almost non-stop since April 30. This is another signal to help us realize that we are on the right path to recover, to develop and to generate stable cash flow.
In fact, thanks to Covid, we have realized that the Vietnamese domestic market has great potential with a rapid growing population of nearly 100 million people and increasing strength in consumption. 2020 marked the year Vietnamese got to know about luxury cruise trips for the first time, a part of which resulted from our incentives targeting Vietnamese tourists. What we did bears some resemblance to the motto of Bach Thai Buoi, which is Vietnamese travel within Vietnam and use Vietnamese service providers. Just like foreign visitors, many Vietnamese also want to explore the beautiful islands and bays of Vietnam such as Ha Long Bay, Cat Ba Bay or Nha Trang Bay while attending interesting activities on the cruise. Thereby, we changed our direction to domestic middle to high-end customers last year and received certain successes.

From now on, I have decided to focus more on Vietnam high-end travel market and set up an office for domestic and outbound markets. To summarize, Lux Group will both retain the original target market and expand to other potential markets, which means approaching the inbound market along with the domestic market and outbound market. I think this will be a promising orientation and will invest wholeheartedly in the future.

Lux Group and I have planned to deploy the new project on Pu Luong. Pu Luong is a wonderful destination located in the middle of terraced fields, which are highly likely to attract both domestic and foreign tourists. Our team plans to launch a 35-room boutique resort to take advantage of nature and indigenous culture to target wellness travelers.
Regarding the cruises, the Emperor Cruises brand plans to add another 150-seat cruise to Nha Trang in 2021 and to bring more ships to Phu Quoc by 2022. With Heritage, we are currently inspecting and developing another ship named Bach Thai Buoi, which is expected to come into operation in 2022, following the success of Heritage Cruises Binh Chuan.
My deepest desire for the company is to conquer all rivers in the North and realize Heritage's biggest mission: to sail along the coast of Vietnam – just like Bach Thai Buoi sailing from Hai Phong to Da Nang, Quy Nhon, Nha Trang and Saigon, then to Cambodia and other ports in Asian region. These are the upcoming plans and missions of Lux Group and Heritage Cruises brand.