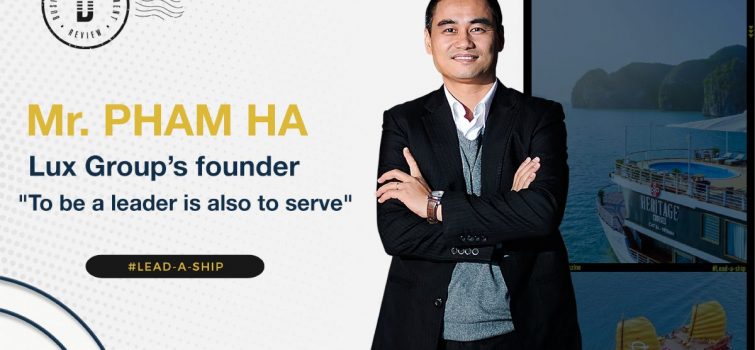 Mr. Pham Ha founded Lux Group with a modest capital of 1,000 USD. From his own strength, his optimistic spirit and profound philosophy, he has turned Lux ​​Group into a large corporation focusing on luxury tourism with Luxury Travel and two brands Emperor Cruises and Heritage Cruises. Destination Review had a talk with him to listen to the thoughts and values ​​this "captain" wants to spread.


Mr. Pham Ha founded Lux Group with a modest capital of 1,000 USD. From his own strength, his optimistic spirit and profound philosophy, he has turned Lux ​​Group into a large corporation focusing on luxury tourism with Luxury Travel and two brands Emperor Cruises and Heritage Cruises. Destination Review had a talk with him to listen to the thoughts and values ​​this "captain" wants to spread.

Lux Group and I focus on bringing special experiences and emotions to our customers. As the experiences in each place vary, we have to create different products.
The Emperor Cruises brand was founded with inspiration from Bao Dai King, who owned countless palaces across Vietnam, so the Emperor brand focuses on the royal-life experiences, offering guests comprehensive first-class luxury services. Emperor Nha Trang, for example, has itineraries for 60 guests like Day Cruise with activities such as diving, swimming and visiting the fishing village, or the Sunset cruise with activities like watching the sunset, enjoying dinner and cocktail party on the cruise. Emperor Bai Tu Long in Ha Long, on the other hand, offers 1- to 3-night stay on the yacht.
For those travelers who accept to pay more handsomely to get all-inclusive services onboard from wine and food to spa, Emperor offers unique experiences to satisfy travelers in this top high-end segment. It is also suitable for travelers who would like the highest level of privacy, personalization and authenticity in their experiences.
As for Heritage, it leans towards expressing Vietnamese cultural, historical, artistic and social values and is ​​inspired by the "King of Ship" Bach Thai Buoi. Heritage has a boutique concept and targets the 4-5-star segment, which helps it reach a wider range of customers compared to Emperor. Heritage has 20 rooms and can accommodate up to 60 guests. The Heritage Cruises Binh Chuan Cruise was also built to commemorate Bach Thai Buoi as indicated by its name "Binh Chuan", one of his old ships. There is a bronze statue of him and 100 paintings commemorating the 100th anniversary of Binh Chuan first sailing onboard. In addition, we also collect and display ancient postcards of the original ship. With Heritage Cruises Binh Chuan, voyagers can enjoy a heritage space on board while "floating" among the natural heritage of Cat Ba Bay.
The division into many products makes it possible for us to meet demands from many segments in different markets. In addition, the two cruise brands exhibit different values ​​and offer different experiences.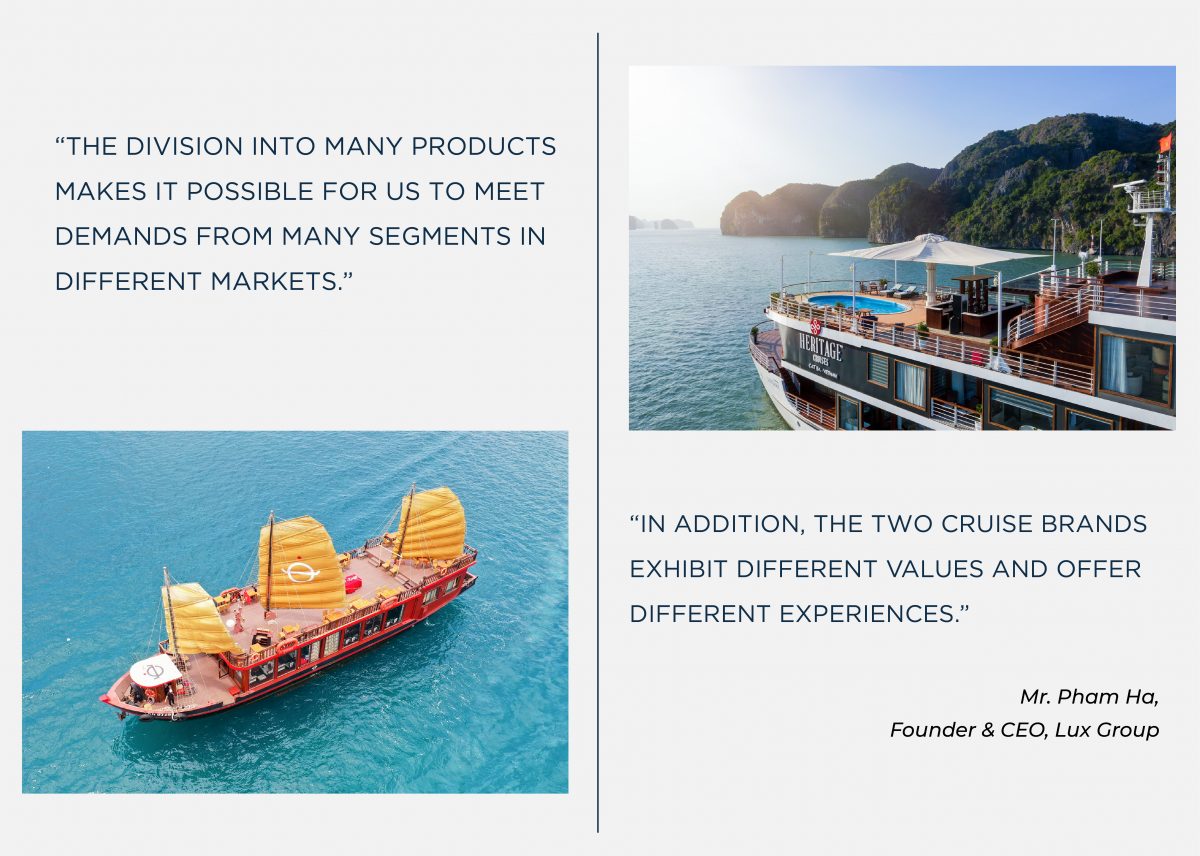 To answer this, it can first start with my great love for artworks and collecting paintings has been a hobby of mine. Vietnamese Fine Arts contributes to the art world with lacquer paintings and silk paintings, which are also the main types of Pham Luc's paintings. He is the artist whose artwork I adore and collect with very special sack paintings to describe the Vietnam War.
From this hobby, I realized that paintings and art in general can be the great assets of the country as they reflect national culture and history. Through paintings, we can understand more about the past and the present, the war, the heritage as well as the life of the Vietnamese people. They are all great features to introduce both Vietnamese and foreign visitors to our art, history and culture and that is why I choose to include these heritage values ​​on my cruises.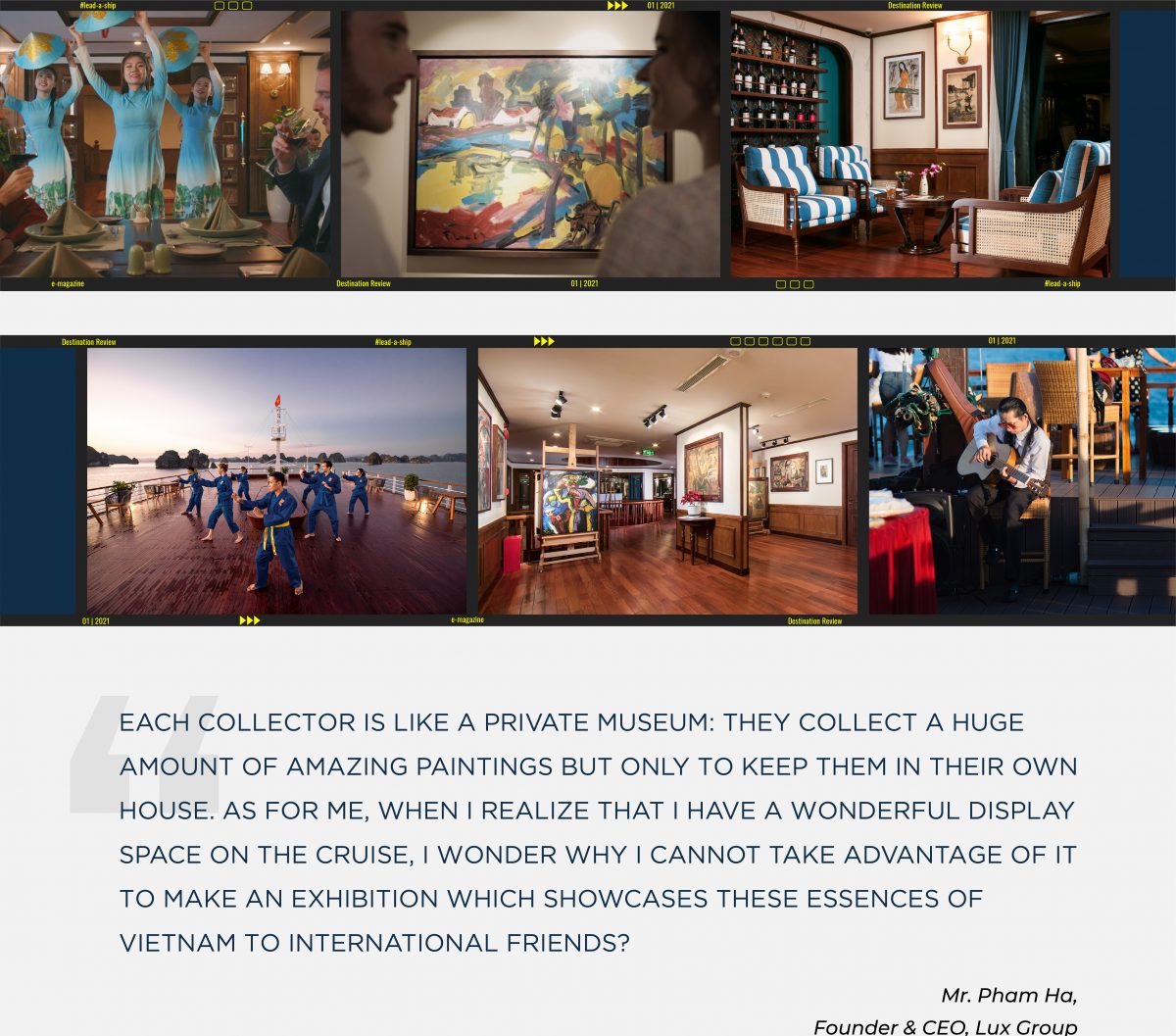 Besides paintings, the cruise also presents traditional Vietnamese costumes in the 30s, from royal attires to traditional ao dai. All of the above when converged on the Heritage Cruise Binh Chuan creates a "floating" cultural touch in the middle of the bay.
Visitors have a lot of time in their voyage, so they can experience and also learn more about the stories with ethnic values behind those very experiences. Instead of choosing to build the majestic Western-style ships, Heritage Cruises Binh Chuan chooses a true story to explore and express Vietnamese values ​​of art, history, culture, cuisine. This can be considered a continuation of patriotism from Bach Thai Buoi. Since Heritage Cruises Binh Chuan was deployed, many customers have rated their satisfaction level of 6-7 stars on 7-star scale, which marks a remarkable recognition for a product created by Lux Group.

In general, it can be said that tourism and travel has changed my whole life. I have worked in various fields but since I worked in tourism, I am truly happy. I realize that travel is my biggest passion and as I am happy with what I am doing, I can spread it to the entire Lux Group and to the member companies as well. All our teams see customer experience and satisfaction as their ultimate goal in work. Passion is also highlighted in Lux Group's 5P guiding principles, which are Passion, Purpose, People, Planet and Profit.
In my opinion, in the tourism and service industry, making customers happy can lead to self-happiness, so I call this a happy career. If you want to be happy, you must do it from the bottom of your heart, make it the way you wish to experience, towards the customer and put the customer's needs first. Therefore, the core value I orient to my team is always "delivering happiness".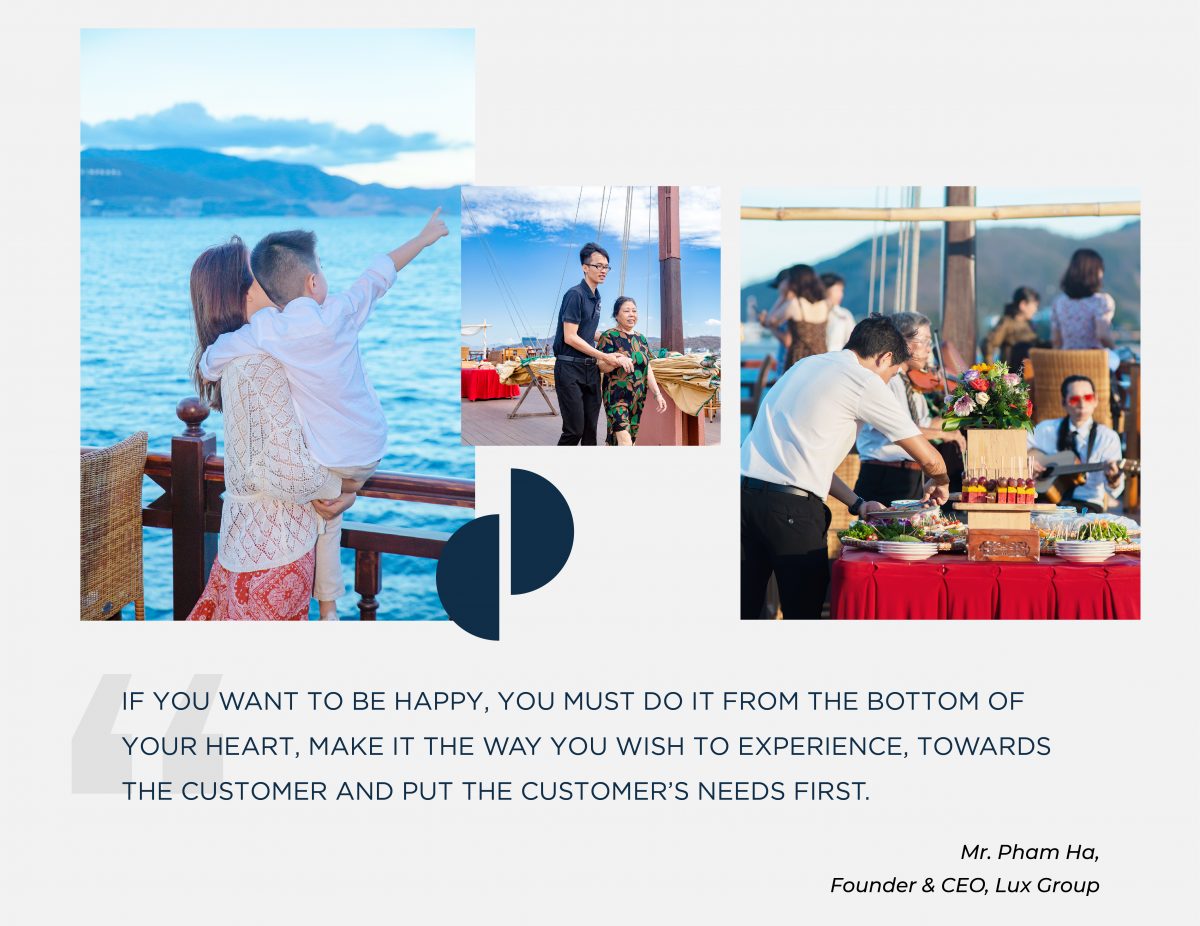 Only by perceiving customers as the biggest "boss" that keeps business running and helps the business pay for its employees, all of my teams are customer-centric, working for customers, and thus, contributing to Lux Group's success over the past 15 years. After years of experience, "delivering happiness" has always been and will always be the company's core value.
I think that to be a leader is also to serve: serve your people, your team and your customers to create the company's revenue. With the same mindset, we can easily and harmoniously join hands in creating new generations of businesspeople who share the same thought. To me, "delivering happiness" means to deliver happiness for myself first, then for my employees, for my customers, for social communities and finally for company profits.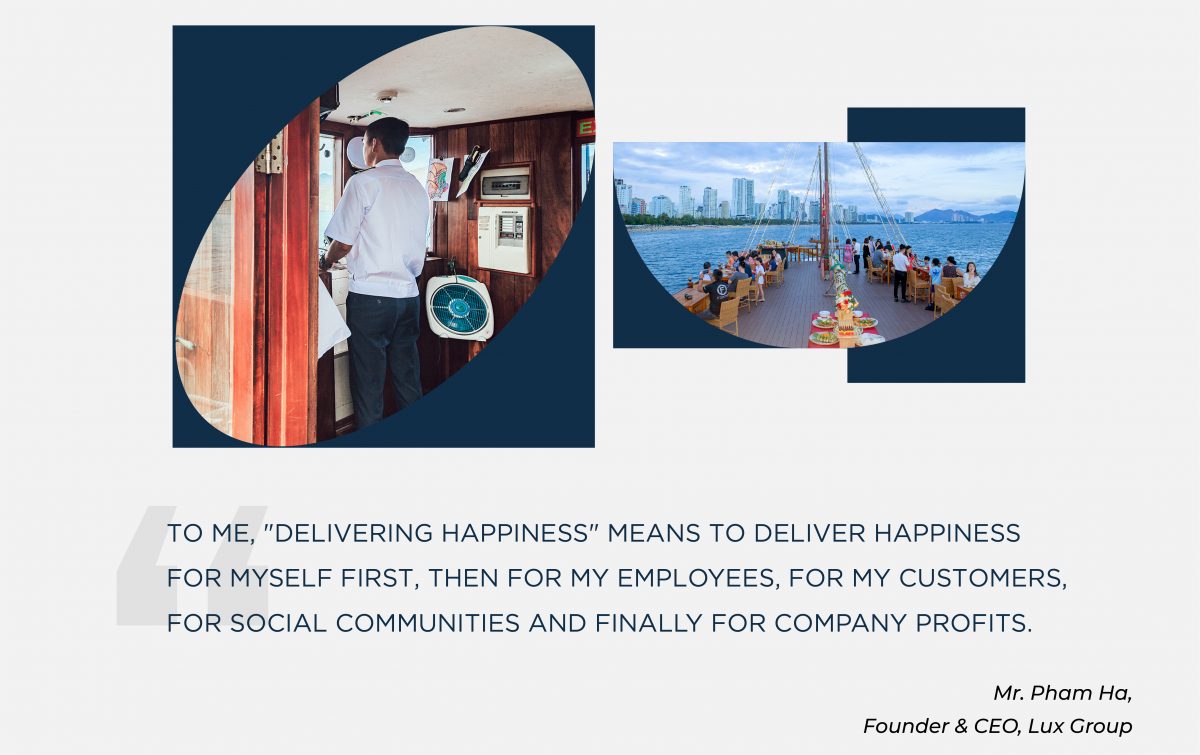 Before Covid, Lux Group mainly focused on inbound tourists. The global outbreak meant there were no longer international visitors, so the company quickly turned to domestic travelers, targeting the luxury customers of the domestic market. Conversion is a difficult decision as we have to retrain our employees to recaptivate the new target customers to understand them. Only after understanding them can we serve them better. It took us about a month to implement all the new changes after considering carefully between the two options – to close down or to adapt. Fortunately, everyone agreed to adapt to serve the domestic market. And once the decision has been made, everyone was very proactive in learning, training, and holding daily briefing sessions to create new products based on customer profiles and their consumption habits.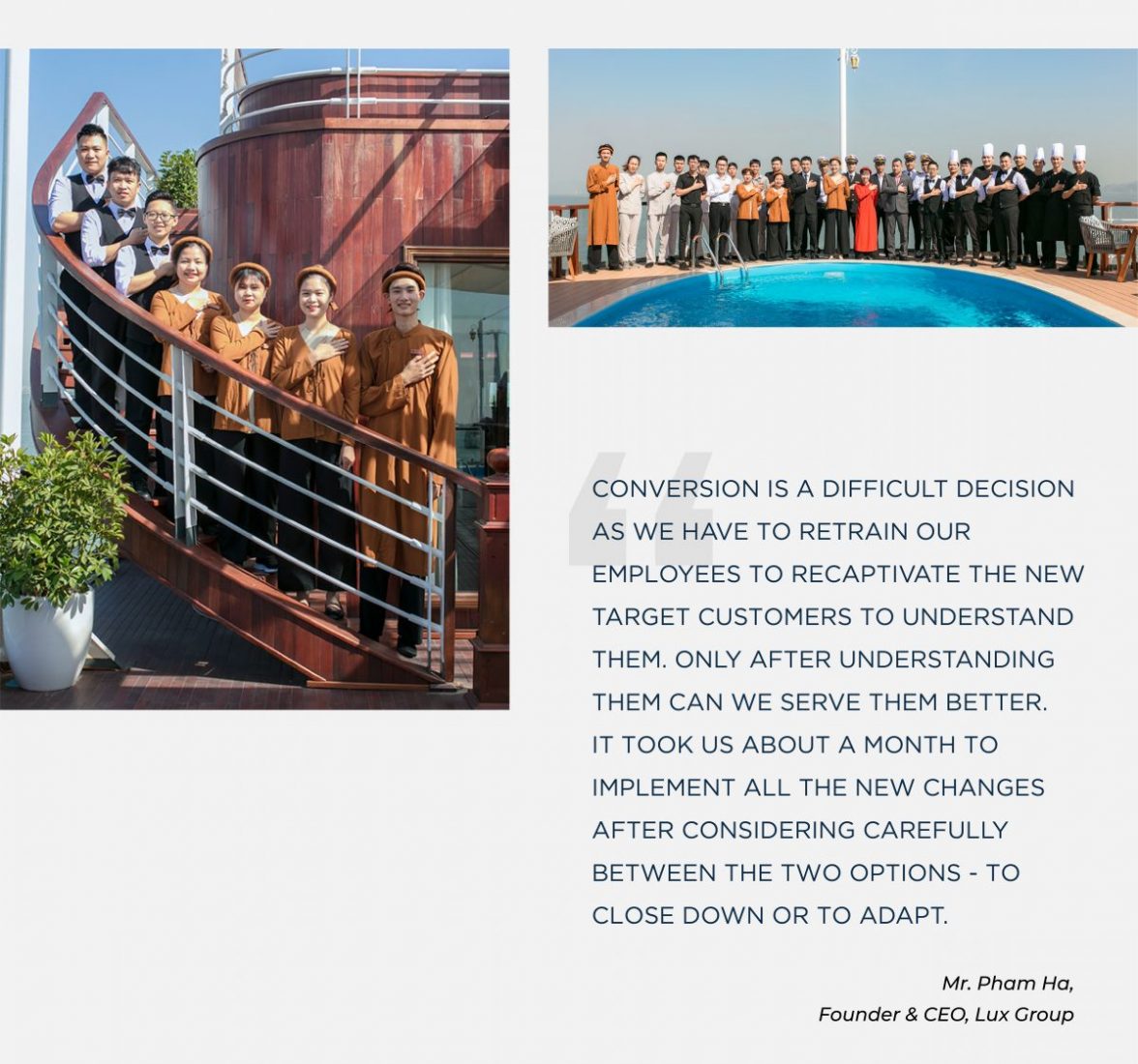 In addition, most of the company's activities are digitalized, making it possible for our employees to work from home, and for us to manage more easily. Thanks to digital transformation, we could collect data, analyze customer sentiments and predict travel trends so as to offer suitable products to meet customers' expectations.
When the social quarantine ended on April 30, we decided to immediately implement new plans for constrained travel demand in the Vietnam travel market. Therefore, as soon as the product was launched, people welcomed it very enthusiastically, helping us to recognize the signs of success as soon as we redefined the target market. In May, we launched 5,000 vouchers and they were sold out within 15 days. Moreover, Heritage Cruises Binh Chuan is also one of the busiest cruises that voyaged almost non-stop since April 30. This is another signal to help us realize that we are on the right path to recover, to develop and to generate stable cash flow.
In fact, thanks to Covid, we have realized that the Vietnamese domestic market has great potential with a rapid growing population of nearly 100 million people and increasing strength in consumption. 2020 marked the year Vietnamese got to know about luxury cruise trips for the first time, a part of which resulted from our incentives targeting Vietnamese tourists. What we did bears some resemblance to the motto of Bach Thai Buoi, which is Vietnamese travel within Vietnam and use Vietnamese service providers. Just like foreign visitors, many Vietnamese also want to explore the beautiful islands and bays of Vietnam such as Ha Long Bay, Cat Ba Bay or Nha Trang Bay while attending interesting activities on the cruise. Thereby, we changed our direction to domestic middle to high-end customers last year and received certain successes.

From now on, I have decided to focus more on Vietnam high-end travel market and set up an office for domestic and outbound markets. To summarize, Lux Group will both retain the original target market and expand to other potential markets, which means approaching the inbound market along with the domestic market and outbound market. I think this will be a promising orientation and will invest wholeheartedly in the future.

Lux Group and I have planned to deploy the new project on Pu Luong. Pu Luong is a wonderful destination located in the middle of terraced fields, which are highly likely to attract both domestic and foreign tourists. Our team plans to launch a 35-room boutique resort to take advantage of nature and indigenous culture to target wellness travelers.
Regarding the cruises, the Emperor Cruises brand plans to add another 150-seat cruise to Nha Trang in 2021 and to bring more ships to Phu Quoc by 2022. With Heritage, we are currently inspecting and developing another ship named Bach Thai Buoi, which is expected to come into operation in 2022, following the success of Heritage Cruises Binh Chuan.
My deepest desire for the company is to conquer all rivers in the North and realize Heritage's biggest mission: to sail along the coast of Vietnam – just like Bach Thai Buoi sailing from Hai Phong to Da Nang, Quy Nhon, Nha Trang and Saigon, then to Cambodia and other ports in Asian region. These are the upcoming plans and missions of Lux Group and Heritage Cruises brand.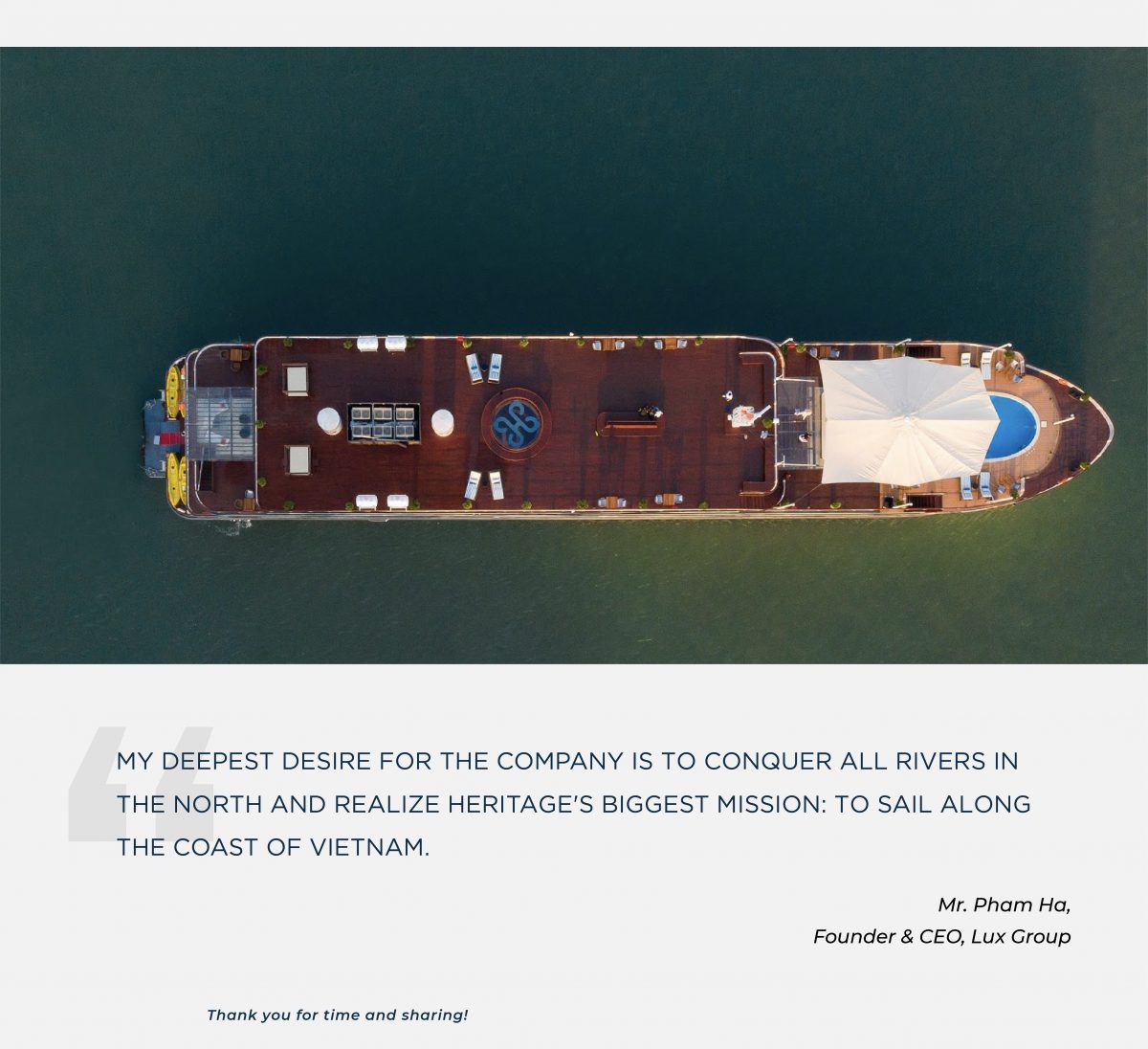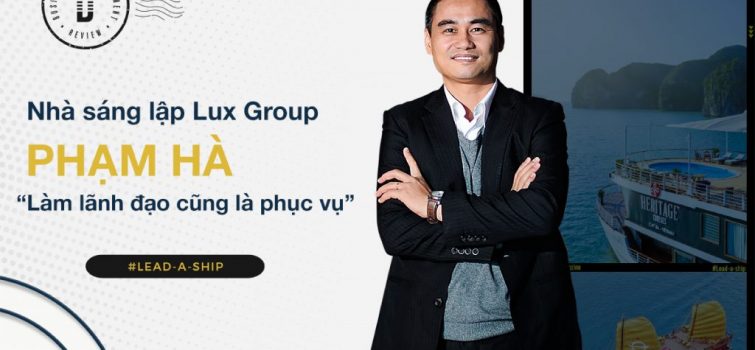 Inspired by the heritage and noble spirit of the entrepreneur, Bach Thai Buoi, who was recognized as the 'king of ships' in Vietnam in the early 20th century, Lux Group founder Pham Ha rewrites the story of the country's cruise industry. 
In the mid-1980s, Pham Ha accompanied his father on the large cruise ship Thong Nhat, bought from Norway after liberation to help people earn a living, that sailed along the Vietnamese coastline, from north to south. As a boy from the countryside, Pham Ha's eyes were opened to the outside world and the experience and beautiful scenery made a huge impact on him and captured his heart. From then on, his childhood dream was to own a cruise ship.
As he grew up, Pham Ha showed an ability to speak foreign languages and as a student he became interested in the tourism industry. Working as a tour guide, his fluency in English and French enabled him to show off Vietnamese culture and people to foreign tourists.
The journey with his father from Haiphong to Saigon helped him to realize that each new destination brings a new perspective, new vision and new thinking, which can positively affect people. The beauty of travel is not just going from one point to another, but a journey of life experiences.
Vietnam started to develop its tourism industry in the early 1990s when it opened its doors to foreign tourists, but more than a decade later, travel companies were still having to work hard to attract them to the country. Backpackers were coming in their droves, but the accommodation choices were limited, not good quality, and service standards were poor.
Thanks to his early good fortune, Pham Ha had a vision for the future combined with his personal determination to succeed, and he decided to take a totally different direction by concentrating on meeting the small, but growing, demand for quality accommodation and higher standards of service.
In 2004 he founded Luxury Travel, focusing on the niche luxury market for big spenders, creating the right travel products, providing authentic and unique experiences, and offering personalized service, catering to the wishes of individual customers. Very quickly he became the acknowledged luxury travel expert in the field. And he did this with only a starting capital of 1,000 USD.
For Ha, happiness is a journey, not a destination, and his aim was purely to make visitors to Vietnam happy and understand the culture and history of his beloved homeland.
Many friends and colleagues were sceptical about this bold idea and were worried that he might be being a little reckless. But Ha was determined, and he asserted that in order to succeed, he must find a new direction, be a pioneer, and become an expert in that field.
In the early days of his career, his father gave him a lot of encouragement, strength and faith in his own abilities. He advised him to go away to study in the city, always believe in himself, never get discouraged, and succeed without becoming arrogant. "Live well, my son" he said. He always strongly believed in the ability of his children and encouraged them to pursue their dreams and to strive to be the best, whatever they did. He urged him to take the first steps to opening his own business and not be afraid to venture into the unknown.
Always be a pioneer
Starting a business in Vietnam was difficult, especially in the early 2000s, and with such a small amount of capital. Red tape and policies changed frequently, and the internet was still a new thing in Vietnam. Pham Ha's biggest challenge was to get the message out about Luxury Travel and to encourage guests to book through him. He had to find a new way to achieve this.
When many people didn't understand the capability of the internet or how to use it effectively, Ha realised that this technology would be the key to helping him to make money. He tinkered around on the computer and started to build a website that met international standards and had the technology to take credit card payments. Right from 2004, when e-commerce was little known in Vietnam, tourists around the world who wanted to visit Vietnam were able to book tours and pay online through Luxury Travel's website.
After just four years, https://luxtraveldmc.com  was recognized by the Ecommerce Development Center (EcomViet) and Vietnam E-Commerce Association as one of the top 10 websites in the country.
"I dared to think outside the box and take a risk. If we pioneer and become the best in our field, we will be able to dominate the market. My success is thanks to continuing innovation, creativity, and taking those risks" Ha said.
Luxury Travel encountered difficulties in the 2008 financial crisis, along with everybody else. There were also difficulties when visitor numbers started to increase in general to Vietnam, as there weren't enough high-end hotels available to meet the demand and the infrastructure was poor. The company found that it had to pay over the odds to 5-star hotels, to guarantee rooms for their guests, as hotels could easily fill their rooms and showed no loyalty to wholesale travel companies.
As tourism to Vietnam continues to increase, one of the biggest challenges for the tourist industry is human resources, finding suitable employees with the service and language skills to meet the requirements of international and increasingly sophisticated domestic tourists.
Fifteen years ago, this was an even greater problem. Pham Ha had to recruit and train young people who had excellent foreign language skills, but did not have the professional knowledge and expertise in the tourism service industry. He had to teach them sales techniques and soft skills, even writing emails to guests. But he stressed, the most important factor for the tourism industry is personnel having the right attitude.
"Young people, especially students, are a blank sheet of paper, but it is harder to train those who are already in the workplace and may have fixed ideas. For training, I prefer new graduates because giving them the skills to develop the appropriate attitude will be the first thing to draw on that blank piece of paper. In the service industry, attitude is of the utmost importance, but the most difficult to learn" Ha said.
Touching hearts to win over luxury travelers
For the Chairman of the Lux Group, it is not only customers who are the service users, but also his company employees. In order to please external customers, the guests, he must firstly satisfy internal customers, his employees.
"My management style is to look after my employees so that they will look after our customers as well" Ha shared.
Pham Ha treats colleagues the same way he expects them to treat their upmarket customers.
Pham Ha treats colleagues the same way he expects them to treat their upmarket customers, by listening and with consideration. He maintains an equal relationship between himself, the boss, and his employees.
He might have to wear an elegant suit when entertaining guests in smart restaurants, but in the office he dresses as they do, in a T-shirt, jeans, and sports shoes. Out of the office, at a company dinner, the employees always join the senior management team at the same table.
"I am a leader without position as I do not need power to be successful. Leadership is the art of influencing and sharing a vision for people to follow and achieve. Your vision is your future. Absolutely everyone is listened to and their ideas respected" Ha added.
As a leader, Ha always likens himself to being a bus driver, taking his employees on a journey with a mission of bringing happiness, based on the '5 Ps': passion, people, purpose, planet, profit.
He ensures that his employees are aware that their clients are really the only 'boss' in the company. In order to bring in money and a better life for all, there must not only be many customers, but they must also be satisfied with the level of service they receive. That way, they come back time and again and recommend Luxury Travel to other wealthy guests. Word of mouth is free but powerful advertising.
According to the Lux Group management team, building a corporate culture is a must, one in which everyone must understand the thinking of the clients and translate this into action. The end of the working day is 5.30 pm at Lux Group, but many people often voluntarily stay at work until nearly 9 pm, to complete their work and ensure the best outcome for clients. Ha's secret is empowering and trusting the employees to work well.
"If you believe, you have to give power, but if you want to give power, you must know exactly what your staff need and how to develop them. The key is to find the right people for the right work. I only employ the smartest people who share my values".
The task of the leader is to set goals for employees and for them to work hard to find ways to achieve them. Empowering employees to be creative and innovative is important. For new recruits, the company ensures that it creates the ideal environment for them to use their talents, to listen to them and put into practice new ideas if they are feasible and effective. And, of course, to recognize their achievements by rewarding them well.
Leading with kindness is the key for Ha to retain his talented staff because, without training employees will inevitably leave, and training brings benefits and creates an environment where employees want to stay.
"My efforts go into creating an environment of creativity, empowerment, fairness and reward. This approach has encouraged everyone to contribute and the organization has gone from strength to strength with a consistently happy team".
The biggest goal he sets is that 99% of customers must be satisfied with their travel experience of the company. The customer is not a king until the employee treats them as a king and, at the same time, treats their colleagues the same way to ensure the absolute best in teamworking.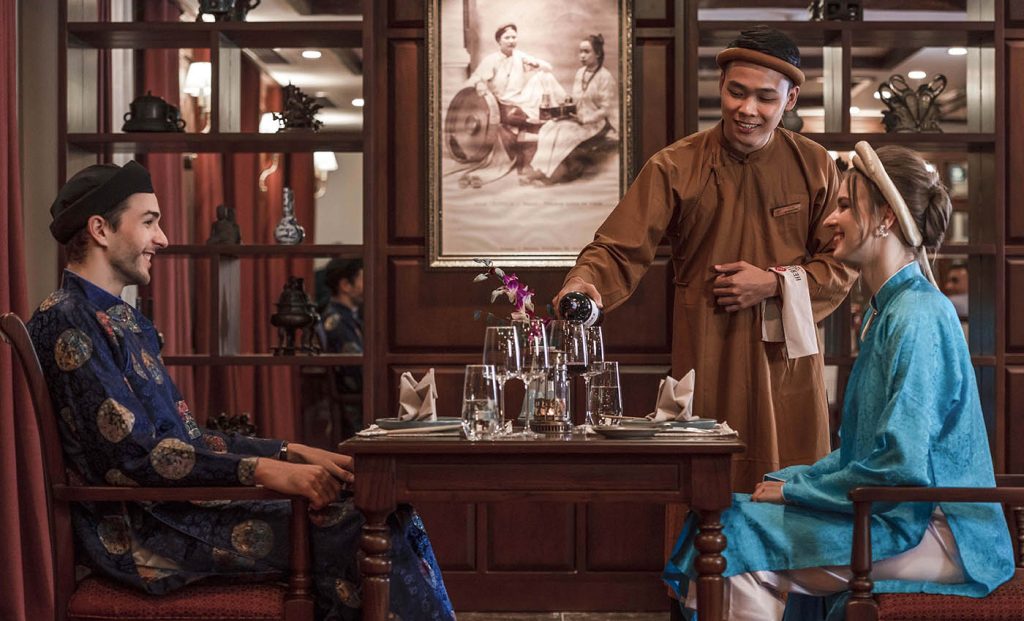 According to Ha, there is not one simple definition of luxury as everybody has a different view depending on their own needs. For example, a person who has traveled to more than 70 countries like Ha, luxury is not a new concept so personalization to meet their requirements precisely is paramount.
At Lux Group, luxury travel is defined as experiences and personalized services. To win over luxury customers, the key is to understand the customer completely and to be able to provide experiences that meet their expectations, touch their hearts, and even give them a pleasant surprise. "Customers only buy the products that best meet their needs, so it is important to understand our customers to be successful in sales" Ha said.
High-end spenders only account for 3 per cent of the total number of visitors to Vietnam. Unlike mass tourism, where many people prefer to travel in groups, upmarket tourists often travel in small groups of family and friends with specific requirements such as privacy, unique, and unusual experiences.
Luxury tourism is no longer a narrow concept limited to staying in 5-star hotels, but ranges across the whole experience including the method of transport, such as helicopter or seaplane, and excursions that are not normally available to regular tourists, such as a private viewing in an artist's studio. To these clients, the most important aspect is that it is memorable.
Seniors have money, education, experience, are well-traveled, and know exactly what they want, so Ha ensures his staff are particularly well trained and endeavours to offer new products regularly, continually upgrading to meet the highest standards.
Tourism is a key journey, so the Lux Group always focuses on creating heart-warming memories for customers at every point of dealing with the company, from the initial contact, either through personal recommendation or the website, talking to employees, and making the booking. Customers always enjoy personalized service at each stage of the booking.
"A brand is like a promise; customers buy brand promise. If expectations are met and even surpassed, the guests will feel completely happy and even wowed by the whole experience. They are then guaranteed to tell friends and family who will want to find out more" Ha shared.
Doing business is to show empathy, loyalty, and responsibility, qualities that Pham Ha particularly admired in the noble spirit of Bach Thai Buoi, who promoted Vietnamese society so that An Nam, at the beginning of the 20th century, could revive the economy, encourage development, and create a noble class strong enough to rebuild the country and compete with the Chinese and French.
Ha's childhood dream of owning a cruise ship became a reality.
He was inspired to build Heritage Cruises, a boutique-style brand that is the essence of Vietnamese heritage, rich in culture, history, art, and the quintessence of the north. This unique ship is based on a design seen on old postcards and imbues the spirit of the ship, Binh Chuan, that Bach Thai Buoi launched more than 100 years ago on September 7, 1919.
This historic ship, the largest vessel in An Nam at that time, was the first ship to sail from Cua Cam, Haiphong to Saigon and arrived in port on September 17, 1920. It was warmly received by the business community there who saw the possibilities to create new markets and business and revive national pride – "le premier bateau Annamite à Saigon"- the first Annamese ship to dock in Saigon.
"I acknowledge the culture, traditions, and aristocratic spirit of the early 20th century. That is the reason tourists come, to learn about the culture and history and get under the skin of the country" Ha stated.
Bach Thai Buoi also implemented his principles for the market: trade, trust, perseverance, energy, respect for profession, trade association, public relations, thrift, and focus on the domestic market. His values and business lessons still apply to the current trading conditions to manage effectively businesses and succeed in the marketplace.
"Money is just a tool; the most important thing is what we bring to society". For Ha, money is not the most important aspect of his work; his passion for what he wants to achieve is the main reason that led him to work in travel, and this helps him to continue his lifelong project and be determined to develop this service industry to the benefit of all.
Ha admits that he is passionate about art and culture. Collecting works of art is a personal hobby which helps him to maintain a work/life balance, as he feels that it is sometimes necessary to slow down to feel better, more creative and happier. You always do what you like and like what you do. He especially likes the paintings by artist Pham Luc, known as the Picasso of Vietnam, because they touch his emotions. In Pham Luc's paintings, Ha relives his childhood, his parents' war memories, and Vietnamese stories told through the intriguing combination of colors, lines, and shapes.
That is the reason why hundreds of paintings by Pham Luc are displayed on Emperor Cruises ships (part of the Lux Group) in Nha Trang and Ha Long. Heritage Cruises is the first floating art cruise in Vietnam, as Ha has created a small onboard art gallery featuring the artworks of Pham Luc, works of other famous Vietnamese artists, and rare artworks from the Indochina School of Fine Arts.
Ha said that visitors are very excited about this unique concept and he plans to hold an art auction on the cruise soon. He has just completed his second book about Pham Luc called "A life of art", following his first book "Picasso of Vietnam, paintings and life".
The founder of Lux Group said: "A good life is a successful one when judged by others. Our personal contentment, when we do something well, is felt deep within our soul, our heart and our mind".