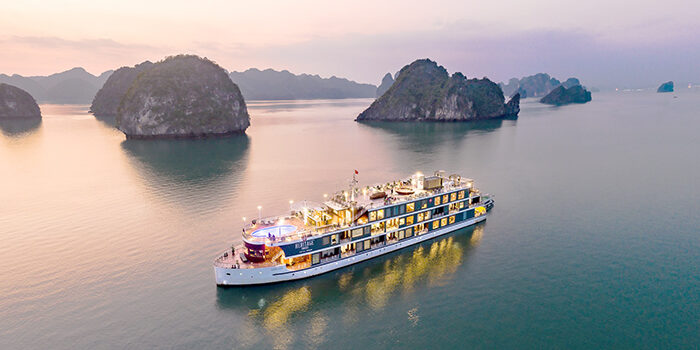 (Vietnam Today) – Nowaday, luxury yatchs have become a new tourist trend in Vietnam. Lux Cruises luxury cruise line provides customers with top-quality services and constant improvement in experiences for travelers, especially international travelers.
Emperor Cruises and Heritage Cruises are 5-star yachts and aim to provide the best experience for customers. However, the two brands also have a lot of differences in design ideas, product lines, and target customers.
The Heritage Binh Chuan Cruise, inspired by Vietnam's King of Cruise Ships, Bach Thai Buoi (1874 – 1922), is the first yacht designed in a boutique concept style, suitable for many groups of guests, from young people, families, and elderly customers who like to participate in activities on board. Operating in Lan Ha bay, Heritage Binh Chuan Cruise is one of the first cruises to have the largest swimming pool in the North Bay with an exhibition space for paintings by the famous painter, Pham Luc, and plenty of space for visitors to visit and experience. With 20 spacious suites all provided with private balconies, panoramic windows overlooking the bay and bathrooms all with standing and lying bathtubs, visitors will truly feel comfortable and relaxed.
Meanwhile, The Emperor Cruises Legacy Halong was inspired by the Bao Dai emperor (1913 – 1997) and was completely designed in the royal style of the 1930s. It is the first cruise to operate in Ha Long bay and Bai Tu Long bay, offering package service, including free drinks, unlimited massage service, and 24/24 butler service. Although Emperor Cruises Legacy Halong has only 10 cabins, all rooms are suites with huge areas, amenities with private balconies or panoramic windows, and a Jacuzzi or bathtub. Customers can experience total relaxation sitting by the Sunset Bar and sunbathing on the deck while enjoying cocktails, listening to ocean rhythms and watching the sunset. Emperor Cruises also offers comprehensive wellness products to help travelers have the most fulfilling experiences on their journey.
If you choose to stay at the Nha Trang Emperor Cruises, you can immerse yourself in Trinh music nights while moon-watching in the bay and enjoying high-quality cuisine. You can also choose to rest on the beach in Nha Trang bay or participate in scuba diving tours at Mun island, have afternoon tea and explore the art of enjoying Vietnamese tea.
Lux Cruises also makes an effort to improve each guest meal experience by interacting with wine consultants and hosting a cocktail party to welcome the sunset on the pool bar and swimming pool. Award-winning chefs will create new seasonal dishes and enhance the food experience with new styles, especially the breezy dinner in the middle of the bay with music that will surely give every customer unforgettable memories.
Coming aboard on Lux Cruise yachts, customers can participate in scuba diving, sail to get to the beach area, and learn about the stories of Vietnam's first luxury cruise brand.
Tuan Son