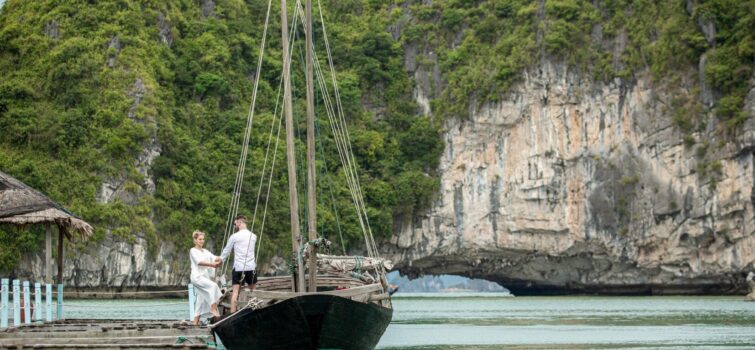 The transfer by limo through the 5B Highway cuts down to only 1.5 hours from Hanoi to Cat Ba Archipelago. The Cat Ba Archipelago is an exotic destination with pristine beaches, secluded lagoons, coves, tropical forests, and lakes allow holidaymakers to discover the best places for swimming, kayaking, and biking and many hideaways in the Gulf of Tonkin. Pham Ha founder and CEO of LuxGroup https://luxgroup.vn/ discovers
The central hub of Cat Ba is now framed by a chain of low-rise concrete hotels along its once lovely bay, but the rest of the island is largely untouched and as wild as ever. With idyllic Lan Ha Bay just offshore, you'll soon overlook Cat Ba Town's over-development. The two first nights, we stayed at Hotel de Perle Cat Ba – MGallery for an island experience: fish sauce factory, local market, floating village, sea food, beaches and bikes.
Photo connoisseurs hunted the best shots of sunset at the Cannon Fort on the mountain top. Visitors can find the landmark of President Ho Chi Minh, created when he visited the Island and the Cat Ba Fisheries Port in 1959. Cannon Fort (also known as high peak 177) is close to the three beaches, and here you can enjoy a panoramic view of the island from above. Head out of Cat Ba Town to the entrance of Cannon Fort, just 15 minutes away, and take a leisurely 20 minute stroll to the fort. In one direction are the green-clad limestone karsts stretching into the distance, while the opposite side is dotted with colorful fishing boats, beaches, and the town itself.
We started early in the morning to explore the forest in the hope of seeing some wildlife while escaping the burning summer heat. We chose the short trek trail leading to Ngu Lam Peak and the Kim Giao Forest with our guide, Van Anh. She was very informative and knowledgeable about the park and history. We walked the gentle two and a half kilometer Cat Ba National Park Education Trail, starting at the entrance to the National Park Headquarters, and Van Anh introduced us to some of the wonders of this special island. Its animals, plant life and diverse habitats are unique in Vietnam. Another activity is to visit typical karst caves with amazing features, such as Trung Trang and Quan Y or Hospital Cave. We visited Trung Trang Cave on our way back from the trek to Ngu Lam Peak, and were thoroughly impressed.
According to Van Anh, Cat Ba National Park (officially founded in 1986) is 15 kilometers from Cat Ba Town, and covers an area of 152 acres. It is one of the only two protected areas in Vietnam that include both a marine and a terrestrial component. A small forest trail behind the national park headquarters leads to Ngu Lam peak, which contains a nice watchtower with a spectacular panorama of forest-covered karts.
Foreign tourists can hire a local guide to head for a trek through limestone labyrinth leading to Frog Lake in the center, replete with small freshwater swamp forest area that provides water to the population of Cat Ba Island. There are many primary forest on the surrounding kart towers, and moving through to Viet Hai Village, tourist boats take guests back to Cat Ba Town or to some new low-key resorts in Lan Ha Bay.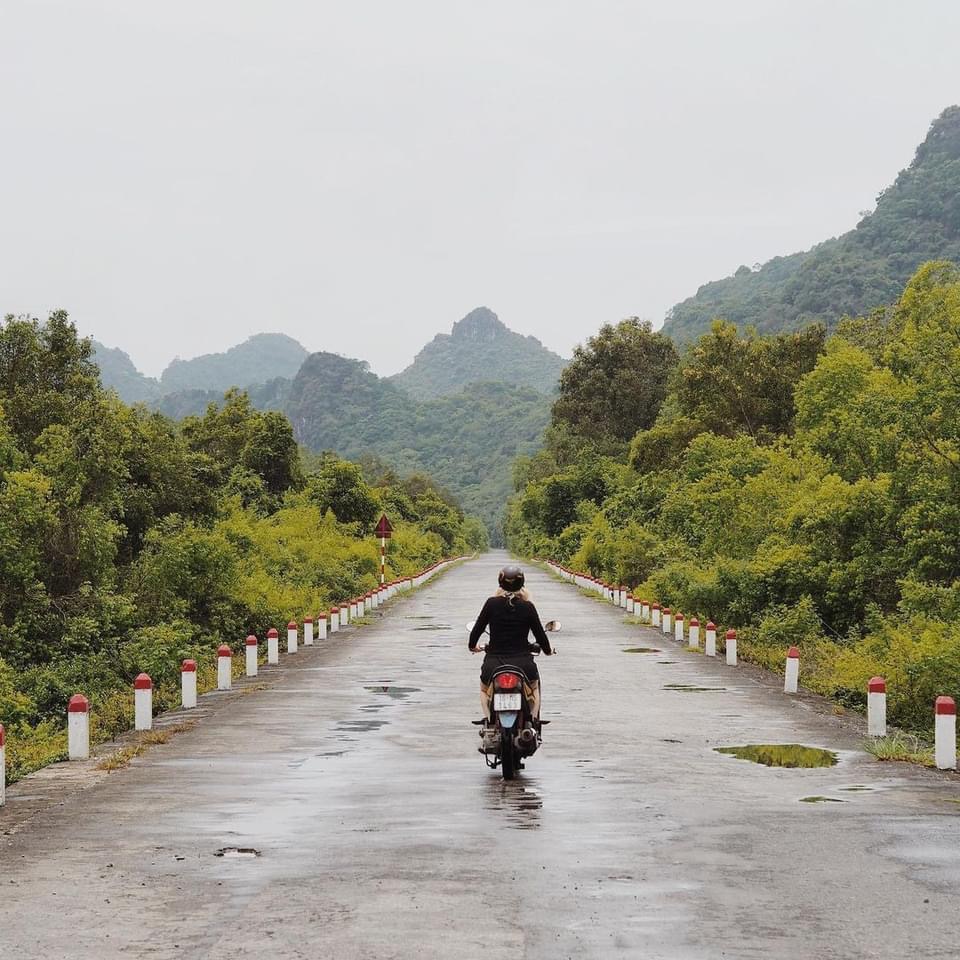 Cat Ba Biosphere Reserve
Cat Ba Biosphere Reserve is adjacent to the Halong Bay World Heritage Site. It is one of the best examples in the world of a kart landscape by the sea. The 366 limestone islands contain landforms, caves and cave deposits that provide evidence of a long history of erosion and landscape evolution. Many of the small islands rise steeply or vertically from the shallow marine waters and are the distinguishing feature of the region. The bigger islands, including Cat Ba Island itself, are covered green tropical monsoon forest.
The archipelago is of global importance due to the high number of species found nowhere else. The golden-headed langur is one of the 10 rarest primates in the world due to its restricted range and small population size (about 60 in all on Cat Ba Island.) There are also regionally important habitat types including fringe coral reefs, mangrove forests, sea grass beds, willow swamp forest and tropical limestone forest. Most of the habitats are under severe threat, especially due to encroachment. With these special values, Cat Ba was acknowledged as the World Biosphere Reserve in 2004.
There are 5 villages on Cat Ba Island and the Cat Hai District administrative offices. Cat Ba is a major coastal fishing zone, and has tremendous potential in agriculture and fisheries as well as other development opportunities such as nature-based tourism, near shore artisanal fisheries and aquaculture. The famous local products here are Cat Ba Honey and Cat Hai Fish Sauce. Cat Ba has archaeological sites dating to the Pleistocene area, and relics such as ceramics pieces date to the Bac Son Culture about 6,000 years ago.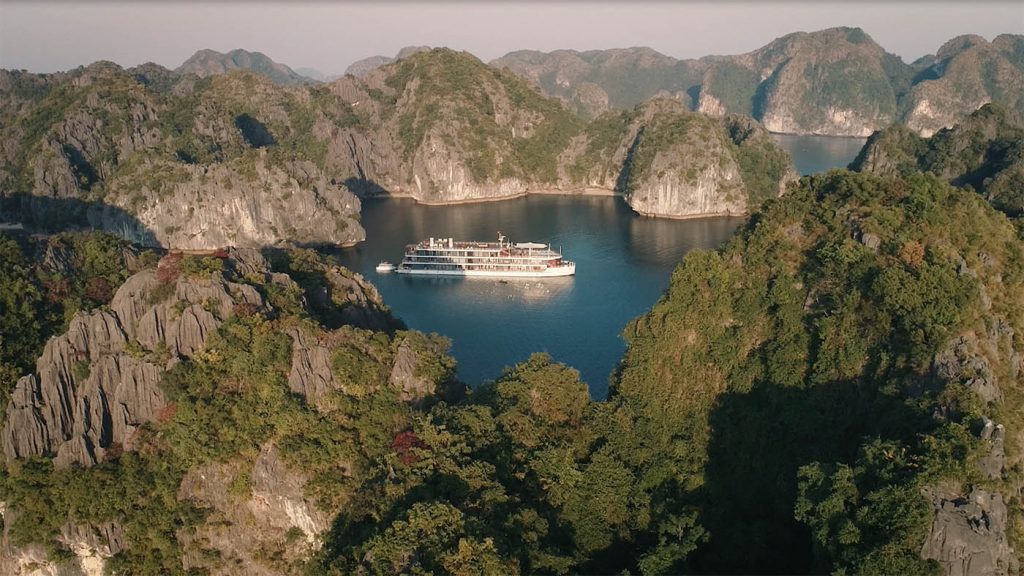 A Secret Hideaway
Staring from Beo Seaport, 10 minute from the main Cat Ba town by bus, we jumped into our private chartered wooden boat and ventured out on Lan Ha Bay. The floating village in Lan Ha Ba was amazing and probably the biggest in the Tonkin Bay. We got off the boat to visit the fishing farm.
As all destinations have their growth stages, the backpackers always come first, and the middle class and luxury travelers follow. It seems that Cat Ba is still in the first stage. Lot of bars, cafes and restaurants open late, some small resorts and party cruises please the people who have more time than money. A resort run by an Australian and Vietnamese couple just for backpackers is a prime example. They come for rest, relaxation, sun and fun. The summer, in particular, is busy and Cat Ba tourism is still seasonal; busy with Vietnamese for the summer period, and quiet for foreigners from September to April. While cruising we saw the Monkey Island with long and white sandy beaches appearing from nowhere. Others travelers avoid the crowded Cat Co beaches; they can rent a boat and take them to Monkey Island and nearby empty beaches where they have their own peace and privacy.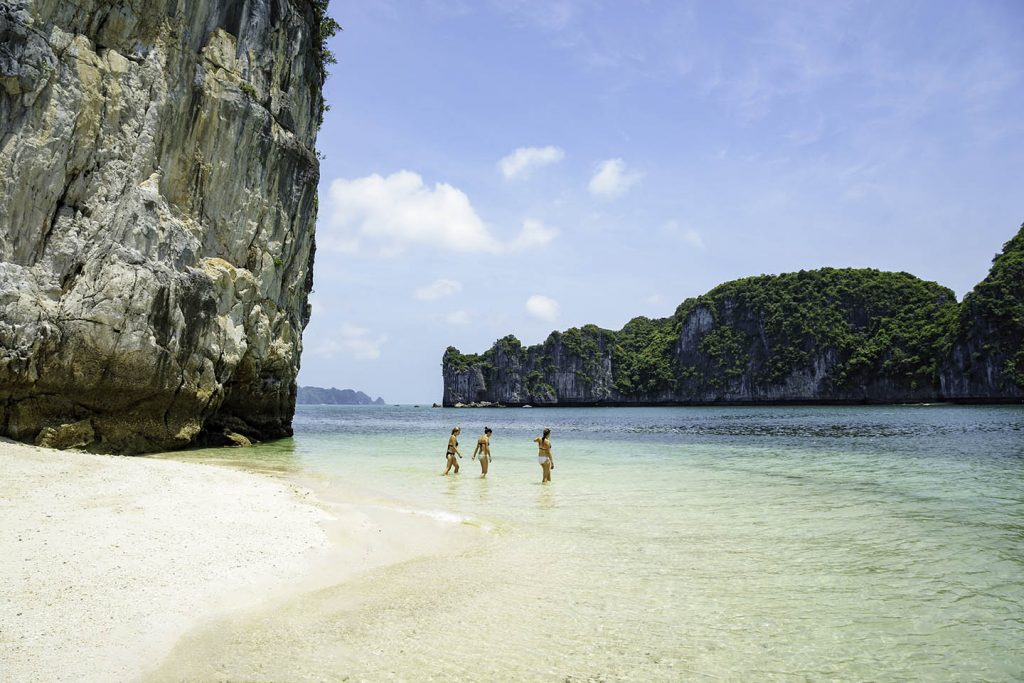 The scenery is breathtaking, and biking with the bike view is amazing. We spent one hour biking to reach the village and en route we could hear the fog singing and admired the charm of a quiet countryside with distant echoes of wild animals. Local people keep their village very clean, even on the water. They are particularly friendly, and the only vehicles present are electric cars, which makes it a peaceful place.
We arrived the prestigious and pristine Ba Trai Dao Beaches just 30 minutes after the cruise. One of our colleagues said Thailand's islands and beaches are nothing compared to ours. Vietnam is too hidden, and we seem to keep our best beaches and islands a secret only for ourselves.
Our next excursion was some light kayaking in the afternoon, before checking in to the Nam Cat Resort. Hang Ca Area belongs to the national park, and is known by locals for its dark coves. With two people fitting snugly in each kayak in Hang Ca, we paddled on the bay and through the first cave to enter an amazing cove surrounded by limestone. The tour guide says that there are only 60 individuals on the island, a truly rare and important species indeed, risk to distinction. Overnight cruises options now available from Got Harbor for one or two night stay. www.heritagecruises.com