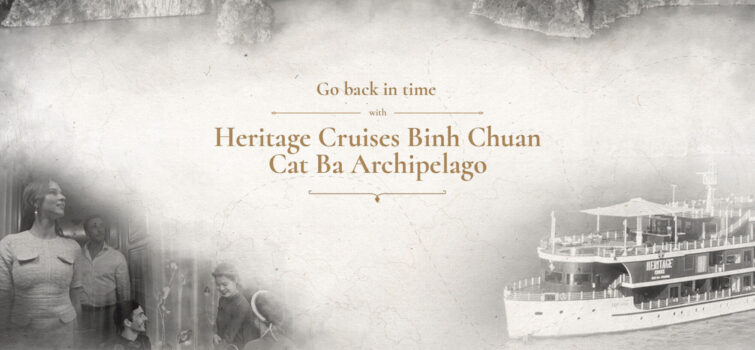 The greatest Vietnamese ship called Binh Chuan designed entirely and totally by Vietnam people was first built and sailed from Hai Phong to Sai Gon. The ship made a voyage of national pride, culture and ambition of Vietnamese who dreamt of revitalizing the national commerce and economy. It was a voyage of aspiration to contribute to build a stronger nation of Vietnam.
Today, the Heritage Cruises represents that historical vessel while guiding travelers around the pristine and magnificent Lan Ha Bay and re-creating the Binh Chuan story. Board our Heritage Cruises, and be prepared to relive that glorious historical moment!
rom a childhood dream…
As a teenager, Pham Ha, the co-founder of Heritage Cruises, cruised from Haiphong City to Ho Chi Minh City
just a few years after the unification of South and North Vietnam.Even then he had plans to build his own cruise ships, to have his own fleet, so he could share his passion for his country.
He fell in love at first sight with Halong Bay in 1995 and came to know every single island, sometimes spending a week camping on the isolated beaches and exploring remote islands by kayak.
In 1997, he took a film crew there for 2 months to make the 'Vertical Ray of the Sun' – a film by the famous director, Tran Anh Hung, which was filmed in Cua Van Floating Village, near Three Peach Beaches, on the frontier between Halong Bay and Cat Ba Archipelago.
His personal mission is to deliver happiness. He is passionate about quality cruising, heritage, culture and history.
Pham Ha is recognized internationally in the tourism business and knows the market well. As a result, he initially built a fleet of cruise ships in Nha Trang Bay and Bai Tu Long Bay.
The building of a new fleet in the Cat Ba Archipelago, the Red River and in the future for longer trips from north to south Vietnam is a continuation of his childhood dream.
o the first Vietnamese boutique cruise in the Gulf of Tonkin
Heritage Cruises derives inspiration for its boutique concept and design from the heritage ships of the inspirational patriotic entrepreneur Bach Thai Buoi, who transformed transportation on the waterways in Tonkin in North Vietnam in the early 20th century.
Inspiration from the King of Vietnamese Cruise: Bach Thai Buoi
The Vietnamese used to say the phrase: "First Si, Second Phuong, Third Xuong and Fourth Buoi" to refer to the top 4 wealthy and successful Vietnamese men. "Fourth Buoi" is no one but the businessman and entrepreneur Bach Thai Buoi.
At the age of 20, Bach Thai Buoi found his interest in doing business. In 1908 – 1909, he decided to take his first steps into the waterway transport industry which was exclusively and mostly owned by the Chinese at that moment.
Regardless of the high competitiveness against French and Chinese waterway companies, he established Bach Thai Buoi Maritime Company. With a tonnage of 600 tons and a 400 horsepower engine designed and built by Vietnamese, Binh Chuan ship was the peak of Bach Thai Buoi's waterway transport career.
That Vietnamese-made ship set sail from Haiphong City to Sai Gon in 1920, receiving warm welcomes from Cochinchinese businessmen who even made a bronze board that read: "To Binh Chuan ship – the first Vietnamese ship in Saigon Port.
At that moment, the Binh Chuan ship carried more than just hundred tons of goods – it also took with it the national pride of each and every Vietnamese on the way. That voyage from Haiphong to Saigon was a loud and clear statement of the nation's strong and rapid development.
– Cochinchinese businessmen
A symbol of Vietnamese national spirit and patriotism
Bach Thai Buoi gave up a peaceful life to embark on a business career not only because of wealth. It was his desire to affirm the position of Vietnamese in the market, proving that we are not inferior to any other nation.
Bach Thai Buoi was a role model of expressing national pride in his work. He hired mostly Vietnamese workers. He named his ships after Vietnamese nobles or historical milestones such as Dinh Tien Hoang, Bach Dang… Maybe this explained why he was so successful at that time – thanks to his sincere and moving patriotism.
For any Vietnamese, the national spirit and patriotism are always highly-regarded. As we suffered too much in the past, it is our instinct to love, respect and protect the country.
Heritage Cruises understand this – and we create a unique experience for all the tourists by representing not only the Binh Chuan cruise itself but also the spirit of it.
eritage Cruises: A voyage of culture and history
What makes Heritage Cruises stands out from the rest of vessels in Vietnam in general and in Lan Ha Bay in particular is the cultural and historical story embedded within each and every small detail of the ship.
100 years after Binh Chuan Cruise first built and set sail, travellers can now witness and experience the glory of that North – South ship while boarding the Heritage Cruises. The cruise has an antique beauty of the past while bringing luxury and modern services for travellers.
All is embedded in the atmosphere of Vietnamese culture, art and culinary on the made-in-Vietnam Heritage Cruise.
The sophisticated and antique style of Indochina
Inspired by the ship of Bach Thai Buoi, Heritage Cruises was the first cruise ever in Vietnam with an architectural style of Indochina in the 1930s. With its distinctive style, the cruise revives the past and honors Vietnam's historical, cultural, artistic and culinary heritages in the 20th century.
Heritage Cruise is 75m long and 13m10 wide. It consists of 4 separate floors but only 20 spacious suites for 40 guests. There are 2 restaurants, 3 bars, 2 spa rooms, a four-season rooftop swimming pool, a bookstore and a mini gym – all up to standard of a 5-star resort and hotel.
Besides the luxurious amenities, Heritage Cruises also offers a pure Vietnamese cultural space and the atmosphere of culture, history, art and cuisine in the 20th century through a Bach Thai Buoi library and artful lobby lounge with nearly 100 paintings by "The Vietnamese Picasso" Pham Luc.
Even the names of the cruise, common spaces and rooms are customized to showcase the history and culture of Vietnam in the 1930s. Even the Heritage Cruises Binh Chuan was named after the Binh Chuan ship built in the 20th century, expressing the founder's dream of writing the Bach Thai Buoi's dream.
On the cruise, the art exhibition was named L'Art de l'Annam – a book of the same name, published in 1933 by Henri Gourdon, who was the director of the first Indochinese University – Université Indochinoise, who offered a view of the art of Annam from the perspective of a westerner.
Similarly, names were carefully chosen for the restaurants, bars, lounges and spa to maintain the overall spirit of the national pride and cultural stories: Bach Dang Wine Cellar, Le Tonkin, L'Indochine, Song Hong Lounge, and White Lotus Spa.
"Simplicity is the ultimate sophistication." Leonardo da Vinci's quote captures Heritage Cruises' vision and philosophy perfectly: the key principle behind every project is a devotion to simplicity, heritage, boutique and product authenticity.
An exploration of the pristine Lan Ha Bay
Cruising is all about destinations, experiences and memories.
Situated in the south of Ha Long Bay and the east of Cat Ba Island, Lan Ha Bay has an area of over 7,000 hectares with stunning beauty of around 400 large and small islands with many interesting shapes. Different from Halong Bay, all islands in Lan Ha Bay are covered with greenery – even the smallest islets.
Lan Ha Bay is the home of lots of mountains with different names depending on the imagination of tourists such as Hon Quoc Islet (Wooden Shoe islet) and Dao Khi – Monkey Island. Lan Ha Bay possesses about 139 beautiful sandy beaches and spreads over 7,000 ha including that the area of 5,400 ha is under-managed by The Biosphere Reserve recognized by UNESCO – Cat Ba National Park.
In 2020, Lan Ha Bay officially becomes a member of the World's Most Beautiful Bays Club.
While Halong Bay is often touristy and crowded, Lan Ha Bay has its own beauty of tranquility and pristinity. Besides, Cat Ba Archipelago is an exotic destination with pristine beaches, secluded lagoons, coves, tropical forest and lakes. Thanks to its isolation to the mainland, this charming destination preserves its unspoiled natural scenery to its best. The density of limestone islets in Lan Ha Bay is quite thick, creating smaller bays.
Although not too popular among tourists, Lan Ha Bay is considered as one of the most beautiful bays in Vietnam. Fall is the most beautiful time of the year in lan Ha Bay with light sunshine, cool weather and gentle breezes from the ocean.
All 139 beaches lying scattered throughout Lan Ha Bay allow tourists to contemplate from the cruises. The trio of Cat Co 1,2 and 3 Beach, Van Boi Beach, Ba Trai Dao Beach (Three Peaches Beach) and Tung Thu Beach are known as one of the most appealing beaches in Lan Ha Bay.
Ba Trai Dao Beach has attracted tourists by not only its charming beauty but an interesting myth to explain the appearance of the three rocks that give the islet its name as well. Tung Thu is another attractive one offering on the south coast of Cat Ba Island, while Van Boi offers the chance to engage in scuba-diving to watch the colorful coral reefs underwater.
Light and Dark Caves which are the two opposing ones, as their names, show the difference in the amount of light entering from outside. The Dark Cave is longer, so it's necessary to require torches for discovering. Meanwhile, the Light Cave has a short corridor opening up into an amazing lake covered by stretching limestone cliffs.
Hospital Cave is the most interesting cave in terms of historical value since its large grottos made it an ideal place for taking care of and hiding the injured Viet Cong soldiers during the war against the American. Moreover, it's hard to find the Hospital Cave from the ground and the air, making it perfect to rest up the troops and form attacking plans.
Viet Hai Fishing Village , which is an ecological attraction, appeals to tourists by tranquil and peaceful landscapes as well as hidden charm villages of local people and their lifestyles.
Even the voyage around Lan Ha Bay is filled with cultural stories which go well with the spirit of the Heritage Cruise.
et's begin the voyage!
Almost a century after Bach Thai Buoi first built the Binh Chuan vessel, Heritage Cruise has now inherited the historical and cultural
stories in its design, spirit and voyage. This opens your chance to embark on a voyage through time on a Heritage Cruises ship – a vessel inspired by heritage designs and with impeccable service fit for the bourgeoisie from the 1930s.
Heritage Cruises is pure, artful and elegant in offering special perspectives on the Red River and the Gulf of Tonkin. The welcome is personal, the accommodation is sumptuous, and the views are simply gorgeous.
And yet it is the total experience − the unique impression derived from the cruise's combination of quality, quintessence and ambiance in a spectacular location − that makes the cruising experience on Heritage Cruises unforgettable.
Heritage Cruise is not only a cabin or a suite. It is the overall experience, stories and dreams that we want to share.