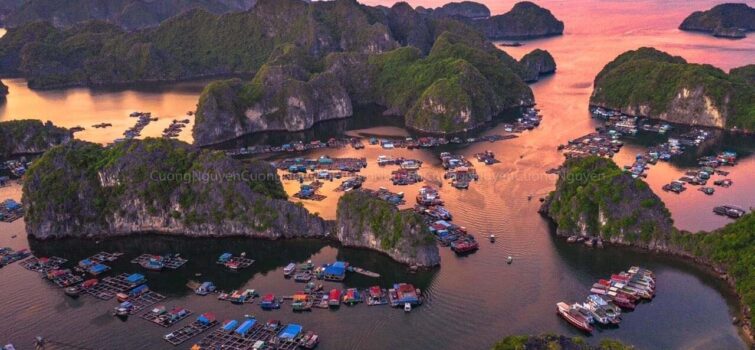 Dark and bright cave
Overview
Dark and Bright Cave lie in the bordering area between Lan Ha Bay and Halong Bay, this area is located in the protected area of Cat Ba Biosphere Reserve. Coming to Dark and Bright Cave, tourists will be indulged in nature with the blue water and fresh air. The best way to admire the majestic foundation of the cave is to go kayaking or row bamboo boats. Inside Dark and Bright Cave, there are a lot of emulsions and stalactites with different shapes. This is also a safe place for cruises to anchor and provide shelter for fishermen in the rainy season. Adventuring along Dark and Bright Cave, visitors will be overwhelmed by the poetic, lyrical and pristine beauty that Mother Nature has endowed this destination.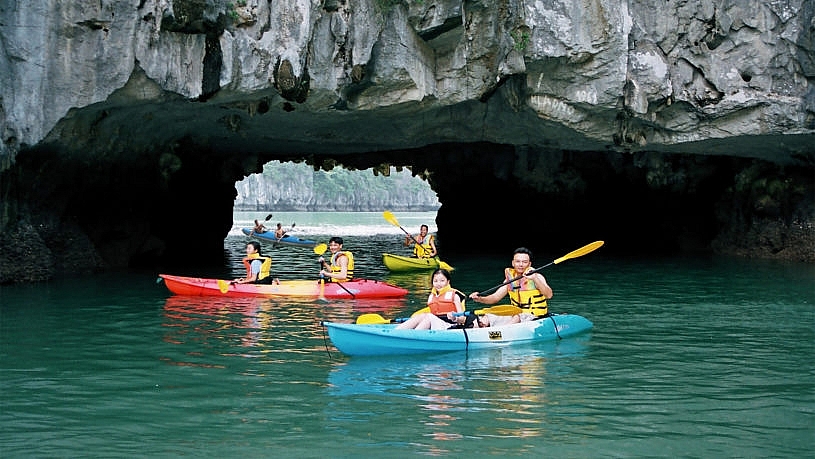 About Dark and Bright Cave Halong Bay
Dark Cave and Bright Cave are underwater ones, so the formation of these caves is different from other dry caves. Thus, Dark Cave and Bright Cave possess outstanding and distinguishing beauty. In the process of geological activities in Halong Bay, there are three types of caves which were formed by the impact of water on the karst topography. They are the ancient underground cave, Carxto cave, and frog's jaw cave. Dark Cave and Bright Cave are frog's jaw caves, while the cave floor is under the sea, the cave ceiling is beyond the water. With the unique topography and tectonics, the caves are only accessible by boat.
Things to do in Dark and Bright Cave Halong Bay
Tourists coming to Dark and Bright Cave have plentiful interesting options. You can choose to participate in many water activities such as: go kayaking to explore the beauty of the magnificent scenery, sit and sunbathe on the beach or swim and snorkel to discover the marine life.
Dark and Bright Cave is an ideal destination for those who are keen on kayaking and exploring nature. Kayaking is the best way to explore Dark and Bright Cave. With the kayak, visitors can get closer to the foot of the mountain, discover the beauty of nature, clearly see the erosion of water and waves into the limestone cliffs. When rowing into the caves, you are sure to be overwhelmed by the miraculous stalactites on the ceiling and cave walls. This is also a rare chance for you to capture memorable beautiful photos of the majestic Halong Bay.
Go through Bright cave, tourists will come to a lovely valley surrounded by spectacular mountain ranges. This setting gives travellers a feeling of being lost in Heaven. It is such a wonderful experience to sit on the kayak and slowly watch the scenery, breath in the fresh air and feel the harmony among the sea, mountain and sky. You will certainly be happy and full of vitality to get away from your bustling and busy life. Dark and Bright Cave is an ideal place for you which combine the beauty of nature with many sports and activities for tourists to enjoy.

Three Peaches Islet
Overview
Ba Trai Dao Islet is cluster of three small limestone mountains, more than 20 meters height, looking like three peaches rising from the water. This is also one of the most famous and beautiful beaches in Halong Bay. Three Peaches Beach shapes like a bow with smooth long white sand and becomes popular among tourists for its unspoiled, charming splendor.
About Ba Trai Dao Islet (Also known as Three Peaches Islet)
A tearful love story about Ba Trai Dao Islet
Legend has it that: Once upon a time, there was a fairy goddess who came to visit Halong Bay, she came to this place and she fell in love with a local poor fisherman. Their love grew stronger that she wanted he lived an immortal life with her forever. In order to do so, she stole three peaches from heaven garden for him. Jade Emperor knew about that and got very angry with her. He turned three peaches into three stone islands to imprison the man and forced the fairy goddess to return to heaven… Nowadays, Ba Trai Dao Islet has become an interesting destination for those who like pristine nature and adventure.
Splendid natural beauty
Come to Ba Trai Dao Islet, you can immerse in the clear blue water, enjoy the beautiful white sand. In sunny days, the water is crystal to see the bottom and ideal to snorkel for watching aquatic life. The beach is surrounded by rocky mountains, so there are no big winds and waves, which is very safe for small children. The cliffs above the beach create exotic shapes offering many photo opportunities for visitors. Moreover, Ba Trai Dao Islet provides an abundance of places for plants to grow and animals to live, creating a very lively natural landscape.
Things to do in Ba Trai Dao Islet
Ba Trai Dao Islet is located in a more secluded part of Halong Bay, there are not too many tourists passing through, so it still retains many wild and rustic features. The most popular activity here is kayaking, almost tour itineraries include kayak for your journey. You can row through the cliff corners, among imposing mountains to explore clear hidden lagoons, varied indigenous flora species, and animals living on limestone islets.
Tourists also enjoy being immersed in the water, swimming and relaxing, sunbathing on the white sand. However, if the tide rise, the whole beach will be under the water. You can only swim and enjoy the beach for 2-3 hours a day, so you should check the tides schedule before going there. Anyway, this is a not-to-miss attraction when coming to Halong Bay. You should bring the camera to capture the beautiful scenery and splendid natural splendor of Ba Trai Dao Islets.
All year round, thousands of tourists come here to sightsee and admire the beauty that Mother Nature has given to this place. Nowadays, Ba Trai Dao Islets is one of the most amazing destinations of Halong Bay that all tourists want to discover and explore.

Cua Van Village
Overview
Cua Van Floating Fishing Village is located in Hung Thang commune (Halong city), about 20 km away from Halong Tourist Port. This area is surrounded by majestic limestone mountains, so the water is calm with no big waves, which is ideal for anchorage and people to cluster into a floating village. The village is about tens kilometers far away from the shore, lying alongside stone cliffs.
About Cua Van Floating Fishing Village
The serene beauty of Cua Van Floating Fishing Village
The prestigious travel magazine Journeyetc.com acknowledged Cua Van Floating Fishing Village as one of 16 most beautiful ancient villages in the world due to its ancient charm, beautiful scenery and well-preserved traditional culture. Cua Van Floating Fishing Village lies beneath majestic limestone mountains, floats on the ocean and blends perfectly with natural surroundings. The scenery is extremely romantic and leaves a distinct impression in the hearts of tourists. Cua Van Floating Fishing Village is one of only a few places that still retain the original unspoiled splendor. Local people routines have not disturbed by the bustling pace of modern life.
Floating life of local people
Cua Van Floating Fishing Village originates from two ancient villages named Giang Voong and Truc Vong. Residents of the village have been around for a very long time. Nowadays, there are more than 300 households with over 750 inhabitants live mainly by fishing and fish farming in Cua Van Floating Fishing Village. Generations of fishermen set up houses, live and pass down the traditional floating lifestyle to their children.
Cua Van Floating Fishing Village attracts tourist, not only because the beautiful natural scenery is outstanding, but also local residents are aware of keeping their living environment green and clean. At Cua Van, all floating houses are very tidy, people take turns to collect trash and garbage on the sea every day. They save fresh water, reduce the amount of waste in the marine environment. Journeyetc.com highly appreciates the preserving consciousness of the people. Cua Van is well worth a visit when traveling to Halong Bay.
Things to do in Cua Van Floating Fishing Village
Coming to Cua Van Floating Fishing Village, visitors not only have a chance to see the natural scenery, learn about the cultural life of the fishermen, but visitors can also sail around the village and take part in many interesting activities in local daily life.
Under the instructions of local villagers, visitors can spread the catching net, fish squids, and enjoy the seafood that they have caught. Especially on festive occasions or wedding ceremonies, visitors can have an unforgettable experience to enjoy endemic folk songs of local fishermen such as traditional love songs, ferry songs (imitating rowing rhythms).
Moreover, your journey will be filled with exciting adventurous activities. It is an interesting option for tourist to explore Tien Ong Cave nearby. Ba Ham Lake is also an attractive destination for activities such as caving, kayaking, and swimming. Almost visitor will have a good time to row bamboo boats to discover around the village, chat with locals, fish squids and enjoy the marine beautiful tranquil scenery. Cua Van Fishing Village becomes one of the most charming destinations that you want to visit in your lifetime trip to Halong Bay.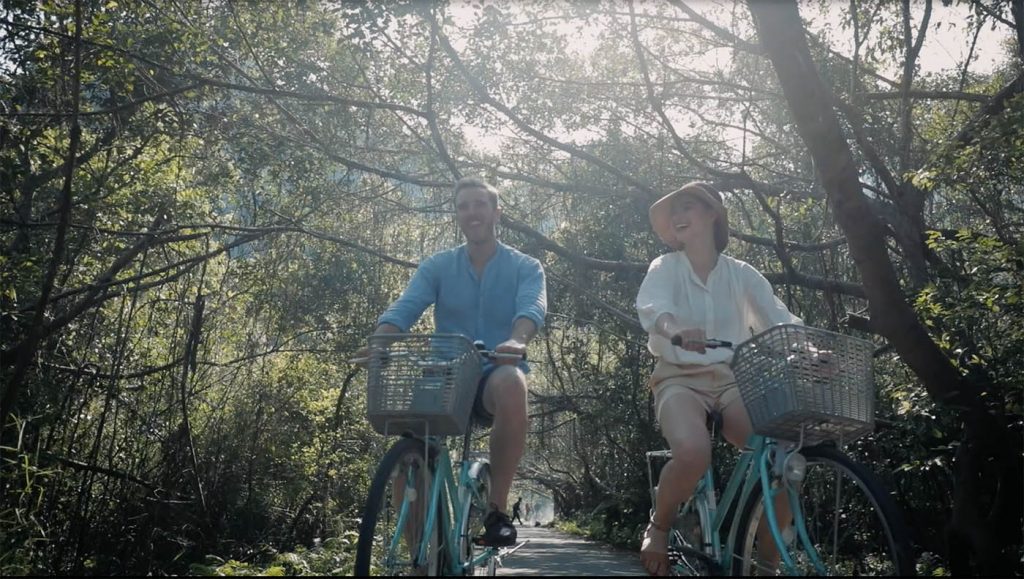 Viet Hai Village
Overview
Viet Hai Village is a small village, located in the core of Cat Ba National Park in Cat Hai Island district, Hai Phong. Due to its remote location, there are not many indigenous peoples living there. However, Viet Hai Village has recently become an attractive destination for domestic and foreign tourists, especially for trekkers and bikers.
How to get to Viet Hai Village Cat Ba
Travellers first have to arrive at Beo Port in Cat Ba Island, from there, you take the ferry or boat to Viet Hai Port. Viet Hai Village is about 5 km from the port, you can walk, rent bicycles, take trams to get to the village. Trams can carry up to 12 passengers per trip and the monolithic road to the village has been concretised for easier transportation.
Local life in harmony with nature
Viet Hai Village has over 70 roofs. Most of which are traditionally made from bamboos, clay, and straw. To build an old-style house, they first mix mud and straw into a dense mixture, then cover the mixture over bamboo sticks, leave the mixture to condense to make hard walls. The roof is covered with thick layers of grass. This mud-walled cottage is a typical image of Vietnamese Northern countryside, that only a few ancient villages still retain this unique type of house.
The tranquil and peaceful life in Viet Hai contrasts with the bustling noisy of other tourist attractions. It is good to have some quiet moments, just to relax and get away in a remote area lying in the middle of deep valleys, geographically divided by the ocean that only a few people have ever set foot on.
Community-based tourism in Viet Hai Village
Viet Hai Village has been developing as a community-based ecotourism destination that attracts many travellers. Especially foreign tourists who want to experience and explore rustic village life and wide nature. Community-based tourism is a focus to support the livelihoods of local people, helps them to earn more income, integrates them into the outside world. Despite the lack of conditions, Viet Hai also has many advantages in terms of natural landscape and distinctive cultural characteristics to attract tourists.
Activities in Viet Hai Village for Travellers
Viet Hai villagers are very sensitive when providing services. They send people to tourist centers such as Hanoi, Ho Chi Minh City to learn about community-based tourism and how to apply to their condition. Besides their work on the field, they also work as local tour guides, hosts, and drivers for tourists. Local people supply and directly serve every need of visitors. Some families operate homestay services and set up small eateries providing local specialties. In Viet Hai Village, travellers can admire the simple rustic beauty when walking through the green rice fields, cycling along winding countryside roads, breathing fresh air and feeling the serenity in every corner of this peaceful village. It is such a memorable experience to enjoy the scenery of mountains, forests, and ocean, all in one place.
Years recently, Viet Hai Village has welcomed thousands of visitors to visit and experience the life and activities of villagers. With the extensive participation of locals in organising activities and supplying services, tourism in Viet Hai becomes a unique, attractive and sustainable tourism product.

Overview
Lan Ha Bay is located in the southeast of Cat Ba Town, adjacent to Halong Bay. This is a peaceful gulf-shaped bay with about 400 islets and islands in various sizes creating a magnificent picture depicting the fairylike seascape. All the big and small islands in Lan Ha Bay are covered with green trees and rich organism, which triggers the curious mind of worldwide travelers.
About Lan Ha Bay
Lan Ha Bay possesses a high density of limestone mountains which are primitive, peaceful and precious in biological value. There are a lot of pristine mountains with many shapes depending on visitors' imagination such as Wooden Shoe Islet, Bat Islet… Lan Ha Bay is also the cradle of gulfs and caves, which have not been discovered yet. Besides, travelers are stunned by stalactite grottoes with distinguishing features such as Ham Rong Cave, Do Cung Cave, Ca Cave…
Compared to Halong Bay, Lan Ha Bay is more charmingly romantic with 139 golden-sand beaches, lovely and desolate beaches inviting visitors to explore. Many sandy beaches stretch between rocky mountains offering quietness with no big waves, which are really the ideal places for swimmers. And under the turquoise water in Van Boi Beach, Van Ha Beach, Sen Island, Monkey Island, travelers can also get snorkel and dive to appreciate the colorful coral reefs and many aquatic creatures.
Da Chong Islet

Ho Ba Ham Islet
Overview
Ho Ba Ham Islet lies on Dau Be Island in the southernmost part of Halong Bay, 25 km away from the tourist port. Ho Ba Ham Islet is in the middle of a narrow rectangular sea, surrounded by high upright limestone mountains. Under the foot of the mountains, there are three water caves. To go from one cave to another, visitors have to sail through tunnels with low domes. From the ceilings, many stalactites hang down creating beautiful natural scenery.
About Ho Ba Ham Islet
Natural characteristics of Ho Ba Ham Islet
Ho Ba Ham Islet consists of three large lakes interconnected by a narrow winding tunnel. This tunnel is actually the upper part of a water cave, a typical form of limestone karst that was eroded by water, waves, and tides. Each cluster of colorful stalactites drops from the tunnel ceiling with strange shapes. On the islet, lots of evergreen plants like orchids, banyan trees, palms are growing to create a favorable living environment for endemic animal species of Halong Bay such as golden monkeys, flying squirrels, bats, rare birds. Under the blue water of three lakes, there is the vibrant life of many marine species.
From the entrance, visitors will go through a tunnel into the first lake. Inside the tunnel, stalactites in multi colors look like a bunch of fibrous roots. Going about 100 meters further, there is a light beam from the ceiling of the tunnel, where you will see many kinds of orchids clinging to the cliffs, clusters of evergreen trees in rocky mountains. Then, the second lake opens and has an ancient star fruit tree growing on the southeast cliff that gives fruit all year round. Passing through a cavern for about 5 minutes from there, you will reach the third lake. This is a peaceful home to many kinds of rare birds and butterflies.
The ecological diversity of Ho Ba Ham Islet
Ho Ba Ham Islet still retain the wild and mysterious nature without the impact of human. With ideal ecological conditions, Ba Ham Lake is a habitat of typical ecosystem. There are many endemic plant species of tropical forests growing on the cliffs such as azaleas, ferns, and palm trees. Squirrels, monkeys, birds also choose this place as their home and often go out to eat, so visitors can watch the animals like in a natural zoo. The water of three lakes is crystal clear to see the fish swimming around and special aquatic systems at the bottom.
Things to do in Ho Ba Ham Islet
With many great advantages, Ho Ba Ham Islet is gradually becoming one of the most attractive destinations in Halong Bay. To explore the beauty of Ho Ba Ham Islet, visitors can row bamboo boats or kayaks to go further into the lakes. It is also an ideal place for swimmers and snorkelers. Most of cruising itineraries are considered Ho Ba Ham Islet as a highlight of the trip. You should choose the overnight cruise to have a good amount of time to visit this interesting destination. It is advisable to rent a kayak to truly enjoy a moment of your own and admire the charming beauty of Ho Ba Ham Islet.

Cat ba Island
Overview
Cat Ba Island is located only 30km from Hai Phong city center and 25km from Ha Long City. From Hai Phong, it is very convenient for tourists to take a ferry or speedboat to visit Cat Ba. Or you can enjoy cruising from harbors in Quang Ninh to have an exciting journey through the Natural Wonder Halong Bay to reach Cat Ba Island.
About Cat Ba Island
Best time to travel to Cat Ba Island
Cat Ba Island has a favorable weather condition, so visitors can travel Cat Ba all year round. In any season at any time, Cat Ba has its unique charm. While domestic tourists often go there in the summer, international tourists mainly visit Cat Ba Island from November to March.
High season in Cat Ba is the summer time from May to August, therefore, if you can arrange, you should go before or after the high season, or you should go in the weekdays to avoid the crowds.
Cat Ba's natural charm
You will feel like to enter a new world when setting foot on Cat Ba Island. It is very comfortable and refreshing to travel on the road through the dense green forest to reach the island heart. The mountain passes are quite challenging for the adventurous tourists. Admiring the spectacular sceneries on the road, you will understand why biking tour across the island is the first choice of foreign guests.
How to get to Cat Ba Island from Hanoi
BUS from Hanoi to Cat Ba Island
The fastest and cheap way how to get from Hanoi to Cat Ba Island by bus. Bus is going over the longest sea-crossing bridge in Southeast Asia – Tan Vu – Lach Huyen (opened in September 2017) and is going directly to the Cat Ba town on the island over the Cat Hai Island. A short boat transfer of bus (10 minutes) from the Got Port (Bến phà Gót) to the Cái Viềng port.
Bus is going over the longest sea-crossing bridge in Southeast Asia – Tan Vu – Lach Huyen (opened in September 2017)
TRAIN + SPEEDBOAT from Hanoi to Cat Ba Island
First let's cover the details for taking a train and then a speedboat from Hanoi to Cat Ba via Hai Phong. Hanoi Railway Station is pretty central and only around a 20 minute walk from the centre of the old quarter.
From here you will take a train into Ga Hải Phòng Railway Station. This part of this route option from Hanoi to Cat Ba will take around 2 hours 45 minutes.
Speedboat from Hai Phong (Pha Binh port) to Cat Ba Island
BUS + SPEEDBOAT from Hanoi to Cat Ba Island
Bus from Hanoi to Hai Phong
This last option for getting from Hanoi to Cat Ba involves first taking a bus from Hanoi to Hai Phong and the speedboat option from Hai Phong to Cat Ba as detailed above in option 2.
FLIGHT from Hanoi to Tuan Chau Island (Seaplane)
Swimming in Cat Ba Beaches

Things to do in Cat Ba Island
In Cat Ba, there are 3 most popular tourist beaches: Cat Co 1, 2 and 3, with clear water and near the town center. In particular, Cat Co 1 beach is larger and more favorable, with three sides surrounded by rocky mountains. Cat Co 2 and 3 are smaller but quite peaceful. The beaches are connected by a small path along the mountain.
Hiking
If you want to have a panoramic view of Cat Ba, you should hike the crest of 177m high Gun Fortress. It is not only a historical relic, which marked the brilliant achievements of the local people; this place also has an ideal location with 3 sides facing the ocean. What a spectacular location to just sit there while sipping coffee and watching the romantic sunset.
Kayaking
The best water sport to try in Cat Ba is to go kayaking. You are sure to be overwhelmed by the majestic landscape and seascape here.

Cat Ba National Park
Cat Ba National Park is one of the unique biosphere reserves recognized by UNESCO. This is a real paradise for those who love to explore nature and challenge themselves. The typical route is only about 1.8 km, while the longest crossing mountain to Viet Hai fishing village is about 16 km. You can see countless species of endemic species, luckily you can see the Cat Ba langur – the symbol of the island.
Halong Bay is one of seven wonder in the world, with area is 1553 km2. Halong Bay consists of 1969 island and islet, most of which are limestones. specific feature of Ha Long Bay is the abundance of lakes inside the limestone islands.  It was declared twice time by UNESCO in 1994 and 2011. The limestone in this bay has gone through 500 million years of formation in different conditions and environments. The evolution of the karst in this bay has taken 20 million years under the impact of the tropical wet climate. Ha Long Bay is home to 14 endemic floral species and 60 endemic faunal species.