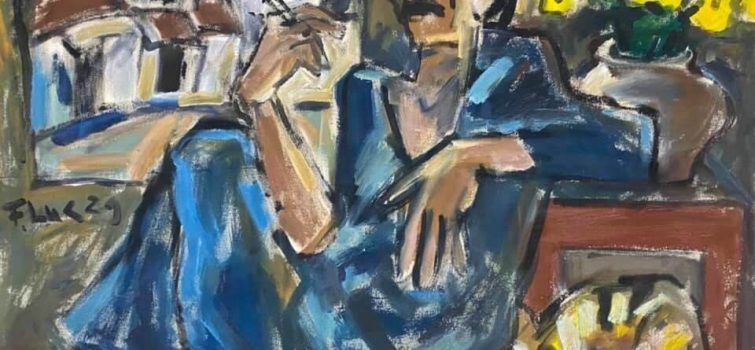 Painting is like exercising for painter Pham Luc. If he doesn't paint something every day he feels slightly ill, which perhaps explains his prolific output and reputation as Vietnam's Pablo Picasso.
Born in 1943, Luc has been around paint brushes for some 70 years. From the age of three he tried to turn things into paint brushes. It could be a piece of brick or charcoal, a tree branch, or a stone, and everywhere was his canvas. Often, he was scolded by his neighbors, whose house walls he used to express himself. Luckily, he later found a wide sand bank by the riverside near his home, where he could paint on the sandy canvas with a tree branch.
Growing up during wartime, the young Luc became a soldier after graduating from the Hanoi College of Fine Arts (now the Vietnam University of Fine Arts). But his passion for painting never ceased. As one of his hands held a gun, the other always held a brush. His constant companion has been paper, a brush, and colors. "The mission of a painter is to record what he observes," Luc explained, "Life is so colorful. I don't want to miss a thing."
At times so focused on not missing a moment of life, he in turn often missed a train or was taken advantage of by thieves. Losing his tools was a disaster because such things were scarce in wartime. Necessity, though, is the mother of invention. Again, he tried to turn things into a canvas, such as sackcloth or a hammock, which these days his fans crazily hunt for.
Luc never limits himself to a particular style either. From his studies he took on styles from the French school of European art, Chinese water colors in Asian art, and four of the most famous and successful Vietnamese painters since 1945. Nghiem, Lien, Sang and Phai, who all graduated from L'Ecole des Beaux Arts de l'Indochine, diverged on totally different paths, with Nghiem's convention, Lien's softness and femininity, Sang's strength, and Phai's realism, so Luc's art reflects where East meets West. He also challenges himself to use different mediums including oil paintings, painting on rice sacks, lacquer, silk paintings, paper, and wood engraving.
After finishing his army service, he started different canvases in every corner of his home, which became his work space. When painting a lacquer work and getting some of the materials stuck, he may change it to an oil painting and continue in a different mood. "Just leave me alone in a room with brushes, colors and an old radio playing pre-war Vietnamese music and I'll work spontaneously, by feeling, without sketches," he said.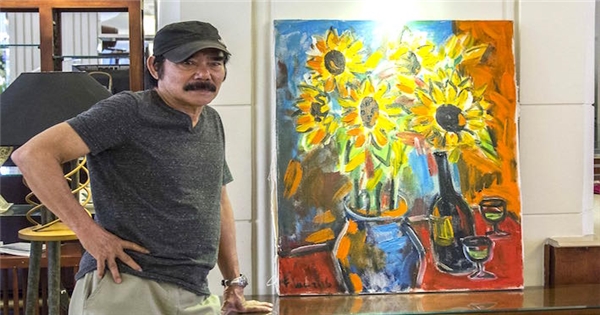 Due to regular headaches from high blood pressure, Luc has suffered from insomnia since he was 14. Many new ideas flash into his mind at night when he tosses and turns in bed. He usually has no idea whether it comes from reality or a dream, but he quickly gets the idea down on canvas. Whenever he touches a brush, his headaches ease and he feels like he is dreaming. The next day he sometimes forgets his nocturnal creativity, waking in the morning to be pleasantly surprised at the new addition to his collection.
Ben Wilkinson, representative of Harvard Kennedy University (now USA Fullbright University) in Vietnam, is a Pham Luc collector. He noted that "Pham Luc's paintings are like windows that we can look through to understand more about the country and the people of Vietnam, both in the past wartime and the present."
The characters in Luc's paintings are also diverse, such as a local market, Tet paintings, heritage depictions of Quan Ho, Ca Tru and A Dao songs, Cheo or Tuong theatre the hero Thanh Giong, or the poet Nguyen Du. Women seem to inspire him more. It may be a woman in an old dress giving her son a bicycle ride during wartime, a woman looking for mussels in modern times, or an old woman selling some fruit.
His sympathy towards and love of women in his paintings brought him true love. A French woman who fell in love with his art bought many of his paintings on credit. Three years later she took him to a villa, which was the payment, and proposed to him. With his wife's support, his paintings have been displayed in Europe and increased his fan base.
Among modern Vietnamese painters, Luc is the only one who has a fan club collecting his work. More than 100 of its members have some 6,000 of his paintings and regularly hold exhibitions. One, Tony Olive from Australia, who has 100 of Luc's paintings, opened an exhibition in 2009 and every piece was sold. He felt regret at the scale of the exhibition's success, however, and negotiated to buy back four of the paintings.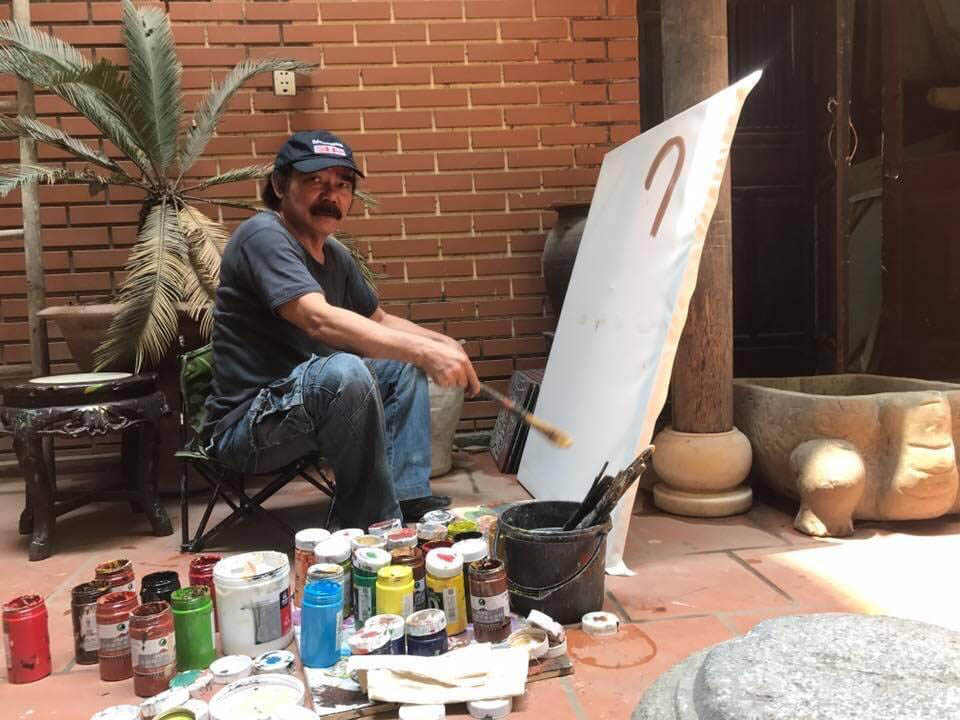 Paintings on Rice Sacks
Paintings on Rice Sacks have become synonymous with the artist Pham Luc in Vietnam. The artist, a former military painter, has experienced many battles in his lifetime. He indicates that the mission of the military painter is honest reflection about the life of people in the battlefield, what he observed and how he felt during the marches. The villages and people who helped him when he got hurt, and the fierce battlefields he passed through are featured in his works.
He painted hundreds of paintings on rice sacks made of jute or synthetic fiber rope from the Soviet Union and China. The idea to use rice sacks came about as he lacked the necessary materials to paint on, and rice sacks were plentiful.
He revealed that the first rice sack paintings were created with the artist Bang Lam in 1965. Pham Luc had to use lubricating oil from cars and trucks to draw because he lacked paints. Every character, image, and depiction in the paintings are associated with his military compatriots. Unfortunately, many paintings were damaged by bombs and ammunition.
War scenes often appear in his paintings, with subjects such as an old mother taking care of wounded soldiers, two teammates piggybacking injured soldiers back to the unit after a battle, a pregnant wife looking up at the image of her sacrificed husband, and militia girls carrying guns. Pham Luc also painted nudes on the sacks, a rather sensitive topic and a taboo in the military.
He had to use his imagination because there were no female models, and the finished pieces were often concealed. In one piece he depicts Vietnamese women soldiers taking a bath in the Truong Son Range after he had accidently come across them. In his paintings, those images bring a pure and romantic setting to the war.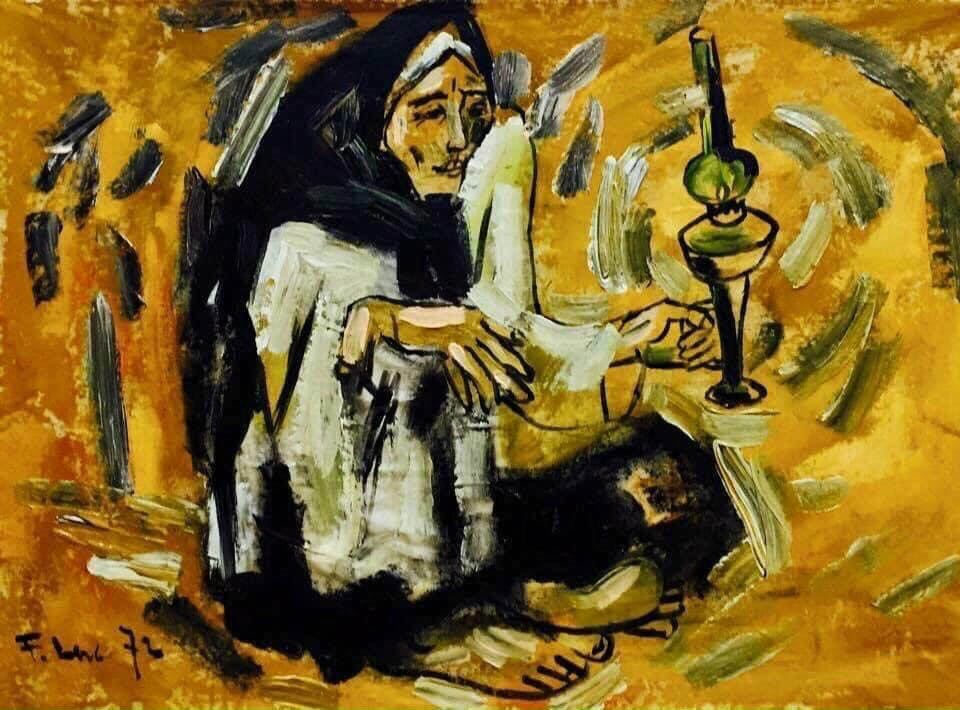 Pham Luc has a distinctive style, one that reflects the culture and history of Vietnam. Many foreign and domestic collectors are proud of owning one or more of his rice sack paintings. In 2013, due to ill health, the artist stopped drawing and exhibiting this type of painting. Because of these changes, the rice sack paintings have become more sought after.
When asked why he had quit painting on rice sacks, the artist explained, "This was my toughest decision, but I'm very happy about my first exhibition without rice sack paintings. In any solo or collective exhibition, the rice sack paintings always make me different. This material reflects the misery of the whole nation at the time, and that has touched many people. But I think nothing is forever nowadays. The artist must also portray life with pen strokes and canvas."
In a recent interview with writer Nguyen Ngoc about Pham Luc, Thomas J. Vallely, Director of the Harvard Vietnam Program, said his favorite place in Vietnam was not a city or a town but Luc's concrete studio house. Whenever he visits Luc he talks about art and has learned new things about Vietnam, past and present. He sees Luc's work as being rich in culture, history and heritage, through varied and diverse themes, with an artistic language on war and the difficulties and sorrows of life, making his creative value not just Vietnamese, but universal.