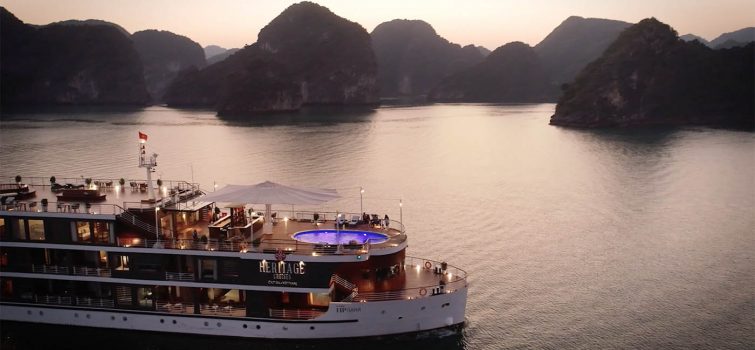 Embark on a journey back in time to Vietnam in 1930s with Heritage Cruises Binh Chuan Cat Ba Archipelago boutique lifestyle cruise in Lan Ha Bay in Cat Ba Archipelago. Combining the classical charm of French Indochina with a sense of timeless chic that only the Lux Cruises can provide, the cruise is as much an art and heritage space as it is a 5 star cruise. Heritage Cruises Binh Chuan Cat Ba Archipelago invites guests to relive the romance of this bygone era in their boutique cruise which offers all the comforts of the 21st century.
The most luxurious cruise in Vietnam has many cultural features, bringing with it the stories of cultural and historical heritage, fine art, architecture, fashion, and the quintessence of Vietnamese cuisine. The yacht is newly built based on the Binh Chuan ship built by the ship king Bach Thai Buoi, the first Vietnamese to launch a ship from Hai Phong to Saigon. From the point of departure 100 years ago, today's Heritage Cruises Binh Chuan takes travelers on a journey to discover Lan Ha Bay in style, a vast sea area with hundreds of islands, lagoons, and beaches, large and small, an experience recognized by the world. Channel 14 describes it "as beautiful as a dream" and Leonardo DiCaprio praises the 'paradise' beauty of Lan Ha Bay.
https://www.youtube.com/watch?v=45UNROguoNM&t
On the cruise, travelers can discover the authenticity of Lan Ha Bay, Binh Chuan Heritage Cruise will bring travelers into a traditional cultural space, the glorious legend of the intangible heritage, and enjoy the beauty of the natural heritage of Vietnam. Heritage Binh Chuan Cruise will bring the most authentic experiences with a minimum of 40 guests and a maximum of 60 passengers on a magnificent and sophisticated cruise operating in the Gulf of Tonkin. Savored travelers will immerse into the culture, history, art, and people of Vietnam when cruising on a unique cruise amidst natural wonders. On this heritage cruise, travel connoisseurs can go upstream of history and culture to learn the business story of "Vietnam's king of ships" Bach Thai Buoi and the life of the "Vietnamese Picasso", Pham Luc, through a rich collection of 100 of his works collected and introduced by the owner Pham Ha in various locations.
Heritage Binh Chuan received the most prestigious award, TripAdvisor 2022 Travelers' Choice Awards "Best of The Best". Luxury Lifestyle Awards 2020. Lux Cruises to expand the brand to Quy Nhon, Nha Trang, Phu Quoc in Kien Giang province, and Cat Ba archipelago in Hai Phong city, for unique yachting experiences in the coming year." Start our first expeditions on the Gulf of Tonkin and further expand between Hanoi and Halong Bay on the Red River and its tributaries, along the coastline of Vietnam, on the Mekong River and to other Southeast Asia countries.