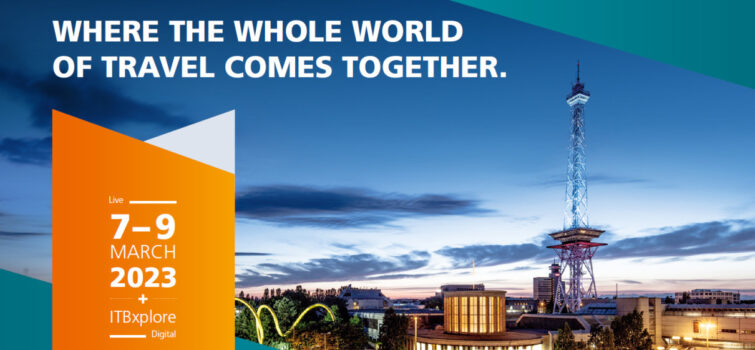 Vietnam now has world class hotels and resorts, beaches and cuisine, in addition to its natural beauty, rich history and traditional culture.
Blessed with geographical location, climate, and natural resources, Vietnam has shown plenty of potential for developing tourism. With more than 3,000 km of coastline covering green forests and majestic landscapes, this nation also boasts about 125 beaches and ranks in the top 12 countries for the most beautiful bays in the world. 70% activities come from maritime tourism.
"We used the seven letters of the country's name: V – Varied landscape, I – Indigenous culture, E – Exotic beaches, T – Timeless charm, N – Natural heritage sites, A – Ancient cities, M – Memories to cherish forever", said Pham Ha Founder and CEO Lux Group.
"WOW Vietnam" was created with an aim to attract discerning travelers, who wish to experience its defining characteristics: thrills, nature, heritage, festival, pristine, experiential travel, scenery and essence.
"As travel expert, here is our definition of charm that the slogan of Vietnam tourism must be promoted in all trade shows, embassies, all media, travel players even local people. We promote luxury, MICE, Adventura, The secret hideaway collection and our heritage cruises line with authentic and unique travel experiences at ITB Berlin 2023".
"Depending in each market and need, the marketing campaign can be focused and bespoke such as endless of discovery, food, nature, culture, shops…. Discover, dream, explore, indulge, relax and immerse in the cultural and natural heritage of Vietnam."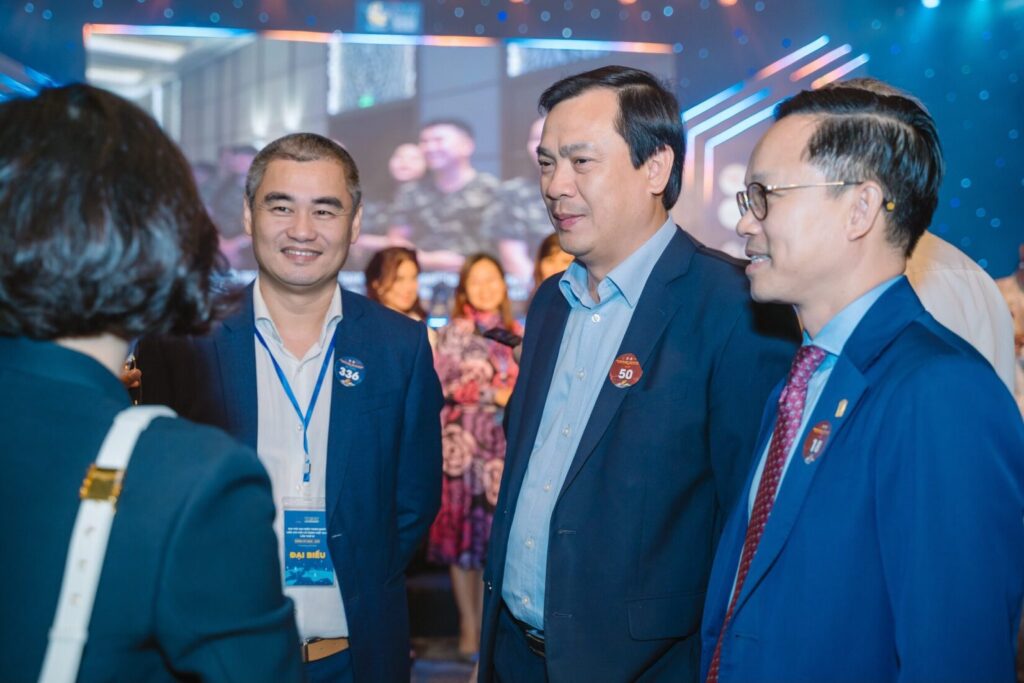 Thrills
The thrills offered are endless and span a wide range, including: hiking, trekking, biking, kayaking, climbing, rafting, snorkeling, scuba diving, fishing, hot air ballooning, camping, yachting and more. Some of the locations where these activities can be enjoyed include: Sapa, Halong Bay, Cat Ba Archipelago, Cu Lao Cham, the Central Highlands, the Mekong Delta, Nha Trang, Phan Thiet, Con Dao, the Phu Quoc Islands and many more.
Nature
The nature amazes visitors, from the green beauty of the national parks, reserves and ramsars, to the mountains, waterfalls, rivers, lakes and grottoes. Halong Bay is among the new Seven Natural Wonders of the World. Visitors will discover the natural allure of Vietnam by indulging in a wide array of accommodations, tour packages and attractions at places such as Mai Chau, Pu Luong, Sapa, Ha Giang, Ba Be, Halong Bay, Phong Nha Ke Bang, the Central Highlands, Nam Cat Tien and many more.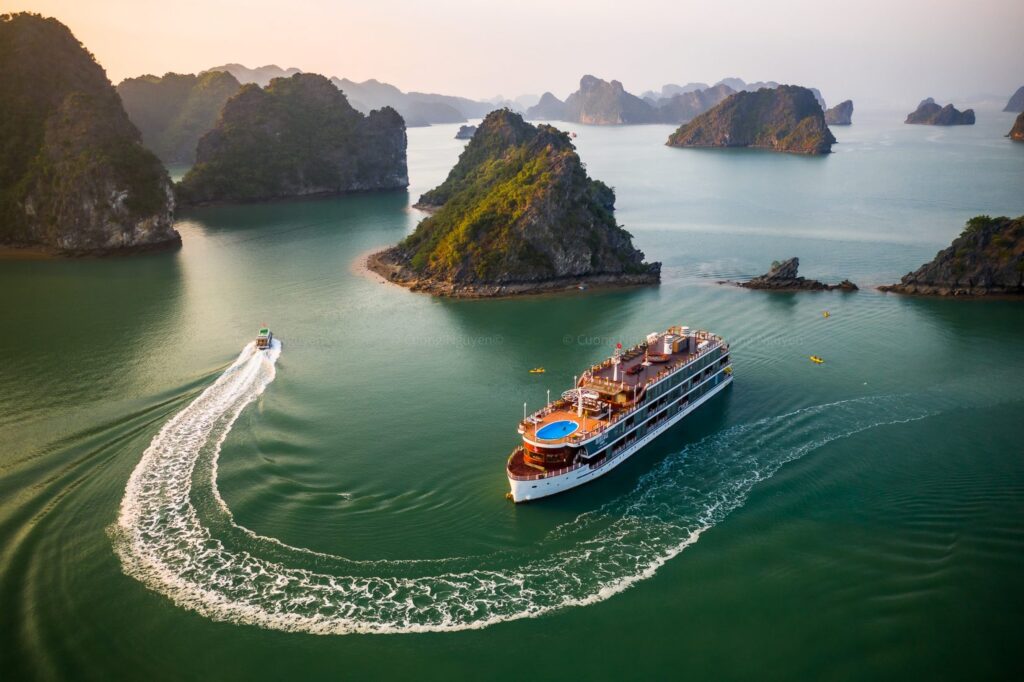 Heritage
With its long history and unique way of life, Vietnam has a rich heritage. There are many interesting and diverse sites to be found around the country. Trang An has been just named world heritage listed site, Vietnam now boasts 8 world natural and cultural heritage sites, not to mention many intangible cultural heritages. Should promote heritage as national tourism brand locally and internationally.
Vietnamese lifestyles
Many colorful festivals can be enjoyed year round. The time after Tet Nguyen Dan (Vietnamese Lunar New Year) is especially exciting. Other festivals include the Perfume Pagoda, Hung King, Kate, and Lim and Giay Festivals, just to name a few. 54 nationalities with 54 various cultures and lifestyles to discover in the country. Vietnamese is friendly and hospital, always with smiles.
Pristine
Many pristine islands and beaches are to be found in this tropical country. Vietnam has 3,620 km of coastline, with beautiful white sand beaches and world class resorts. Of these, you should not miss the stunning sand and clear waters of My Khe, Cua Dai, Nha Trang, Ninh Van Bay, Quy Nhon, Mui Ne, Vung Tau, Phu Quoc and the Con Dao Islands.
Bliss
Holidaymakers have the choice of new and trendy boutique hotels, spas, golfing, cruises, shopping centers, restaurants and nightlife. With new luxury hotels and world class golf courses having recently opened or set to open soon, and the introduction of luxury train journeys, exclusive cruises and upscale private tours spanning the length of the country, Vietnam is fast emerging as an exciting luxury destination in Asia.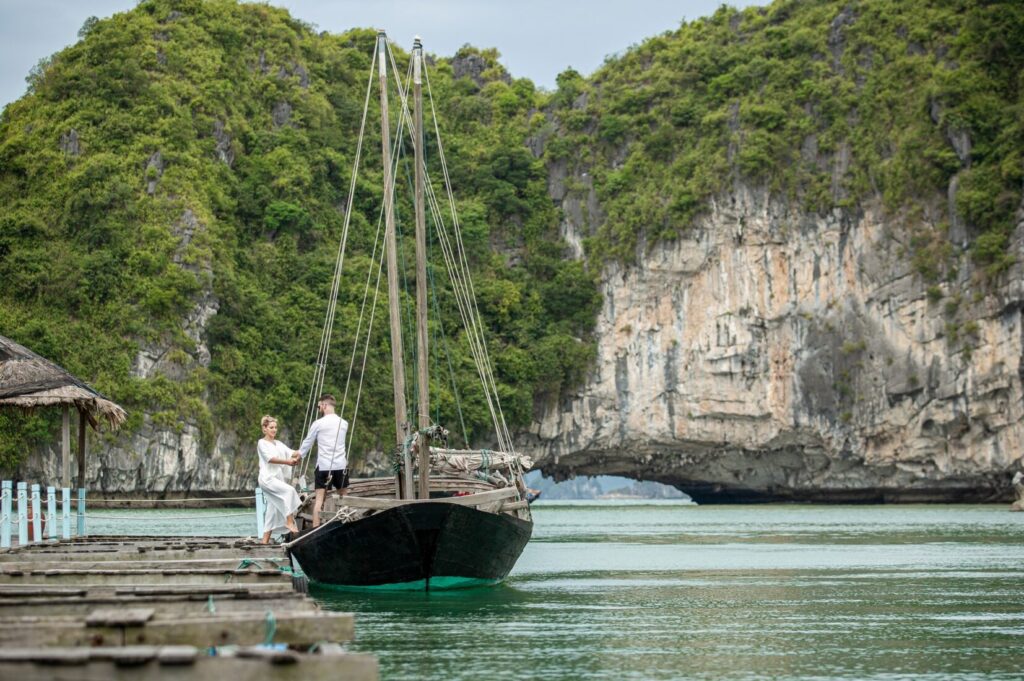 Scenery
Spectacular scenery and a diverse landscape exist from North to South. Mountains, forests, nature reserves, rivers, beaches, and islands are all here to be enjoyed. Verdant patchworks of rice paddies and pointed lampshade-style hats are just a small part of what there is to be seen in this formerly war ravaged country. Visitors will see more than the economic repression often portrayed on worldwide television and in newspapers. There is also natural beauty, a harmonious array of ethnic cultures, imperial monuments, timeless traditional villages, idyllic sea resorts and dynamic cities.
Essence
Vietnam boasts scores of traditions, lifestyles and religions. The friendly and hospitable population has been influenced by the cultures of China, France and America, and this is reflected in the country's lifestyle, architecture, cuisine and art. Vietnamese cuisine is acclaimed worldwide and become the buzz words of all travelers. www.luxgroup.vn